Philippines 2000
Banaue and San Fernando (Pampanga)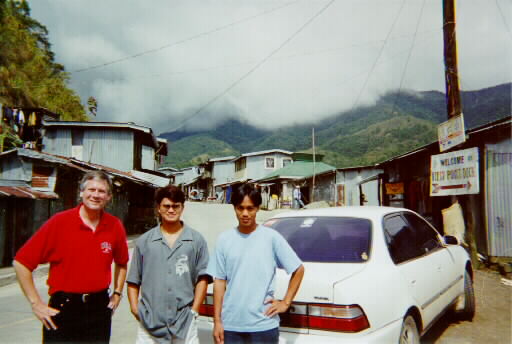 Martin, our Avis driver Jack, and Johnson our terrace guide.
Tuesday, November 7, 2000: This is election day in the USA, but we don't have time to watch CNN. At 4:00 a.m., our driver, Jack, arrived and we proceeded north into the mountains through the dark and winding roads. Though Clyde and I enjoy seeing sights and sites, we mostly enjoy walking around and getting to know people. We saw farmers threshing rice on the highway as we proceed north, and everyone courteously drove around the "grain lanes". We saw lots of uniformed school children around in the small mountain towns. The Philippines has so many young people! In Banaue, we checked in at the Green Terrace Inn and met a local student, Johnson Ambojnin, who offered to be our tour guide to the terraces. Johnson hiked with us for three hours through the terraces as we discussed the Igorot culture and the problem of keeping the terraces vital in the face of change. We rested outside the hotel afterwards and talked about faith and his upcoming mission work for the Seventh Day Adventists in the mountains of Luzon. By 8:30 p.m., we were both ready for bed.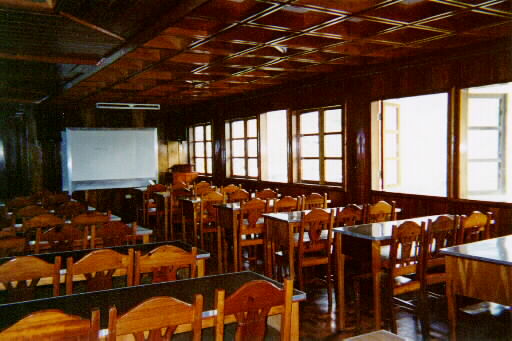 Auxiliary classroom outside our hotel room window.
Our room's window looked out upon the room next door which happened to be a high school classroom. Fortunately, we had drapes. The classroom was magnificent polished hardwood - ceiling, floors, and walls , while the walls in our own room were faux-pine paneling with a weird pattern of wavy lines like Ernst Mach's "The Scream."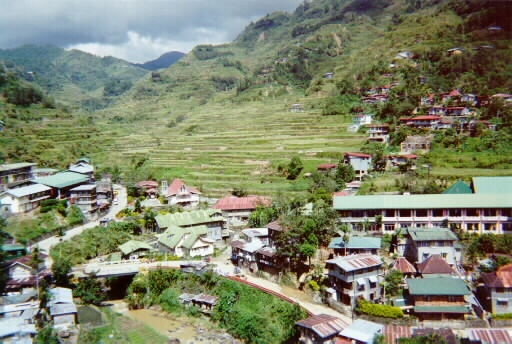 View to the left from classroom windows at our hotel.
Wednesday, November 8, 2000: Today we returned from Banaue to Angeles. Clyde did some shopping, and I spent the morning reading in that beautiful polished hardwood classroom next to our room. I'd love to teach in a place like this. The classroom overlooks the river and nearby mountains. Across the river, boys stood on 2nd floor ledge of their school, hopping from window to window to visit the girls. Growing up around the terraces, the kids in Banaue are very used to heights and climbing. Other children were practicing gymnastics and tumbling nearby. When we got back to Angeles, the Koala Hotel had thoughtfully held our room for us, and we fell into bed right away.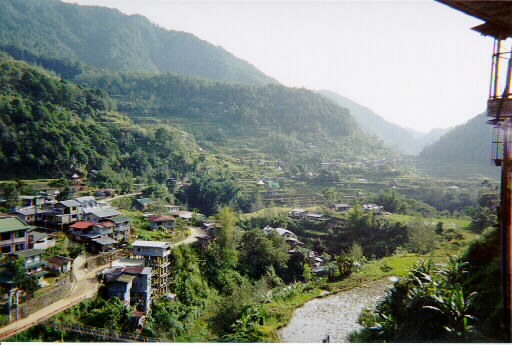 View to the right from classroom windows at our hotel.
Thursday, November 9, 2000: According to CNN, there's still no U.S. President. This is turning into a very odd election. Clyde and I decided to go to San Fernando (Pampanga) today and visit Lida Masbang. We rode a number of jeepneys in various directions and finally headed down the road in the right direction to San Fernando and the Miyabe hotel which Lida had recommended as being near her home. It was a very strange hotel in some ways. We hardly ever saw another guest in the place. We asked some tricycle drivers about the fare for a ride to St. Jude, but it was more than we thought we should pay, so we walked and eventually found our way to Lida's home. We had a wonderful dinner with Lida and Renato's family and phoned Clyde's sister, Laurel, so that Lida could talk with her. When our hosts learned that the tricycle driver had wanted to overcharge us, they offered to file a complaint on our behalf with the community tricycle association. We weren't sure that we'd actually been talking with drivers in that association and really didn't want to get anyone's license suspended, even if we had an ID number to use. In any event, we enjoyed hiking and exploring the neighborhood. It has been a difficult time for the family since Renato's untimely death, but the family is adjusting.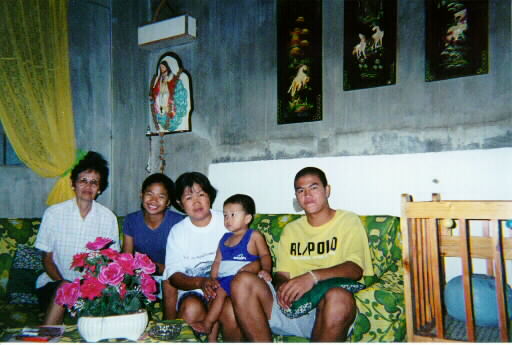 Lida and her brother Renato's family.
Friday, November 10, 2000: We ordered some breakfast from room service and went to visit Lida today. Clyde and Lida went to the local bank and to the travel agent while I read philosophy upstairs at the Masbang home. Earlier, Clyde phoned his parents so that Lida could speak with them. Lida operates a sari sari store in front of the house, and dipped into her inventory to give me a cola and ice on a hot afternoon. I think she appreciates just how fragile some Americans are.
Saturday, November 11, 2000: This morning, we decided to take a walk to the Pascuan (Christmas) Village, but the road was clogged with traffic and hordes of people trekking to the new SM mall - a sort of consumer Mecca. We walked through the Village, and explored their international gardens which could use some maintenance but were still lovely. We enjoyed the Chinese garden especially and the Christmas lanterns on sale along the roadway. The Philippines can soak up time like a sponge, so there's no point in being in a hurry.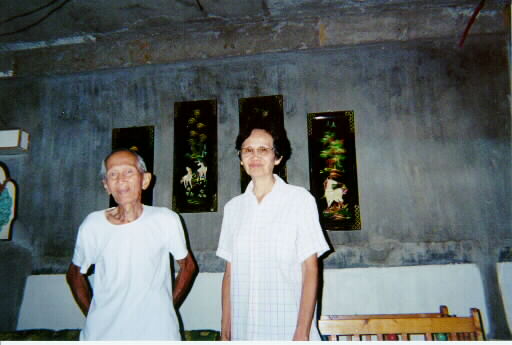 Lida and her father.
Sunday, November 12, 2000: We went to church this morning at St. Jude Thaddeus with Lida and her family. There is a large cross with a statue of Jesus in the front. The church is open air with sparrows perching on Jesus' shoulders, especially during communion. Though the church service was not in English, we enjoyed it - like wandering around a familiar neighborhood even if you can't read the street signs. Lida prepared a wonderful brunch, and I played "toss the ball" with 14 mo. old Joshua in his crib. We got ready to leave the Miyabe Hotel which is still one of our stranger lodgings in the Philippines. It had a high-tech central control room for security but put only 25 watt bulbs in the room lamps. Tomorrow morning, Bert will arrive with our luggage and give us a ride to Manila.
Monday, November 13, 2000: Bert and his daughter, Kathryn, picked us up at 5:00 a.m. and we rode down to Manila and stayed at the Fersal Apartelle which Bert has recommended to visiting foreigners. This worked out very well as our "base of operations" for getting in and out of Manila. Although he was busy with a meeting, Bert sent us someone to take us to the Philippine Airlines office to purchase our ticket to Puerto Princesa, which was very considerate of him. Clyde got a snazzy $2.00 haircut, and we dined at the Inn Cafe downstairs. Meanwhile, our super-host, Bert, arranged for a colleague, Precy Fermo, to meet us at the Puerto Princesa airport in Palawan tomorrow. We learned that the President of the Philippines will be impeached soon - protests may disable transit in Manila tomorrow, so we plan an early trip to the airport just to be safe. We had dinner with Roberto Masbang that evening.
Our Banaue Rice Terrace Hike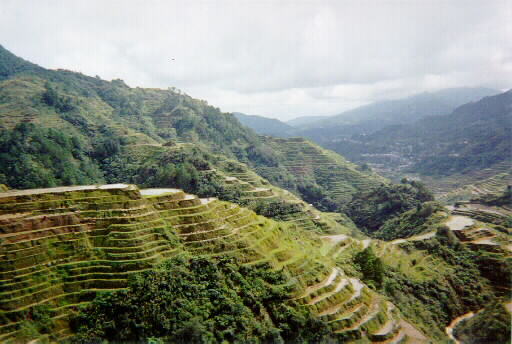 View from the "view point".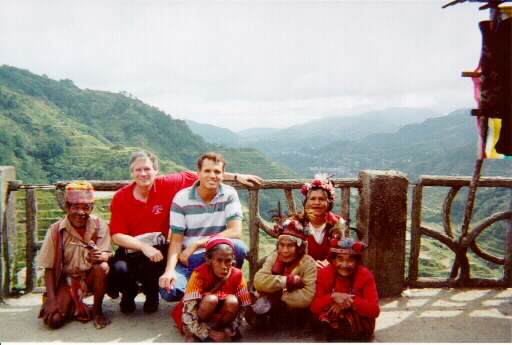 Martin and Clyde pose with some Igorot elders dressed in traditional garb.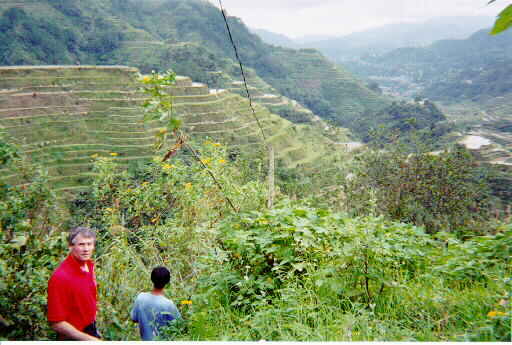 Johnson leads the way with Martin following as we begin our trek. No pictures of us falling on our rears.
Carabao inspires Martin to take a rest.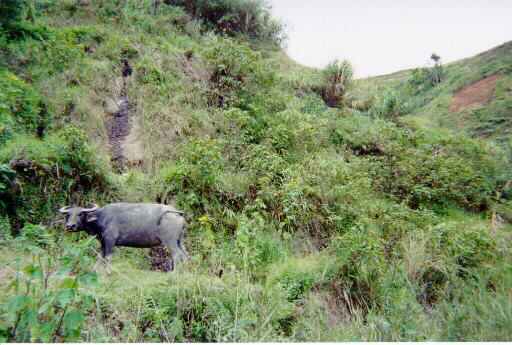 Carabao poses for picture.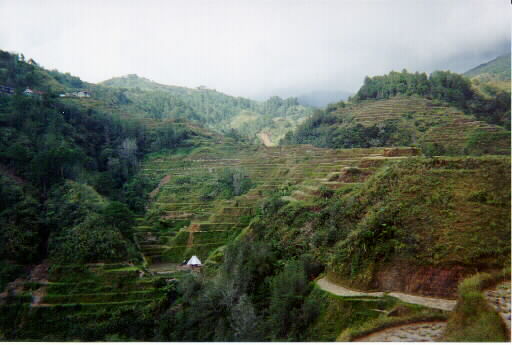 Mountain living.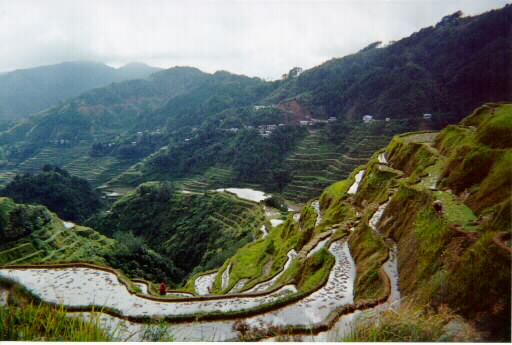 Flooded rice fields.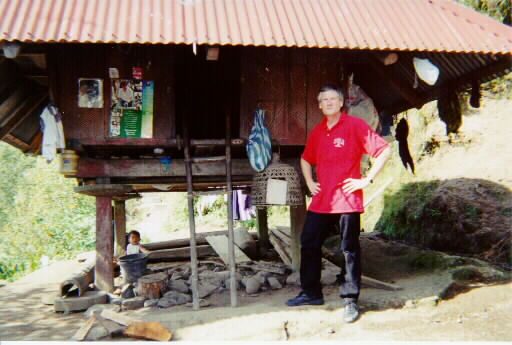 Johnson tells us the stilts on this house are to keep the vermin out of the food supplies. This updated bungalow comes with a metal roof and small child.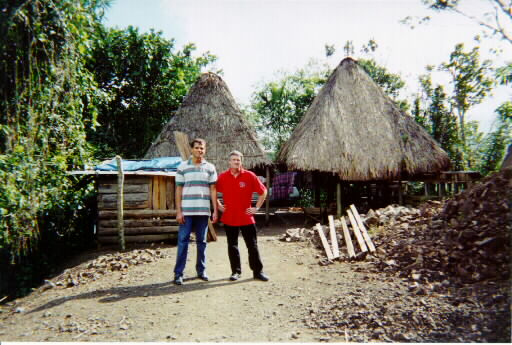 Clyde and Martin pose in front of a very traditional house.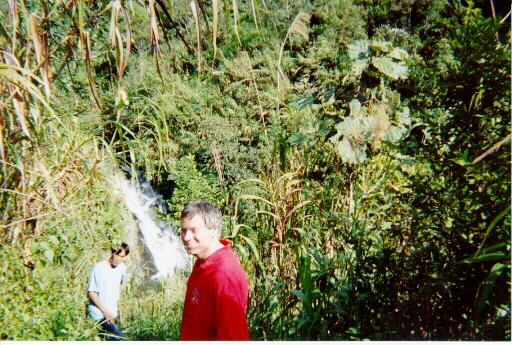 A beautiful water fall greets us with its mist.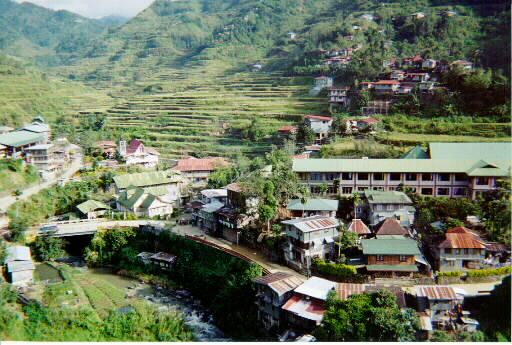 Back "home" at Banaue proper.