Philippines 2000
Islands of Palawan and Cebu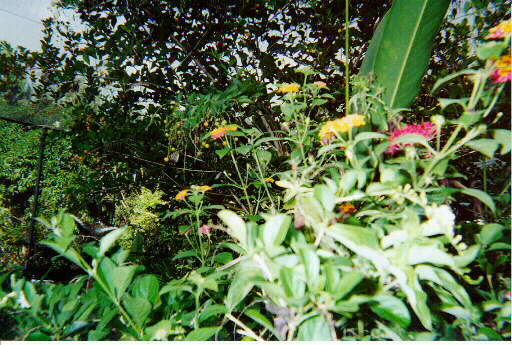 Butterfly garden in Puerto Princesa.
Tuesday, November 14, 2000: We arrived at the Manila domestic airport at 5:30 a.m. Since we had had to buy business class tickets, we slipped into the Mabuhay Lounge, and got free breakfast and use of what must be the only truly comfortable chairs in the whole country. Precy Fermo met us cheerfully at the Airport along with her driver Rafy. They took us to the Airport Hotel just down the street where the Regional Fishing Training Institute was having a training seminar. Precy found us an empty room that was already paid for, so were able to stay that night, free of charge. All this hospitality certainly made us feel welcome! We made some quick arrangements - to go to the Underground River in Sabang, and we met folks at the Coastal Resource Management Project, including a young American, Glenn Midleton, and we decided to join him on a jeepney trip up to Port Barton on the west coast of Palawan tomorrow. Glenn is a Peace Corp worker helping to save the coral reefs in Pandagnan Bay at Port Barton. After we rested, Rafy took us on a tour which included the Crocodile Farm where we watched a film telling us how misunderstood the local reptile is. However misunderstood this animal may be, they are collectively really very ugly and sinister looking beasts.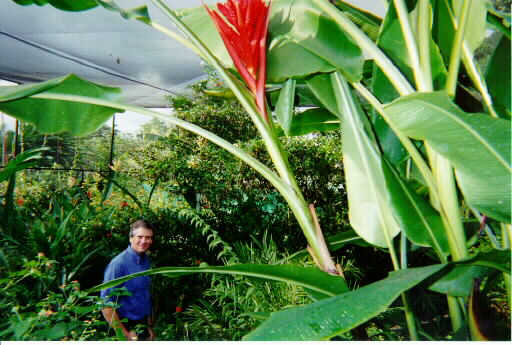 Martin hunting butterflies.
My favorite stop on the tour was the butterfly farm which the proprietor had started as a hobby and has turned into a fine garden and butterfly domain. We also go to the Iwaig prison farm which has been housing prisoners and their families since the early 1900's. Later, after Precy was done with work, she took us to a local store and helped us stock up on supplies. That evening, we watched some international news about the never-ending U.S. election.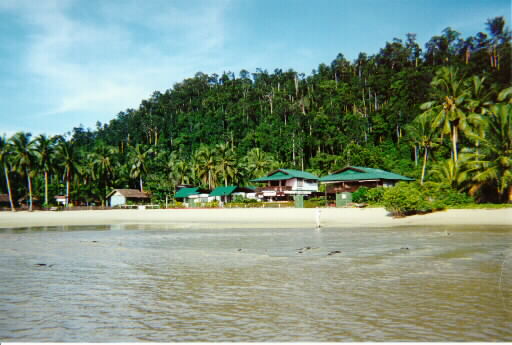 The El Dorado in Port Barton.
Wednesday, November 15, 2000: We got up and ready at 7:30 a.m. and went to the Jeepney Station with Precy and boarded the large jeepney bus for a dusty ride to Port Barton. Precy offered to keep most of our luggage while we toured around Palawan. The view of the mountains and the sea was spectacular, but the ride is pretty bumpy - the jeepney crew has to jump out of the bus with ropes to pull the wheels back into alignment. We're sitting in the front but need to enter and leave the bus by the window, so every window seat is a potential exit seat...We talked about sitting up on the roof but later decided against it. Before we left, a friend of Glenn's, named Lucy, talked with us about our plans and recommended her hotel, the El Dorado, as the place to stay in Port Barton. She and her husband are the owners. We arrived after five hours of travel at a fishing village on a beautiful bay. We met the Norwegian owner of the El Dorado (Thor) (having already met his wife, Lucy) and also were introduced to his expatriate friends. Thor fixed us up with a beach front cottage when he got word from Glenn that his other reservations had canceled. We had dinner at the Bamboo Restaurant, since Lucy (who, besides being an owner, also cooks for the El Dorado) was still in Puerto Princesa. We decided to relax tomorrow and to snorkel on Friday.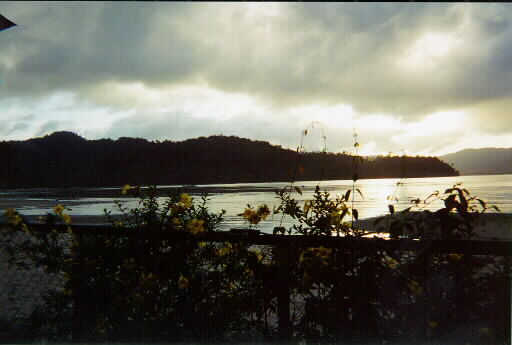 The view from our cottage at the El Dorado at sunset.
Thursday, November 16, 2000: We awakened to the sound of surf and of roosters crowing. We were staying in beautiful and inexpensive cottage for two, right on the beach, with cascades of yellow flowers by our porch. The beach, we soon learn, is also the public thoroughfare. The bay and sky change colors every few minutes. It's a marine park, so there's no large-scale commercial fishing permitted in the bay. I relaxed and read most of the day, though traveling gave me some stressful dreams. We walked up the beach for dinner. However, as there are no street lights in the village, we had to walk carefully in the dark along the beach to find our way back to our cottage. We met some high school girls on the way who were either flirting with us or just having fun teasing as we stumbled our way back to our cottage.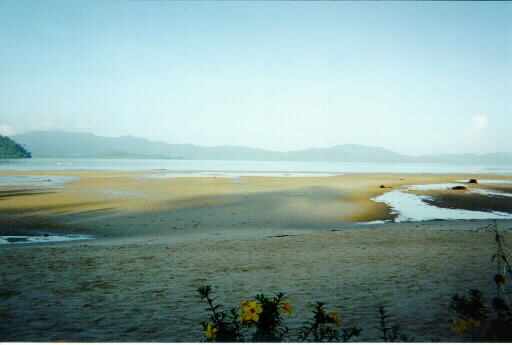 The view from our cottage at the El Dorado at low tide.
Friday, November 17, 2000: The garden at the El Dorado is lovely and well-landscaped, more like a shrine than anything else. Coincidentally, Thor is busy contracting the building of a grotto like the one in Lourdes toward the back of the garden. We negotiated a day trip on a motorized banca to go around to various islands snorkeling, including Paradise Island, Double Island, German Island, and Calypso island. We explored wonderful coral reefs and spotted lots of tropical fish in the clear waters of the bay. We stopped for a coconut break on one island. Because we were snorkeling facedown in the water, we got pretty sunburned on our backs, but we nevertheless had fun. When we returned, we met Glenn on the beach where he was conferring with some student-educators who were preparing to train elementary school students in ecology. We have decided to take a motorized banca to El Nido in the morning. Lucy (Thor's wife) returned from her business trip to Puerto Princesa, and she prepared an incredible seafood feast especially for us that evening, complete with sand crabs, prawn, and rock lobsters, all caught earlier in the day. We feasted at leisure that evening.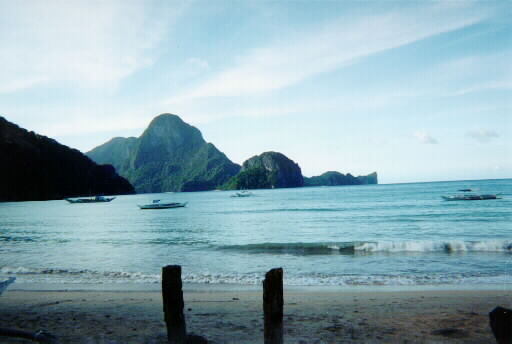 The beach and islands at El Nido, Palawan.
Saturday, November 18, 2000: We took a five-hour motorized catamaran trip to El Nido, past beautiful limestone cliffs. Since tourist season isn't yet in gear, Clyde and I were the only passengers, and Wilson (the boat owner) and his crew were at the helm as we sped up the coast. Clyde, at one point, tried to sit on the prow of the boat, but it blocked the captain's view, so he had to move back. There was enough spray and sporadic rain that we bundled up chilled under a tarp for the latter part of the trip. The limestone islands are covered with patches of jungle and are worn away at the base, making them look like they are perched on pedestals. The erosion combined with jungle covering gives them fanciful patterns, like clouds. One looks like a dog with three puppies, another is like a deep dish as though the cliff and the jungle had deflated in upon itself. The water is emerald near the islands (because of the reflected jungle) and turquoise and blue further out. The coral reefs are visible in different areas, just below the surface of the ocean.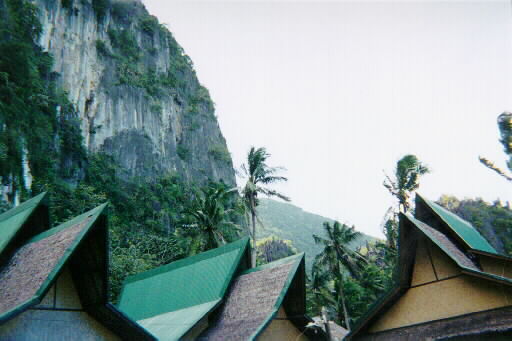 The cliffs above the Cliffside Cottages.
We landed on the beach where the more expensive tourist resorts are, and we said good-bye to our crew. We hiked into town with our bags, looking for Cliffside Cottages which is a very nice complex at the foot of the cliffs, blessed with a steady breeze and personal mosquito netting. At only $6.00 per night, it was a much better choice than the $200.00 per day resorts nearby. We investigated transportation back to Puerto Princesa and determined that the next flights were tomorrow or the following weekend. So, with some regret, we decided to spend only one day in El Nido (Which I pronounce "el neat-o" or, with bugs, "el-skeeto", or with Japanese tourists, "el-nippo"). It's Spanish for "the nest" because of all the cliff-dwelling birds. So, we nested there temporarily. We spent the afternoon relaxing on the beach at the Blue Karrot, sipping fruit drinks. The kids on the beach have invented a game which we called "kick the flip-flop". The game only requires one sandal to kick around, and the extra sandals make good bases. One young tourist was reading a French translation of a Patricia Cornwall book. In Filipino tradition, when the kids spotted us as Americans, we got the familiar "Hey, Man" or "Hey, Joe", but we didn't see any other Americans, which seemed odd. We walked around the village that evening and found a restaurant that supposedly served spaghetti and hamburger on its varied menu. The food didn't resemble either spaghetti or hamburger, even though the restaurant bills itself as "Australian owned and managed."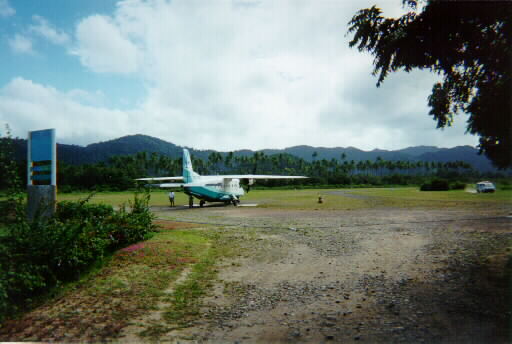 A plane from Manila lands at the airport of El Nido.
Sunday, November 19, 2000: We hear plenty of roosters this Sunday morning. We take a tricycle to the little airport, full of foreign tourists, and have some juice and some Filipino rice confection akin to gummy bears. Our flight is a small plane with 17 other people flying down to Puerto Princesa (rather than a 16 hour jeepney trip).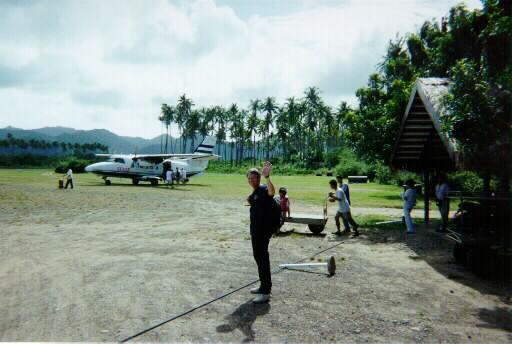 Martin is an enthusiastic passenger.
We climbed on board, but it was hot and stuffy inside waiting for the pilot, so the passengers eventually jumped out to get some fresh air. We finally re-boarded and, at 10,000 feet, we had a spectacular view of Palawan's mountains and beaches - the sky was unpolluted, pristine, and pure blue. When we arrived, we went to the hotel recommended by Precy Fermo (and which her aunt operates), the Bulwagang Princesa. It's not very close to downtown, but it's quiet and well-landscaped with tropical plants. We rested and read out by the pool that day. The proprietor's daughter was concerned that she didn't have a room for us. Eventually, it became clear that she meant that she didn't have an air-conditioned room, assuming that Americans would settle for nothing less. We convinced her that we were quite happy with a cheaper room with a reliable fan. The complex has a bunch of geese and plenty of geckos, including large one in the garden chirping "Toe-kay".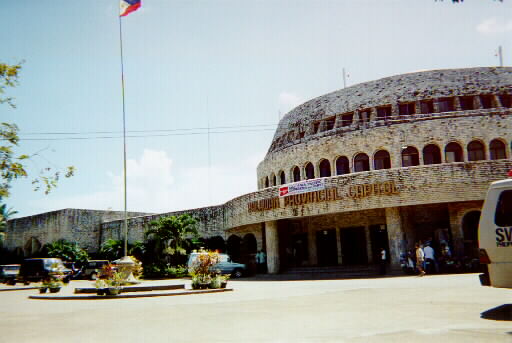 The Palawan Provincial Capitol building in Puerto Princesa is an interesting architectural feature of the city.
Monday, November 20, 2000: This morning, we flagged down a jeepney and headed down to the airport to buy our two airline tickets to Cebu, our next destination. The Philippine Airlines office couldn't handle the credit transaction just yet ("off line"), so we toured the Capitol building of Puerto Princesa, explored the backpacker's book shop, picked up a bunch of postcards, dropped by the Post Office to get stamps, discovered the local cathedral, and we spent time praying and resting there. The local police station across the street was the site of an awful massacre of American prisoners by the Japanese during WWII.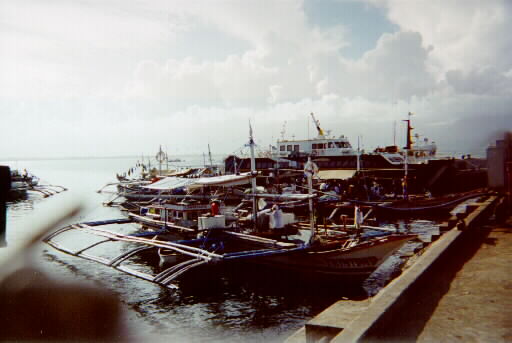 Commercial boats at the wharf in Puerto Princesa.
After we walked down to the pier, we had lunch at the Rodeo Grill with waiters in cowboy outfits - it must feel hot to wear that outfit in this climate. According to our guide book, it used to have a "tree house" motif, and the building still resembles one. We hiked some more and discovered the local museum which is a combination nature, history, and local cultural exhibit about Palawan. The multi-colored sea shell collection was my favorite. Surprisingly, unlike places on Luzon, the museum doesn't have much security to guard its exhibits. Clyde bought some souvenirs in the gift shop. We decided to walk back to our hotel that evening, but we got lost in the dark and had to ask directions. The staff brought us a pitcher of water when we returned, hot and tired from hiking. My eye looks bad because of a burst blood vessel, but it's clearing up.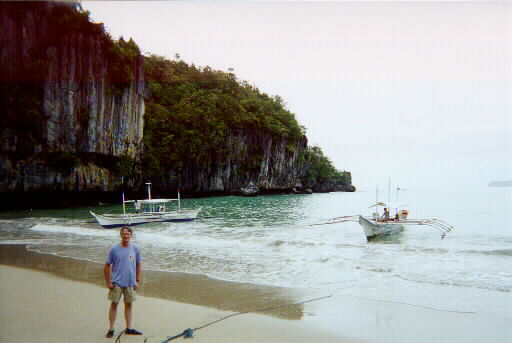 Martin on arrival at the arrival area of the Underground River National Park.
Tuesday, November 21, 2000: We got some intense rain last night. This morning, we set out on a for-real tour, getting into our "air con" van with 3 other tourist-couples: 2 straight and 1 gay (at least by our estimation) for a long jeepney ride across Palawan to Sabang and the Underground River National Park. The road was bumpy, and the cooler with our lunches bounced out of the back and flipped onto the highway at one point. We rode a banca around the coast to the park site which has a number of macaque monkeys and some four foot long monitor lizards.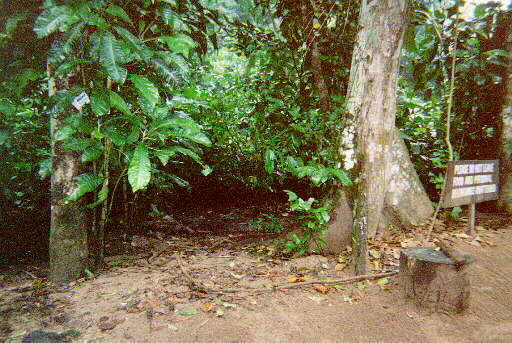 Monitor lizards are as difficult to capture with a camera as butterflies.
We crammed into a small boat and floated into the quiet limestone caverns, illuminated only by a spotlight on our boat, which continue for miles - just us alone with about 40,000 sleeping bats - and swallows chirping and swooping in the cavern and diving for bugs. It's an eerie sight. At lunch, a monkey tried to swipe Clyde's food right as he was taking a bite. I spent an hour talking with one man from Montreal on the way back. We have supper at our hotel restaurant where we meet the entire Davao Norte city council who were there for an eco-tourism conference. We met the former mayor (Mrs. Quezon) who told us that she has an aunt in Salisbury, N.C. After sharing some vide-oke, we debated politics and education. She helps to run a small technical college in Davao. They invited us to visit Mindinao, but that's a little too close to the hostage-takers to suit us on this trip.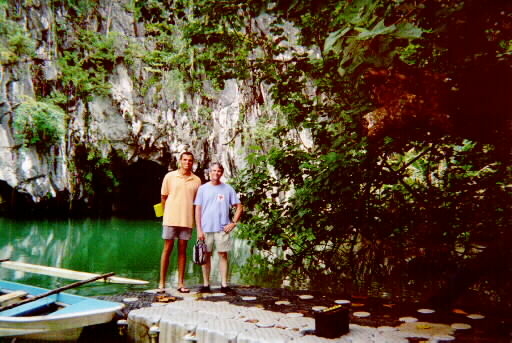 Clyde and Martin at the entrance to the Underground River.
Wednesday, November 22, 2000: We have rain this morning and make plans for the remainder of our trip. We went down to the Equitable Bank and got some cash. Next, we dashed through the tropical downpour to Jollibees for some lunch and to get some cover from the rain. The Jollibee statue is cheerful and welcoming: a giant plastic red and yellow bee with white-gloved hand (?) extended in greeting. It sort of reminds me of the Big Boy icon at Shoney's. Next, we walked over to the NCCC department store (the closest thing to a mall in this town) and found some fantastic clothing buys. We then walked down Rizal Avenue to the airport and, on the second try, secured our tickets to Cebu. After getting a cool drink and snack at the Airport Hotel, we caught a tricycle back to the Bulwagang Princesa and packed our clothes. After the rain, we could hear all the frogs out croaking loudly in unison, sounding more like a flock of ducks than anything else.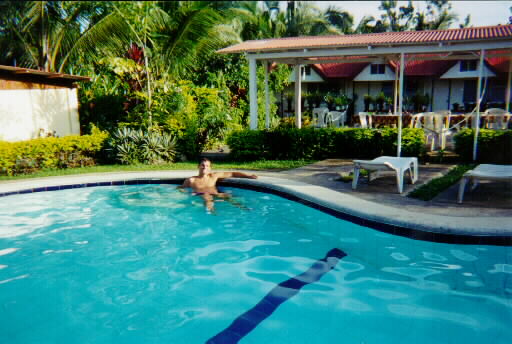 Clyde relaxing in the pool of the Bulwagang Princesa before the owner's youngest joined him.
Thursday, November 23, 2000: It's Thanksgiving today, but there's no turkey and dressing to be had anywhere. This morning we discovered a local movie theater and paid 50 cents to see Ang Lee's new martial arts film, "Crouching Tiger, Hidden Dragon" with Chow Yung-Fat in the lead role. I phoned Mom to wish her a Happy Thanksgiving. After lunch at the Rodeo Grill, we rode a jeepney to the hotel, conversing with a group of teenage boys about life in America and about Michael Jordan. I studied my Stephen Ministry notes by the pool, as Clyde went swimming. However, the owner's six-year old son discovered that Clyde was willing to play games and spent the rest of the afternoon splashing in the pool with Clyde. As dusk fell, the sensitive plants in the garden all closed their fronds. We spend hours that evening talking by the pool with Mrs. Quezon's daughter, Cherry Quezon, about her life in Cebu and about Philippine economics. She indicated that her RTW (ready to wear) clothing business is difficult because imports from other Asian countries can be had cheaper than what is produced in the Philippines. The stars are clear and brilliant at night in Palawan. Cherry gave us some information about what to see and to do in Cebu. If our schedules permit, we'll see her while we are in Cebu.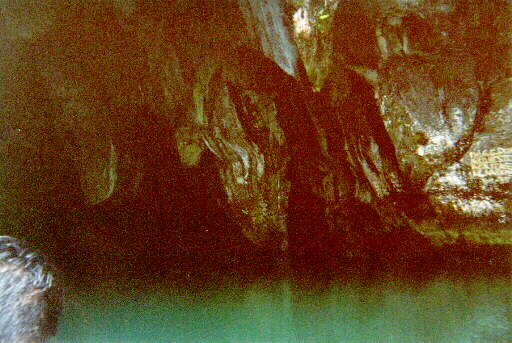 Our tour boat enters the cave of the Underground River.
Friday, November 24, 2000: Rafy gave us a ride to the airport this morning and we thanked Mrs. Fermo for her hospitality. Our PAL flight made a stopover in Iloilo on the island of Panay, which is a gorgeous landscape from the air, including some striking volcanic scenery. That evening, we arrived at Mactan Airport in Cebu and picked out the Golden Valley Inn to stay at in downtown Cebu City, since the Mercedes Hotel (where we stayed on a previous trip) was full. It's an economy business hotel, but it suits us okay. Unfortunately, at bedtime we found that the air conditioning unit had become frozen, so we had to work to get it defrosted. Overall, the city looks newer than it did 5 years ago. We dined at the Emerald Cafe, listening to electronic Christmas carols and watching Japanese anime cartoons.
Saturday, November 25, 2000: As usual, Clyde and I manage to spend most of the morning conversing about travel plans. We decided to hike to the University of San Carlos museum and bought eight compact discs of local Filipino music. Several school groups came in with kids drawing pictures of the exhibits. I stopped by the philosophy department and checked out their course offerings. A group called Sophia is big here in the Philippines. The classrooms have old wooden chairs and the teacher's desk is on a raised dais. We went to the Super Ferry Office and figured out how to get a ticket to Manila. We think that it would be more interesting than flying. We wanted to go to Manila next weekend, but find that the only available booking with a private room is for Wednesday when the larger Superferry makes port. We get one of the best suites on the boat. Having accomplished our mission, we go around town doing lots of window shopping. We shopped for luggage tonight and visited with the sales people.
Sunday, November 26, 2000: We called Clyde's parents this morning to catch up on news. Since we would arrive back in Manila several days earlier than we had first planned, we decided that, when we get to Manila, we'll head up to Baguio for a few days. So, in the course of strolling around the neighborhood, either serendipity or sharp eyes led us to an Asian Spirit agency, and we bought tickets on the small airline from Manila to Baguio. After a quick lunch at Jollibees, we walked down to the South Bus Terminal and eventually figured out which bus heads down to Naga. We overshot our destination by more than a mile, so we caught a tricycle back to Naga. It is a lovely seaside town. After visiting with some people, we found out that Belden and Arlene's mother, Mrs. Loming Granada, is in San Jose, California visiting family, so we missed seeing her. We did visit with her sister-in-law, Charito Burtido, who told us about her family and spent time with us. We caught an air con van heading back into Cebu City. We did more luggage shopping that night (though the sales girls seem to think we might be shopping for wives) and have dinner upstairs at the Snow Sheen Chinese restaurant. It's been a fun day.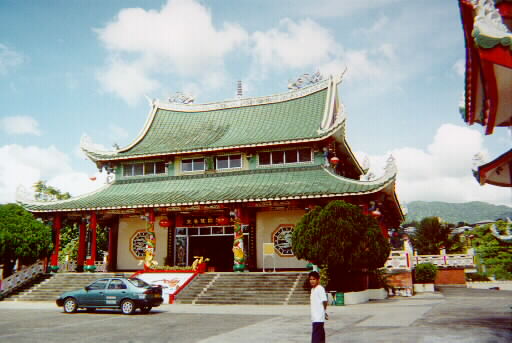 Taxi driver Ian in front of Heavenly Temple of Charity.
Monday, November 27, 2000: According to Asia News, CNN, and BBC, the U.S. election is STILL unresolved. No winner! just recount after recount. We decided against taking a boat tour to Bohol tomorrow - too expensive - and went instead on a taxi tour to the Heavenly Temple of Charity and the imposing Taoist Temple up in the hills overlooking the city. Ironically, there's a notice posted in one of the temples advertising a local Christmas party. Our driver, Ian, confided that the water in the temple pools used to be much cleaner. We didn't cast lots in the temple but did take time to enjoy the majestic view of Cebu City and the ocean sparkling in the sunshine. Afterwards, we went over to Ayala Mall and I got a haircut and back massage for 70 pesos ($1.50). Clyde convinced me to go to Express Vision where we got our eyes examined for inexpensive prescription glasses. We considered getting together with Cherry Quezon later in the evening, but she is busy with her work, so we make other plans.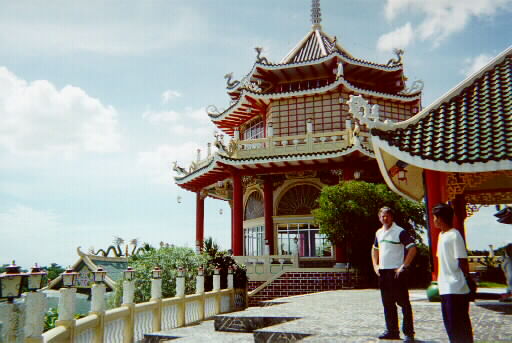 Martin and Ian on garden level of Taoist Temple.
Tuesday, November 28, 2000: We visited Gaisano stores today and bought lots of shirts at great prices. We also got a load of socks at a competing store. The retail help at both stores was very happy to see us! Finally, we picked up our new prescription glasses, so now I have a vision backup. We made plans to catch the ferry tomorrow for Manila. Tropical Storm Rubio is bearing down on Cebu, and we'd like to skip town quickly before the storm turns into a raging typhoon and traps us in Cebu. We hear that troops are being called out in Manila to handle demonstrations against President Estrada, but we're not too concerned about that - at least not yet.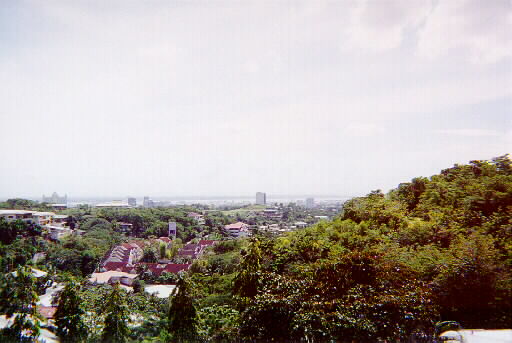 View of Cebu City from the Taoist Temple built in the Beverly Hills area of the city.
Wednesday, November 29, 2000: This morning, we sought out Cebu Normal University because they have a small historical museum which is also a gallery with works by Cebu painters. Graciously, the director took us on a personal tour of the exhibits. WWII was hard for the campus because it was turned into a Japanese Military Police Headquarters. Many people were taken in there, but few came out. The bursar's office used to be a prison cell. We took a cab down to the pier at 4:00 p.m. and boarded the huge Super Ferry 12. Our suite was elegant - air conditioning, mini bar, and TV, with a window on the top deck, and access to a first-class dining room. It's all much more luxurious than any accommodations we've had on this trip. We watched the lights of Cebu City disappear one by one as we sailed north. It's pretty blustery out on deck. We slept well that night in our cabin, feeling only a few strong waves rock the ship from time to time. I dozed off reading Tich Nhat Hanh's views on mindfulness. I wouldn't qualify as a very alert Buddhist.