40 Days and Nights in Southeast Asia
(December 12, 2011 – January 23, 2012)
Martin Fowler and Clyde Zuber
---
---
---
December 12, Monday - December 13, Tuesday
We got up at dark-thirty in the morning to catch a Super Shuttle down to RDU by 5:00 a.m. I slept 4 hours the night before, having turned in all my course grades for the fall semester Sunday evening. Clyde didn't sleep at all. We caught a 6:00 a.m. Delta flight to Chicago, and then boarded a 747 bound for Narita Airport near Tokyo.
We flew over Western Canada, northern Alaska, and a few hours over Russia, and then to Tokyo as we crammed ourselves into our coach-class seats (comfort just a few notches above waterboarding), two seats back from the movie screen. I couldn't adjust my broken seat to stay upright, so it constantly reclined. Naturally, the lady behind me was flummoxed enough to get herself relocated. The stewardess ensured that I got 15,000 miles added to my Delta Credit card as compensation for my inconvenience. I enjoyed watching 'Rise of the Planet of the Apes' and 'Harry Potter –Deathly Gallows part2' but was otherwise dehydrating over a 12 hour stretch in the sky – Like Lord Voldermort, I was turning into a husk of my former self. Will I wind up as horcruxes hidden in all the different countries we visit? Reminder: Get bottled water before boarding another Air Asia flight. The strange thing about a flight like this is having little sense of time or place – as though the body can't make up its mind just where it is or what to do.
The Narita Airport in Japan was even swanker than on our last trip and makes most US airports look like run-down bus stations. We crashed in the special 'lounging area' with floor cushions. The USA just hasn't done infrastructure this well in some time. It's cushy and upscale, as were our old haunts in Taipei, we later discovered. Sky Mall magazine continued to provide opportunities to purchase items one would consider only in the nebulous time/space continuum of an international flight. I suddenly discovered that I truly needed and coveted a yard art squirrel posing like Rodin's 'The Thinker.'
Taiwan - Taipei
December 14, Wednesday
We checked in very late at Hotel73. They upgraded our room from "standard" to one with an actual window. I think the Chinese prefer security to having a panoramic view. It's clean, modern, black-and-white décor, and fine for our needs – breakfast included each day in the basement dining area. We plan to come back here at the end of our trip. We chowed down breakfast next morning and explored Taipei, though jet lag set in by mid-afternoon. We re-visited the massive blue and white Chiang Kai-Shek Memorial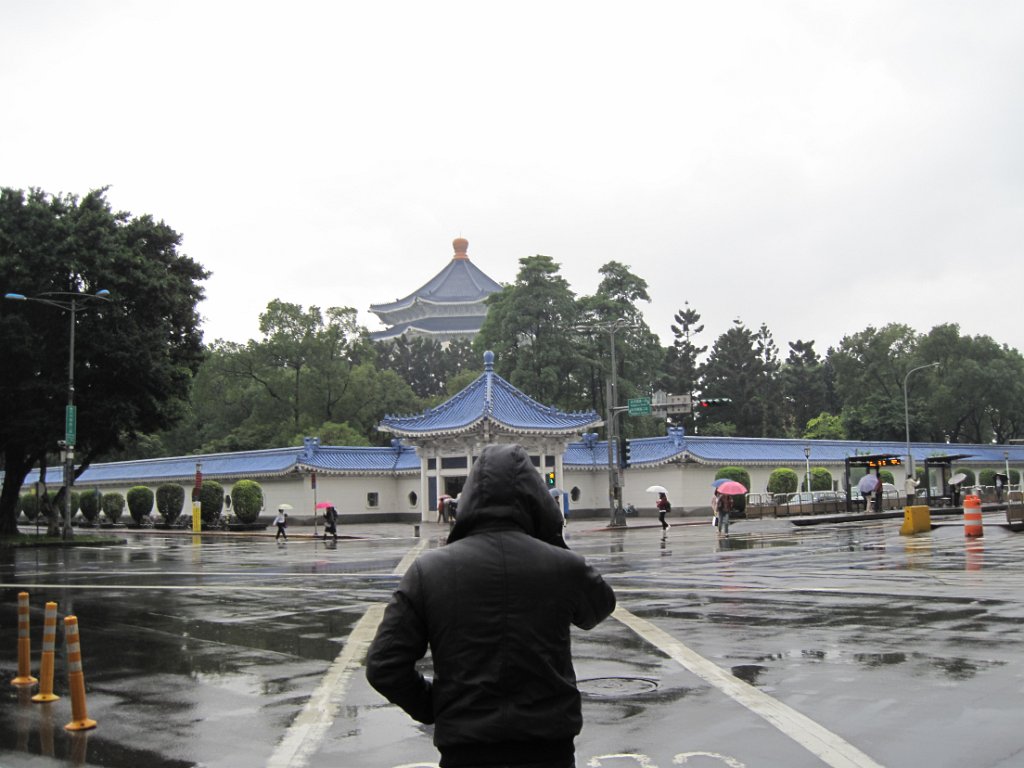 and looked at exhibits extolling his life and general wonderfulness for the Republic of China and the world. It occurs to me that Taiwan and Israel were both formed at the end of WWII in a time of crisis, hope, and desperation. Both countries were decidedly democratic and nationalistic. Both have prospered but feel threatened and internationally isolated, though for very different reasons. Israelis speak Hebrew, and Taiwanese use classic Mandarin Chinese instead of the simpler mainland Chinese ideograms.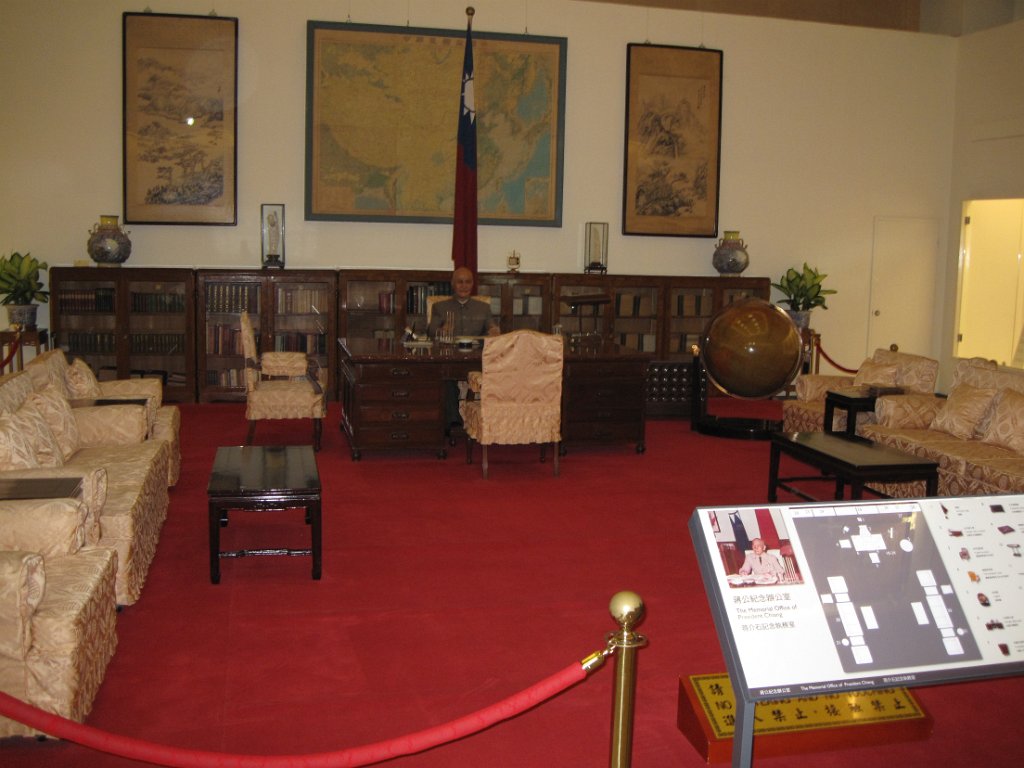 It's the 100th anniversary of the founding of the Republic of China in 1912.
We scouted out a department store food court for some evening fare, and then took the MRT (mass rapid transit) back to our street. My understanding of written Mandarin Chinese hasn't improved, but I'm getting very good at pattern recognition among ideographs. We were tired, but had a great day.
December 15, Thursday
Today we felt much less jet lag. That was great. After breakfast, we took the subway and a bus to the National Palace Museum. It was packed with tourists and tour groups. It's good that more people appreciate the art, but it was quite a crowd. We set our own tour, taking in the bronzes, ceramics, paintings, calligraphy, and fine carvings in jade and ivory. Clyde found a little coffee shop in another building for an afternoon snack. We then got a free 3:00 pm tour in English to back up what we learned earlier in the day. We spent some time that evening sitting in the park near Chiang Kai Shek Memorial where we listened to singers rehearsing for a children's concert. We discovered a good restaurant with a rainbow flag decal in the window. They liked us – plenty of free seconds (I think they were a lesbian couple).
December 17, Saturday
Welcome to steamy Kota Kinabalu! We explored the city today, including Jesselton port,
and local eateries. It was fun seeing how the town had grown and changed in 20 years. I got some spare t-shirts and a paperback copy of the Chinese traditional classic, The Journey West: The Adventures of the Monkey King which I enjoyed reading to Clyde. Most of the women wear saris, and rarely are any two alike. They're quite a fashion statement. Tonight we walked to the shore and found a good outdoors eatery,
though we were the only foreigners there. We ordered red snapper and steamed rice. It was fantastic! Clyde wanted fried bananas (which they call banana crepes), and, after Clyde paid the waiter to buy some bananas from a neighboring kiosk, they cooked up a plate full of delicious banana crepes for us.
December 18, Sunday
We got up early this morning to attend church at All Saints Anglican Cathedral in Kota Kinabalu. The service was a combination of praise songs and evangelical preaching. We were thoroughly welcomed as guests and strangers in town. The sermon was well organized, and the congregation was mixed: Malay, Chinese, Filipino, and only a couple of Anglos. We had a wonderful Malay / Chinese breakfast at the church afterwards and talked with the clergy and staff.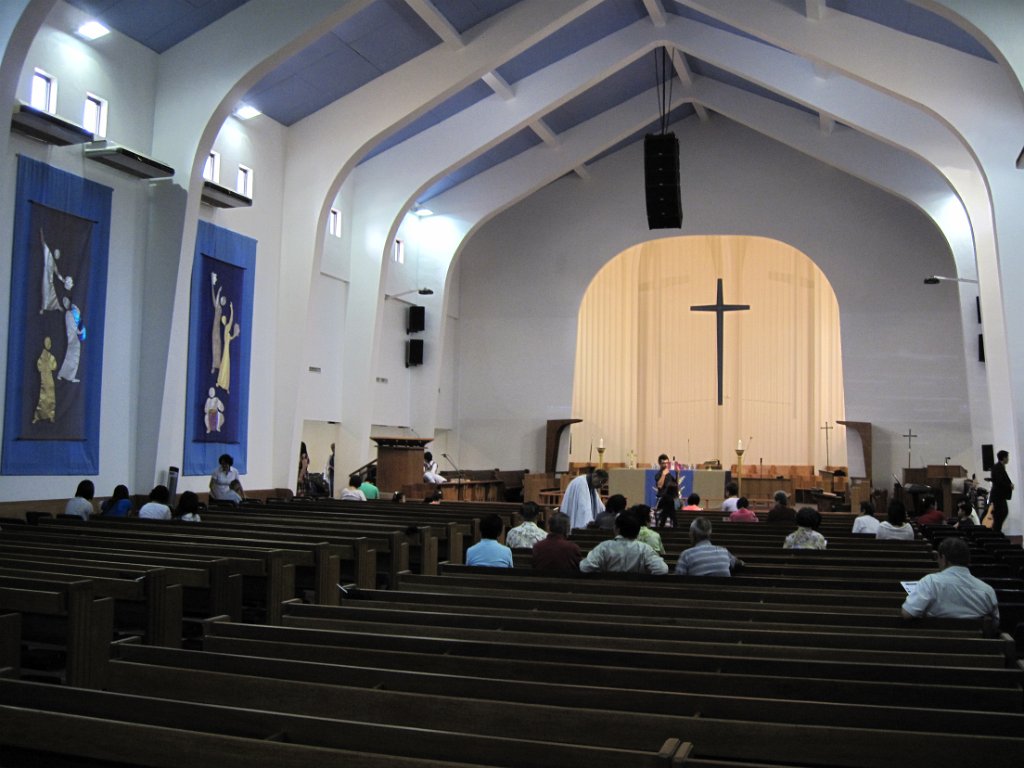 We discovered that the best sea view is at the top floor of the new mall at the food court – same spectacular view of the ocean you could pay a fortune for at local hotels. The Philippine island of Palawan is only 250 miles to the North. I studied and read about animal rights out on the mall balcony overlooking the ocean while Clyde did some exploring around town. He had to get some Ringgits at an ATM this evening for our bus trip to Mount Kinabalu tomorrow morning.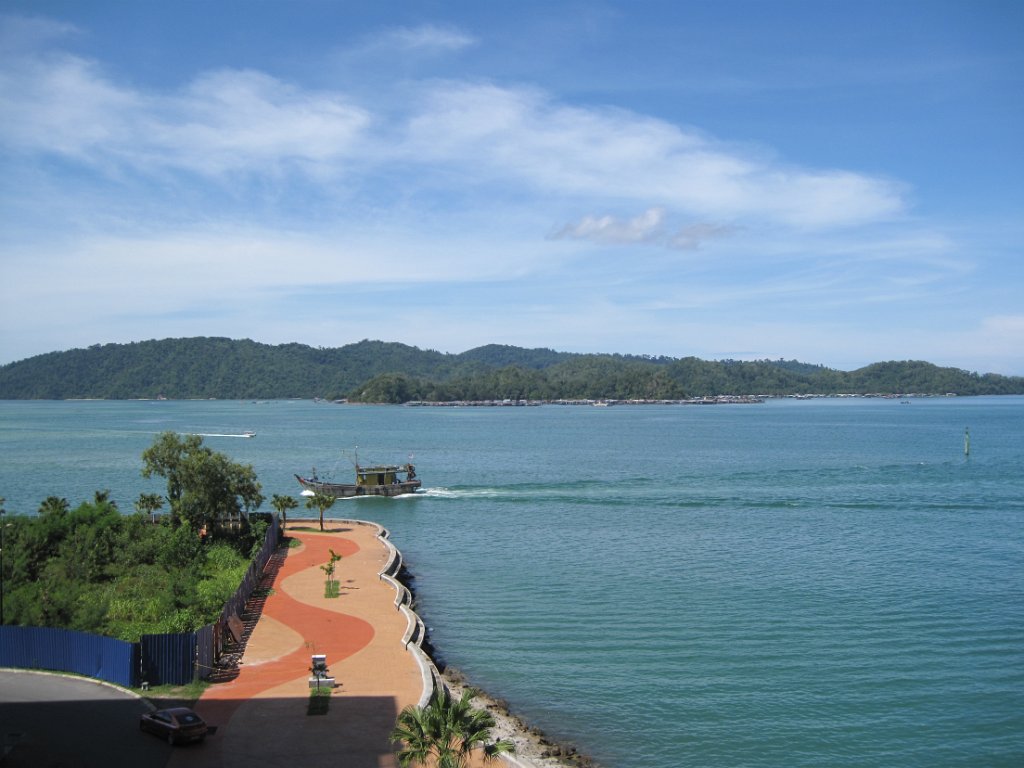 December 19, Monday
Today we got up early again, but did so this time to pay a few dollars for bus up to Mount Kinabalu. We saw the nicer homes up in the hills, and the Kinabalu Park itself was gorgeous, cooler than KK, and the Mountain was wreathed by clouds.
We got a nature tour by Enroe who belongs to the local Dusun tribe. He knew his botany and local plants, having grown up on the mountain. However, almost every plant and animal he described was hazardous. The rattan vines are used for basket weaving, but they attach themselves with tendrils to trees as they grow upwards – and those tendrils are sharp and spikey. We passed a termite nest. It looked much like a wasp nest, but wasn't. Just as well. A sting by three of those wasps can kill a water buffalo. Cute little hairy caterpillars near the trail are quite poisonous. Do not touch. There were a remarkable number of orchids, some very tiny and others spectacular – there are some times when the entire rain forest blooms at once, and scientists can't predict when that will be. I felt very much at peace in this place – but no desire to do a climbathon to the peaks of Mt. Kinabalu. When our van got back to KK, we took our dirty clothes to the laundry.
December 20, Tuesday
This morning, we got a late start and later breakfast, and we took a hike to check out museums on the far side of town to see art, culture, and the obligatory Islamic Civilization Museum. It was hot, so I was downing bottles of water constantly. We stopped by Grace Cathedral to see their outdoor 15 stations of the cross, and then hiked uphill. The Museums also had an outdoor Heritage Village series of native dwellings from all over Sabah. Though they were all made of rattan and bamboo, there were dozens of different architectural designs.
The Islamic civilization center was mostly ancient copies of the Quran and beautiful calligraphy. One exhibit was dedicated to costumes and the Muslim dress code, including a warning in English about the "gay fenonema (sp.)" of men dressing like women, and women dressing like men.
I carried my plastic liter of cold water around.
December 21, Wednesday
We took our time with breakfast at the D'Borneo before getting a taxi at 10:30 am out to the airport and flying north to Clark Field in Luzon. We had a nice rice and chicken lunch. It was a packed flight for the holidays. Clyde sat up on the exit row to get more leg room. It was wonderful to see Mount Arayat once more when we landed – like coming home. Clyde had a hotel in mind for us called The Red Tulip (apparently a Dutch owner).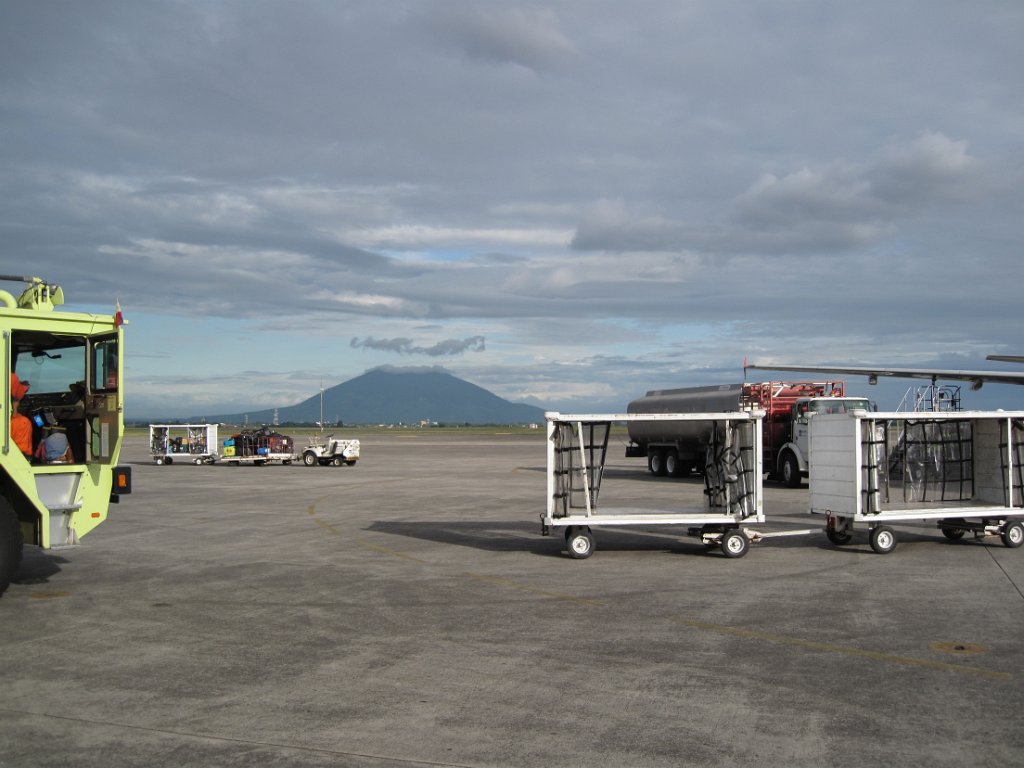 The Philippines - Angeles
December 22, Thursday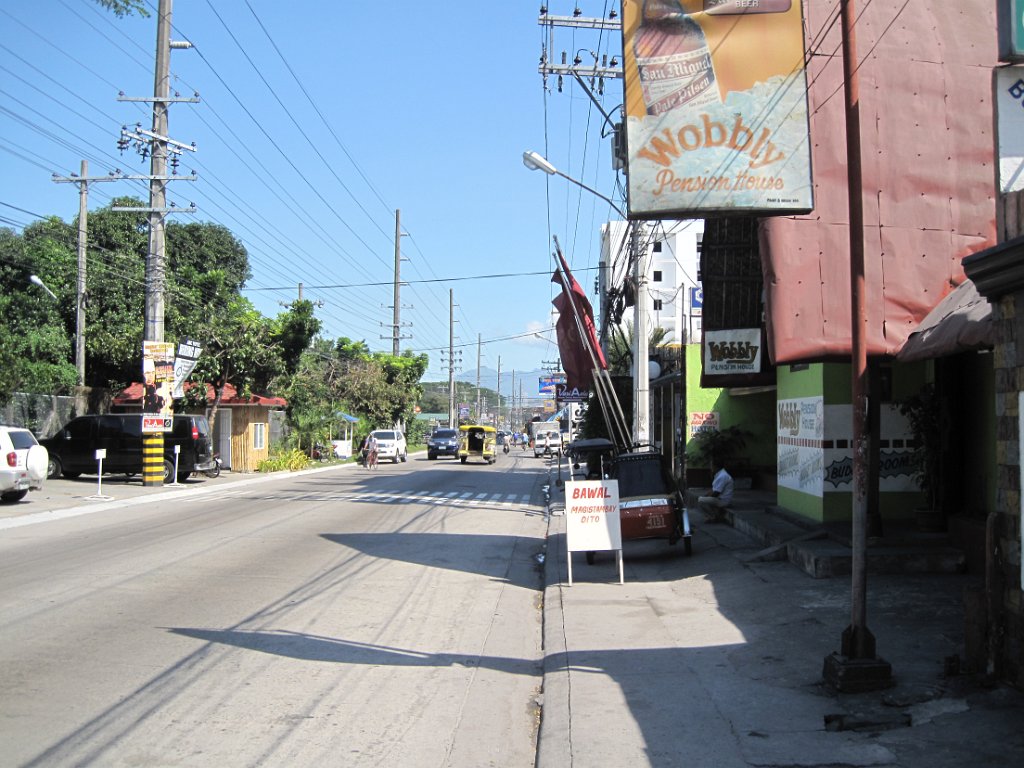 This is the Winter Solstice. We did lots of walking and exploring today and got a great inexpensive Korean dinner – hot pot and side dishes. We didn't stroll much past the bars next to Clark Field. It's no fun for us to run the gauntlet of hopeful-then-disappointed call girls.
We kept our eyes on the Asian news. Kim Il Jung died, so North Korea is under the leadership of his son and the military. I'll bet South Koreans are nervous. I've been doing last-minute editorial work on the e-book from the Prague conference on Spirituality in the 21st Century.
December 23, Friday
We went looking for a refill for my Mirtazapine prescription, and finally found a Mercury Drug Store which sold the brand version, Remeron. We then had lunch at the Robinson Mall, and saw a movie, "The Immortals:" sword and sandals CGI but true to the story of Theseus.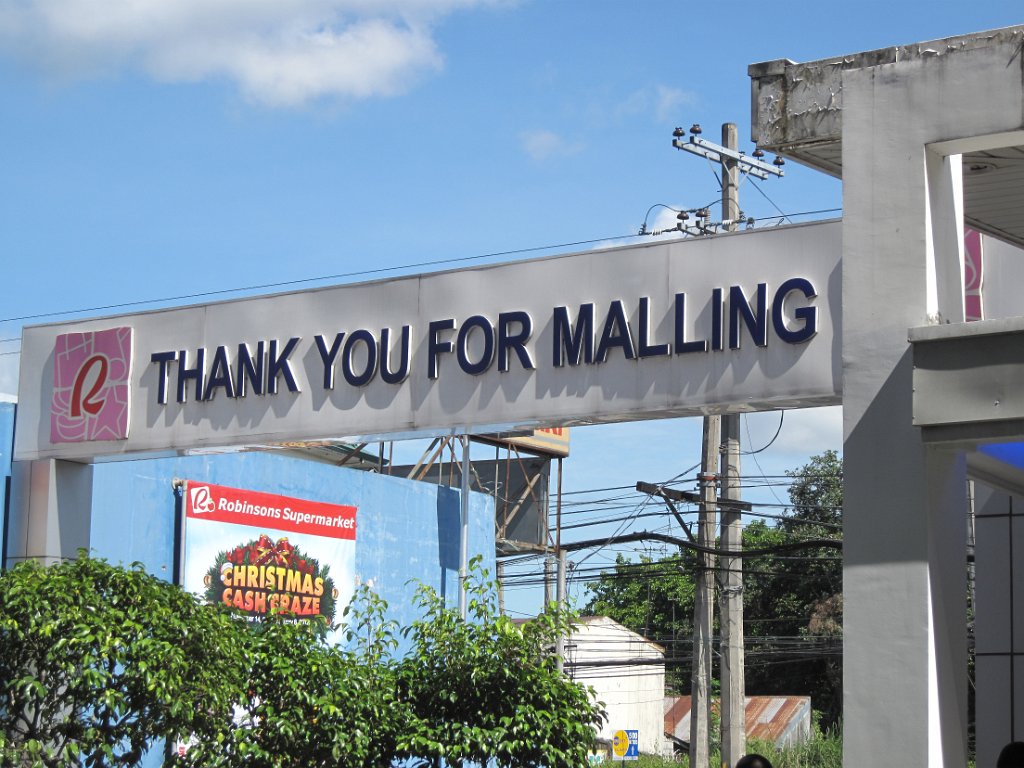 Very much a guy flick, though, on Olympus, these gods are simply to die for. Our Internet connection at The Red Tulip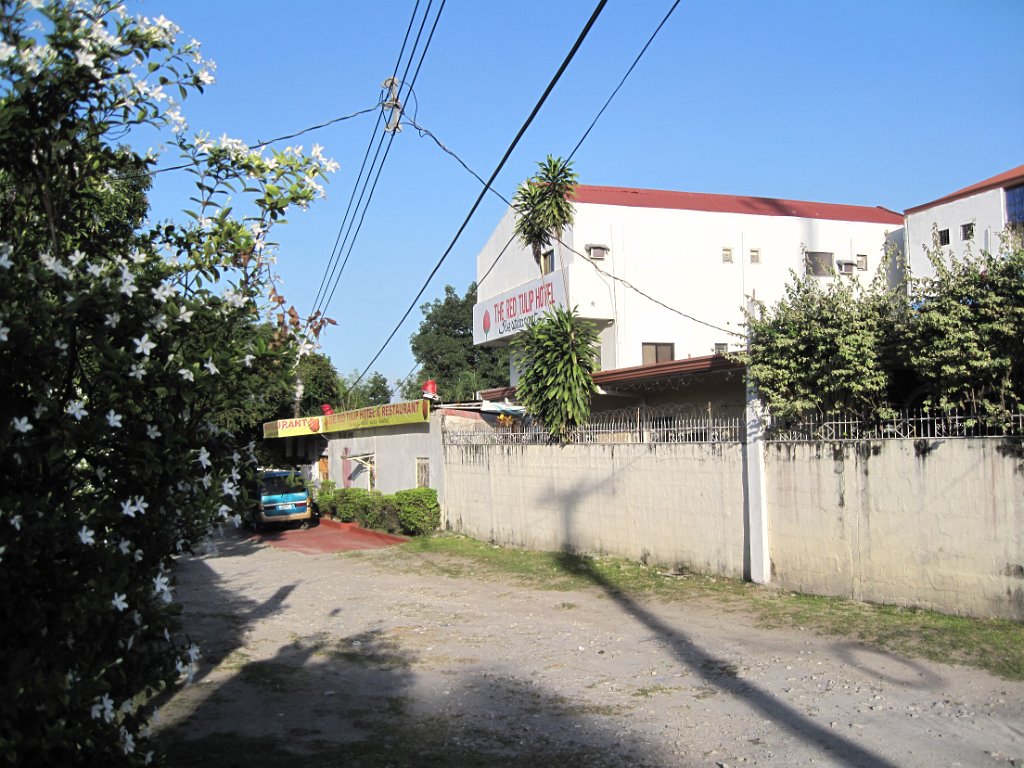 isn't working well tonight. If they don't fix it by tomorrow morning, we'll celebrate Xmas at a different hotel. We got around Angeles by piling into jeepneys. Lots more traffic than when we arrived 20 years ago after Pinatubo erupted.
December 24, Saturday
It is Christmas Eve today. Our Internet problems continue, so Clyde did some exploring and we moved over to the Wes Apartelle hotel this morning. That gave us larger accommodations for the same price, but we were not out of the Internet woods yet. Clyde's working with the manager to get it fixed – a techie's work is never done.
In the afternoon Clyde made a walking tour of Clark by himself to visit old haunts. He was late getting back to the hotel, which made me worry about his safety. Fortunately, he finally showed up. There wasn't much jeepney service off Clark on Christmas Eve so he waited for transport for over an hour.
However, he saw what had changed and what remained on base, including his old house.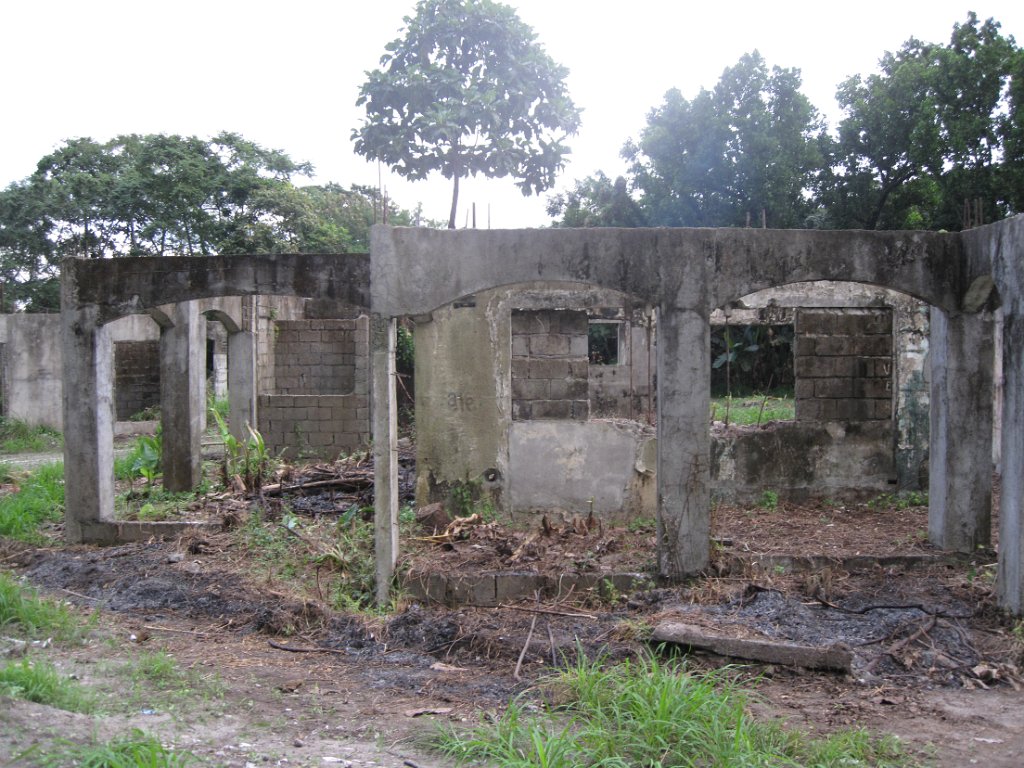 Meanwhile, I watch News Asia on Cable TV and read Kathy Rudy's book, "Loving Animals' which I'm using in my Animal Captivity course in spring 2012.
December 25, Sunday
Merry Christmas! We spent Xmas day indoors, working on our laptops.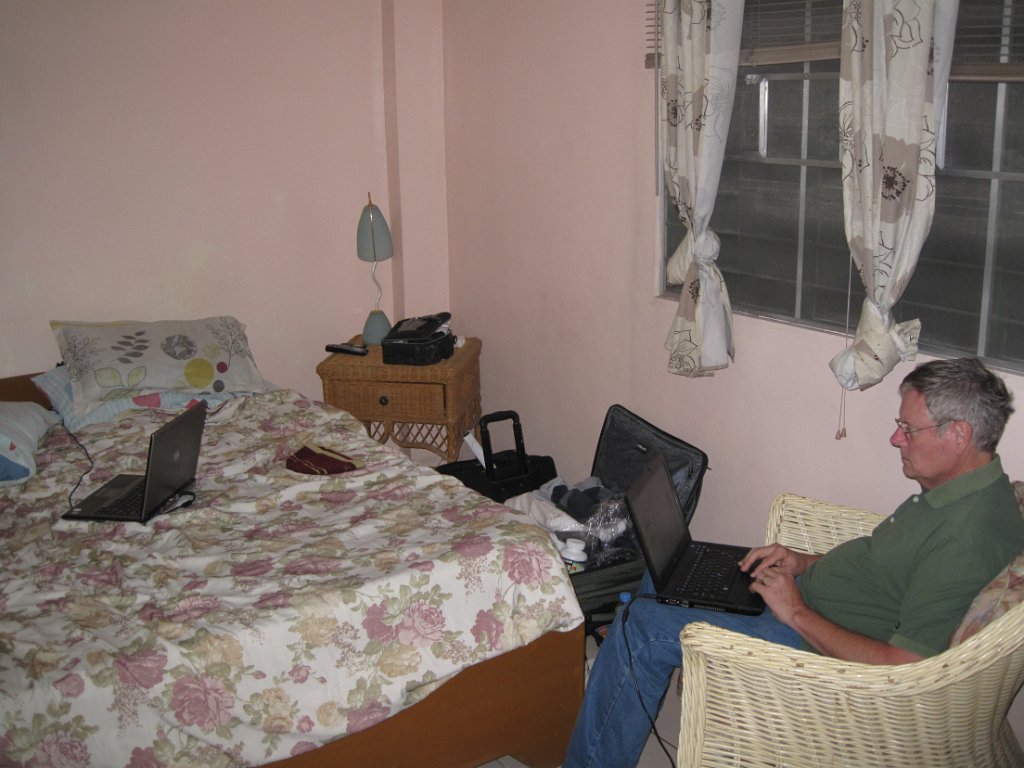 We finally got to sleep last night after the last of the fireworks were exploded, and the guys in the bar downstairs wandered off to bed.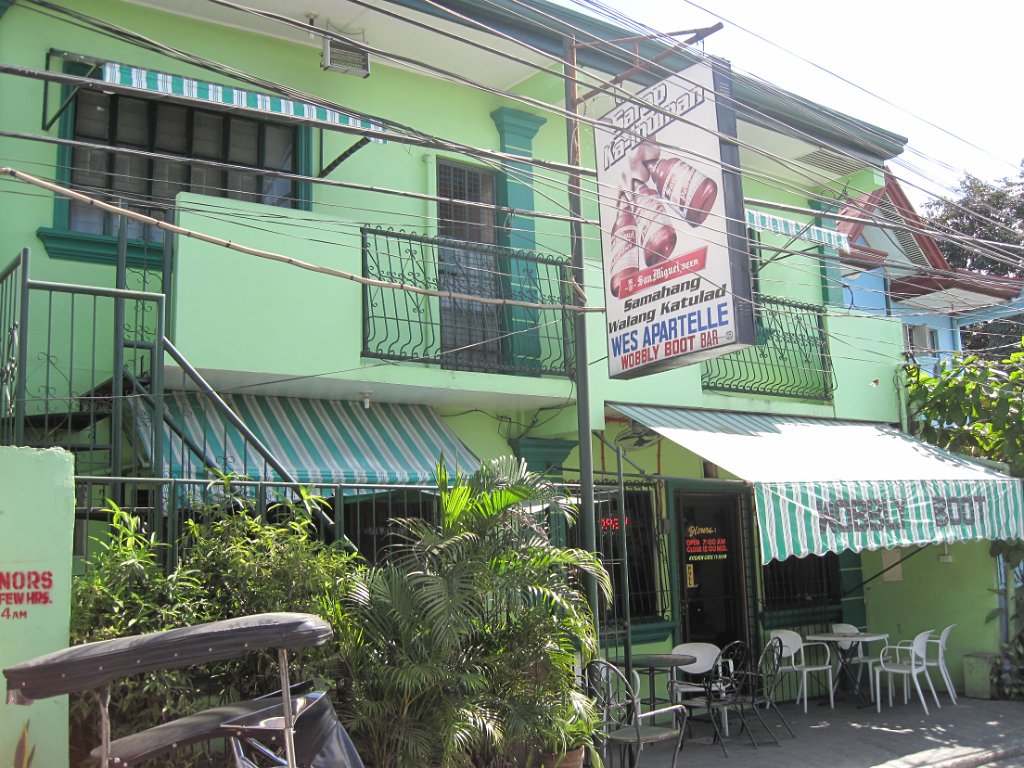 Tonight, we found a new Italian Restaurant (Giglio's). We were the only customers. We were therefore appreciatively waited upon by everyone from the manager down to the wait staff, and the food was excellent. The cook handed us both glasses at the end of the mail with some clear liquid which he said was water. I sipped it. Apparently "water" means "gin" in the local dialect (ha-ha). A little of that goes a long way! I don't know if we'll make it up to Banaue on this trip, unless we get a good deal from Avis for a rental car tomorrow.
December 26, Monday
This is Boxing Day, and I spent it indoors for the most part. We made plans to get a rental car from AVIS for a trip to Northern Luzon tomorrow.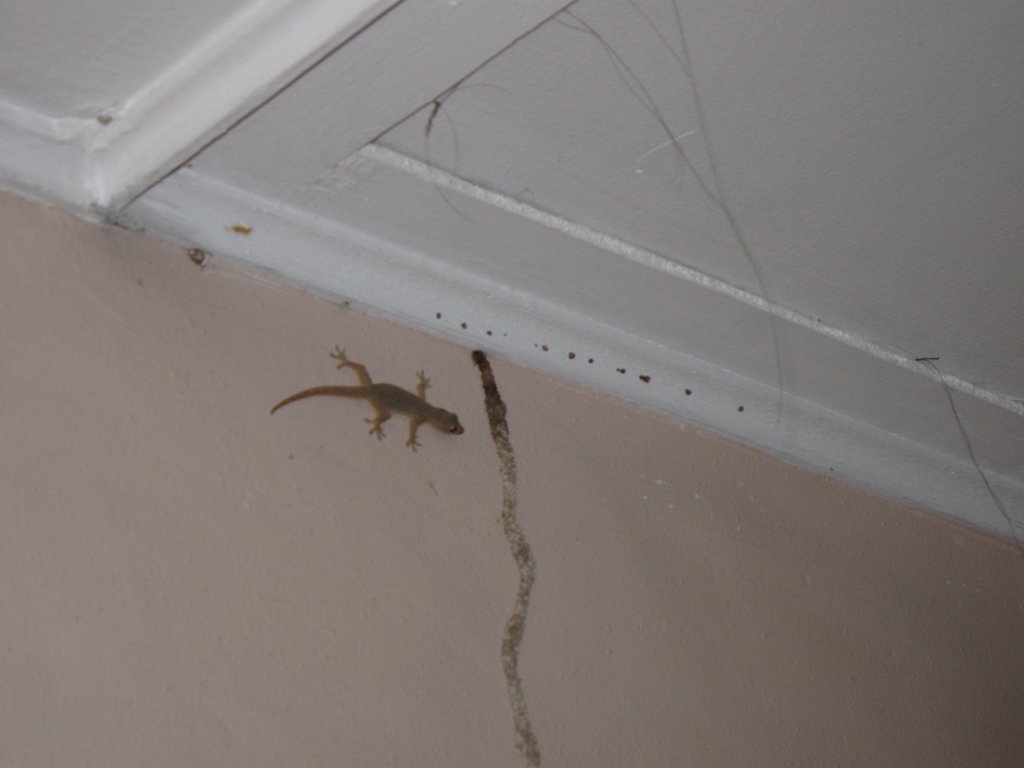 December 27, Tuesday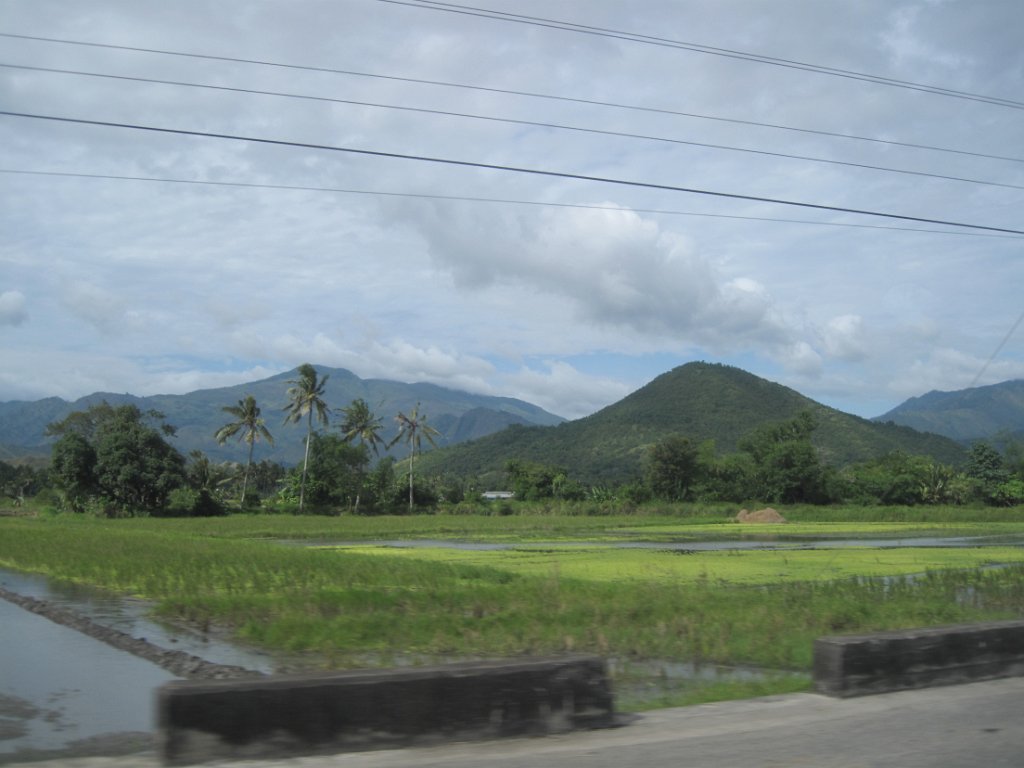 Today we got up early for breakfast and met our AVIS driver, Gary, who chauffeured us to Banaue. Actually, it's an adventure for Gary too because he's never travelled to northern Luzon before! We arrived in the middle of the afternoon and saw the rice terraces we first saw and explored 11 years ago in 2000. The trip up to Banaue was much as we remembered it from 11 years ago – people still dried rice on the roadway, and drivers (almost always) were careful not to drive over the rice. Of course the pre-fab façade of Iglesia Ni Christo churches were as common as fast food restaurants in the USA. We visited Bambang, Bayomgong, and Bonifol as we entered Ifugao Province.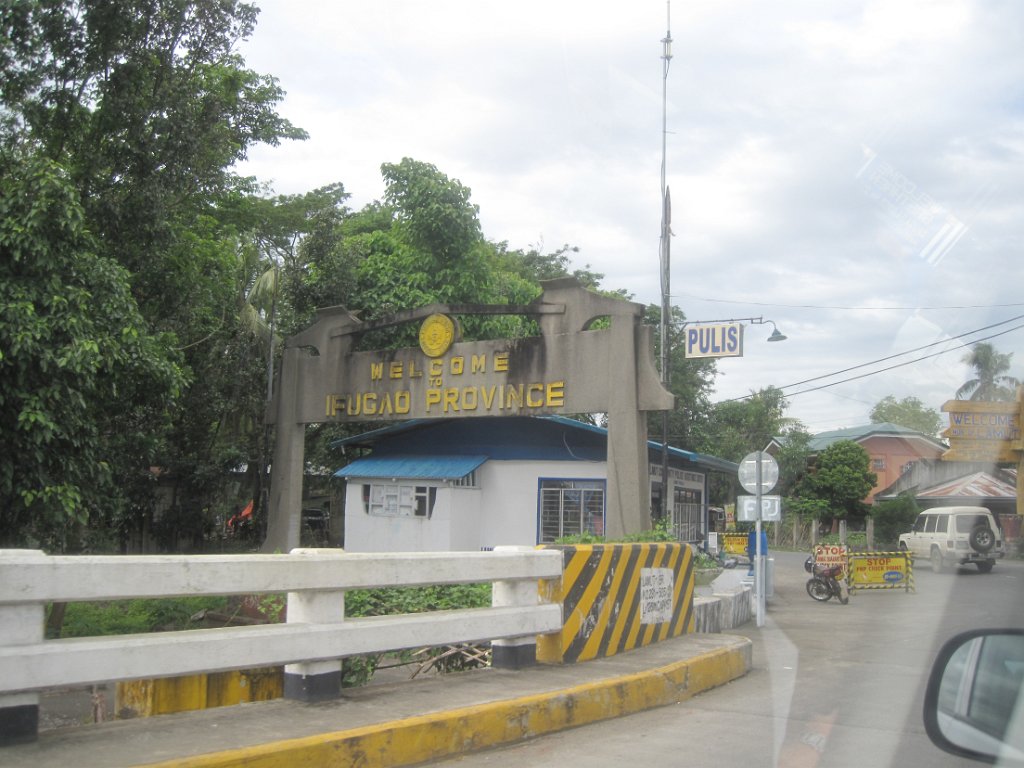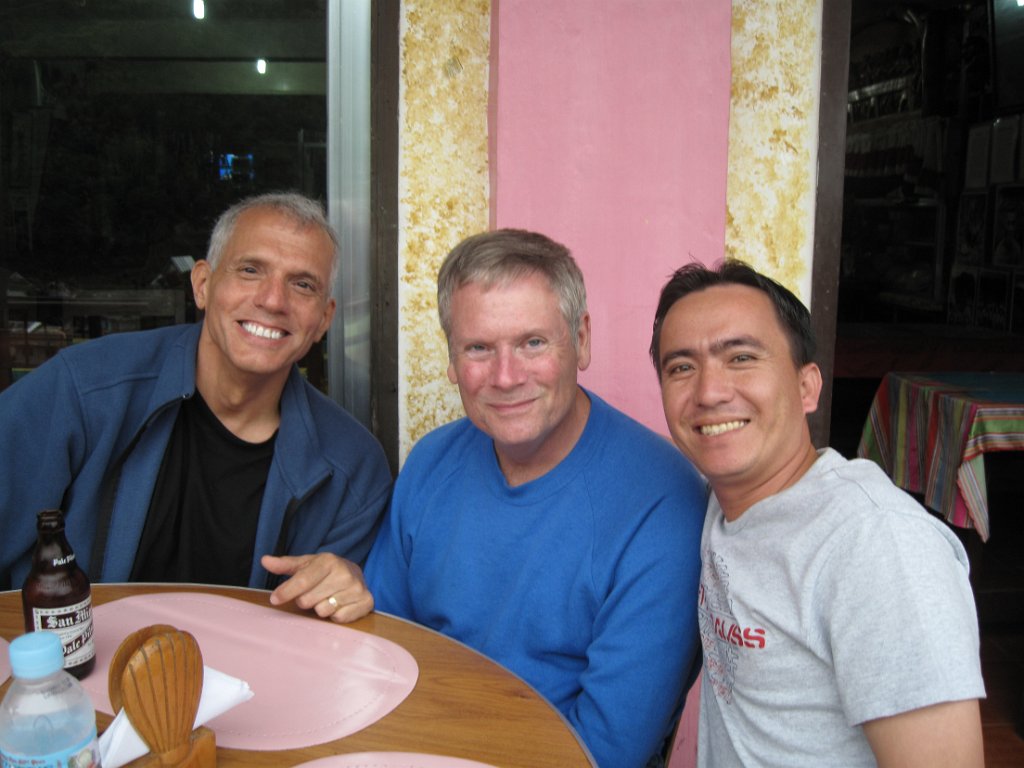 December 28, Wednesday
This morning we got up early, and Gary drove us up to a point in the hills with many intriguing stone statues overlooking the valley. Each was unique and beautiful.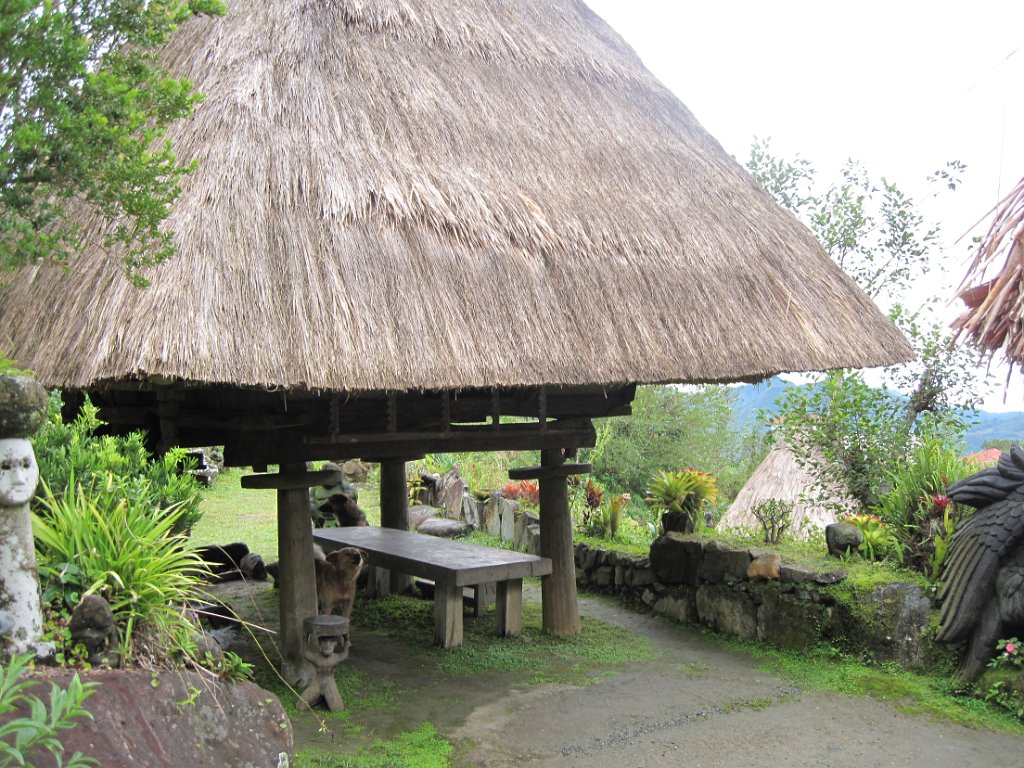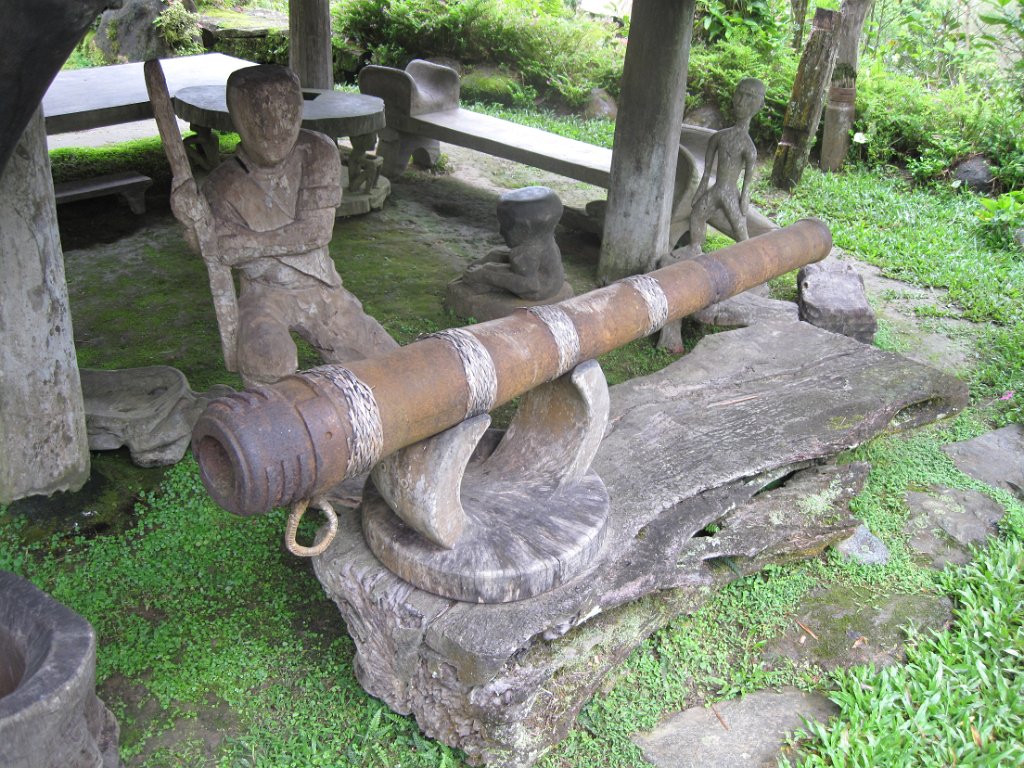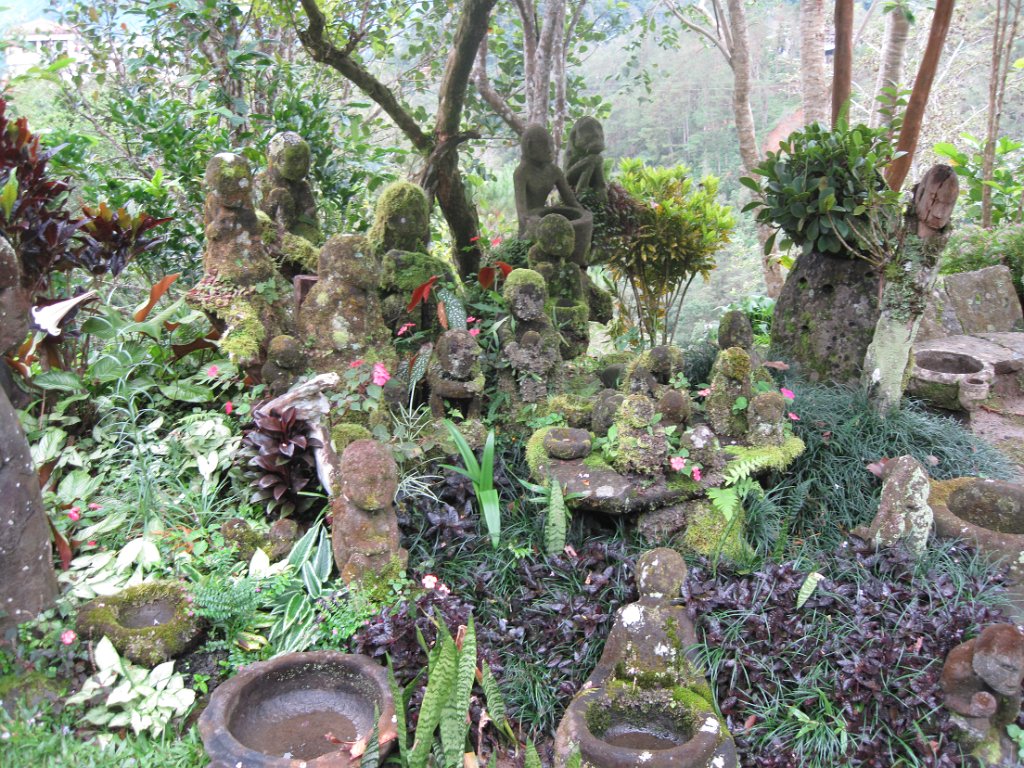 In one of the traditional huts, we could see skulls of Japanese, American and Filipino soldiers who died there during the last battle of the Japanese in northern Luzon. It's hard to imagine these ancient rice terraces as a battle zone, but I can appreciate that they would be difficult to take. They were mounted along with carabao skulls as a kind of memorial site on the inside of the hut.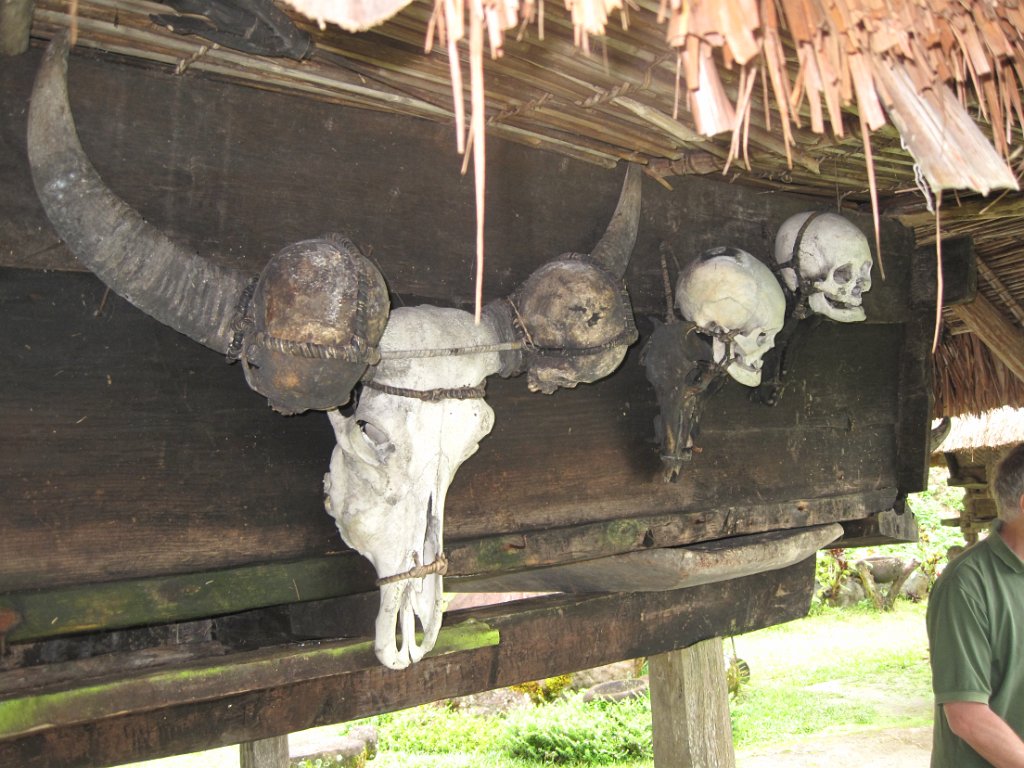 Our guide, Lolita,
trekked with us several hours down the hills of the rice terraces, back to town.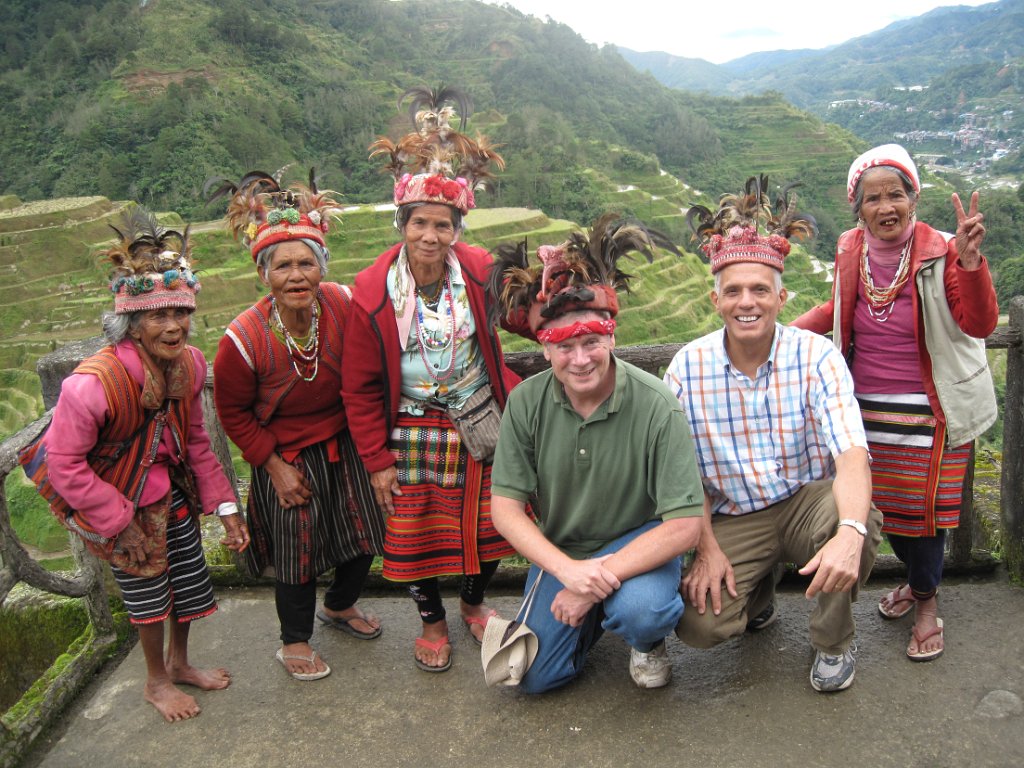 It was contemplative, mainly contemplating where to put (or not put) your feet, step by step, along narrow horizontal paths on the edge of the irrigation channels, then hiking up cliffs and down hundreds of stone steps. It was more of a walking meditation.
We learned lots about the hard work of growing rice. The route was occasionally slippery as we climbed up and down slopes.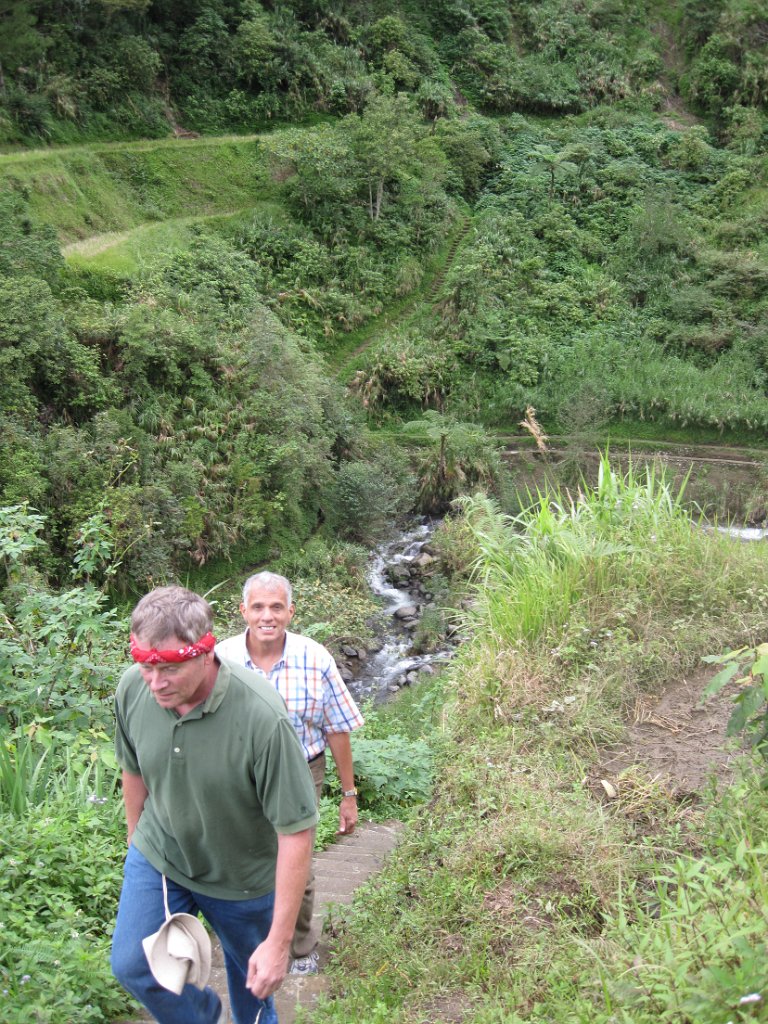 In one settlement, we saw some men wood-carving figurines which are sold down in the town shops. He was pretty skillful and we bought a wooden dragon (150p) which would have cost 500p in town. Lolita asked our wood carver to cut us sturdy walking sticks from a coffee tree, and that helped me to balance.
We could see where the villagers had planted plenty of sweet potatoes, and we helped ourselves to wild strawberries when we spotted them. The ledges we walked on next to the irrigation ditches were pretty narrow – water on one side and a long steep drop on the right.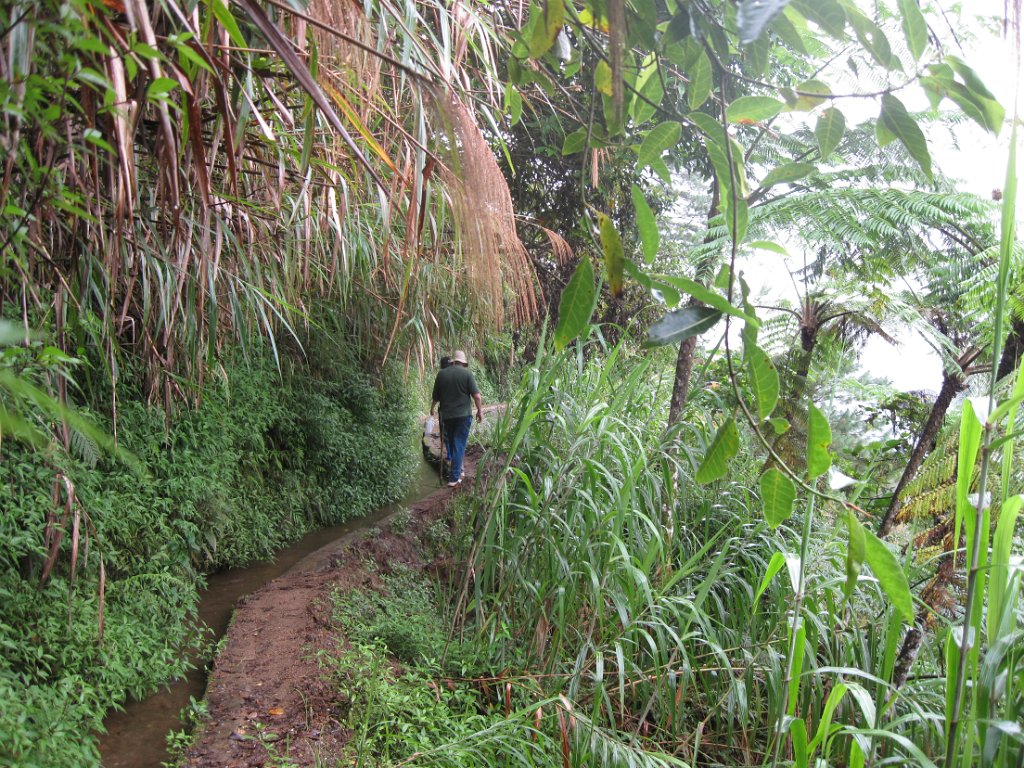 Fortunately, we weren't too afraid of heights on this trek.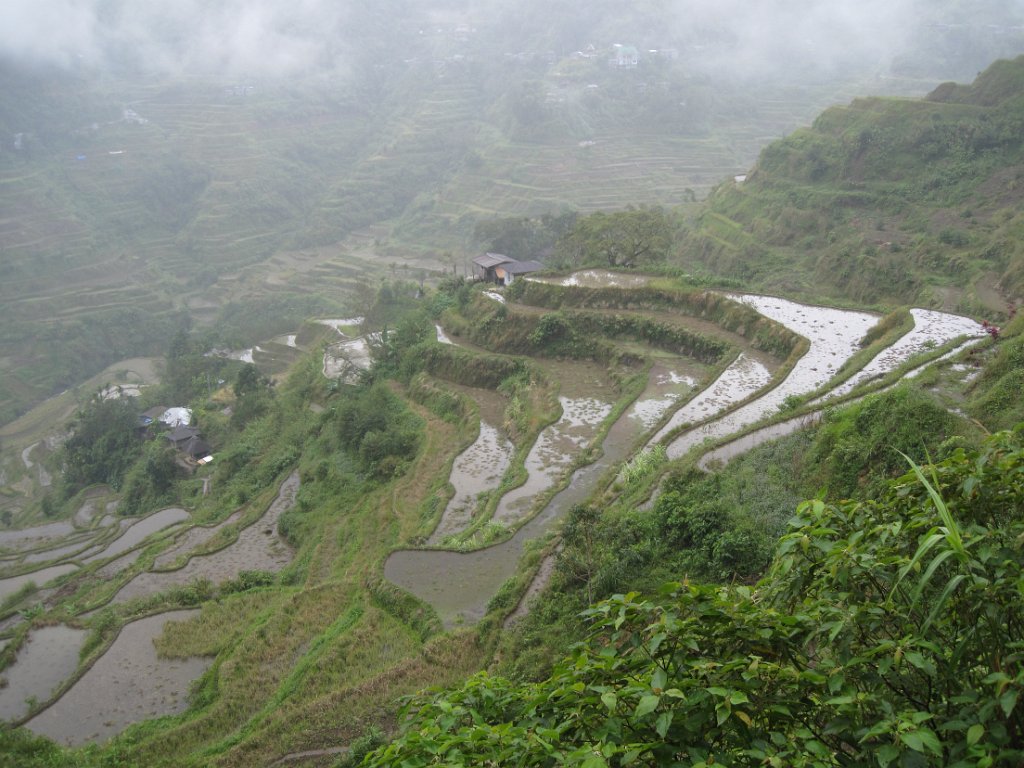 We consulted with Lolita and decided against visiting Sagada today and went to Bontoc instead where we arrived after Gary drove on a windy mountain highway in fog with more rock slides than we could count, the road occasionally being only wide enough to allow one vehicle to pass. The hills around Bontoc are breath-taking – like Chinese paintings of cliffs wreathed by clouds.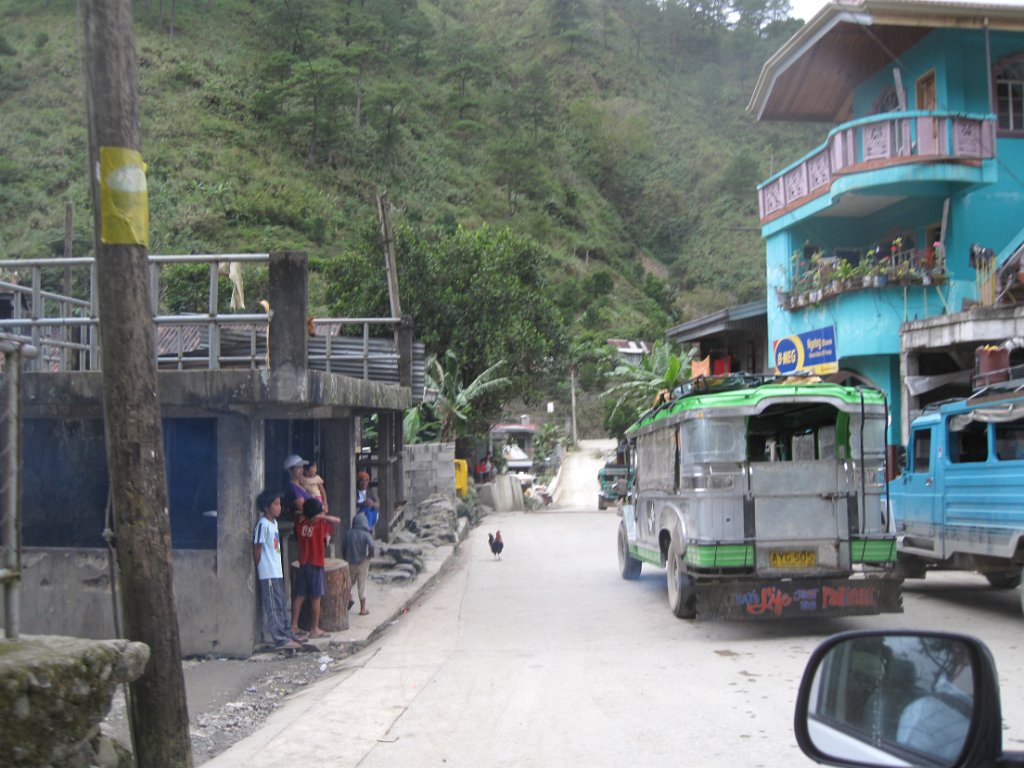 However, with the rice terraces, they were also living sculptures. We drove through Abatan, across the historic Sabangan Bridge, Makayan, Cervantes, and across the Besang Pass.
December 29, Thursday
This morning we got up early in Bontoc
and departed with our driver, Gary, to San Juan (La Union) by heading half way back south toward Baguio. It was a winding road through the Cordillera, but no rockslides and few obstructions.
Each turn presented a new postcard vista of the mountains rice terraces, and valleys. When we got to Bacnotan, we spotted the distant blue Pacific for the first time.
We arrived in San Juan, La Union earlier than we expected – around 1:30 pm. Gemini was managing the family store, since her father was at the dentist. We met Daumier's family – his mother, Gemini's kids, and the nephew of Daum's father. There were also a couple of house girls and a young college student, Angelo, who lived with the family.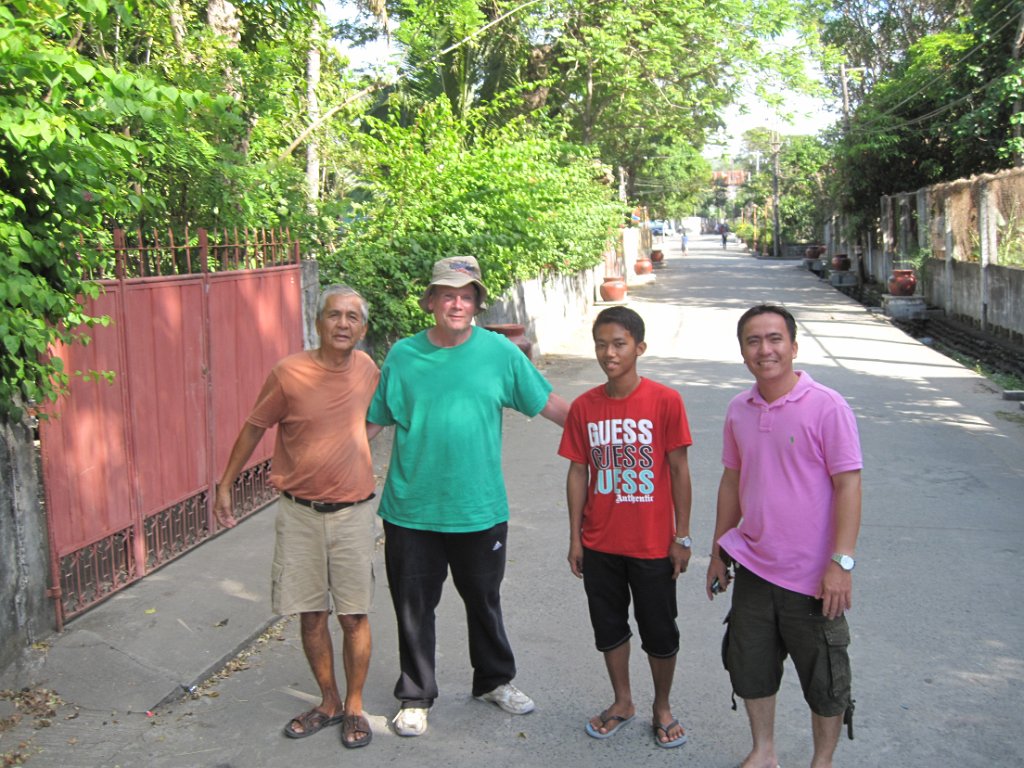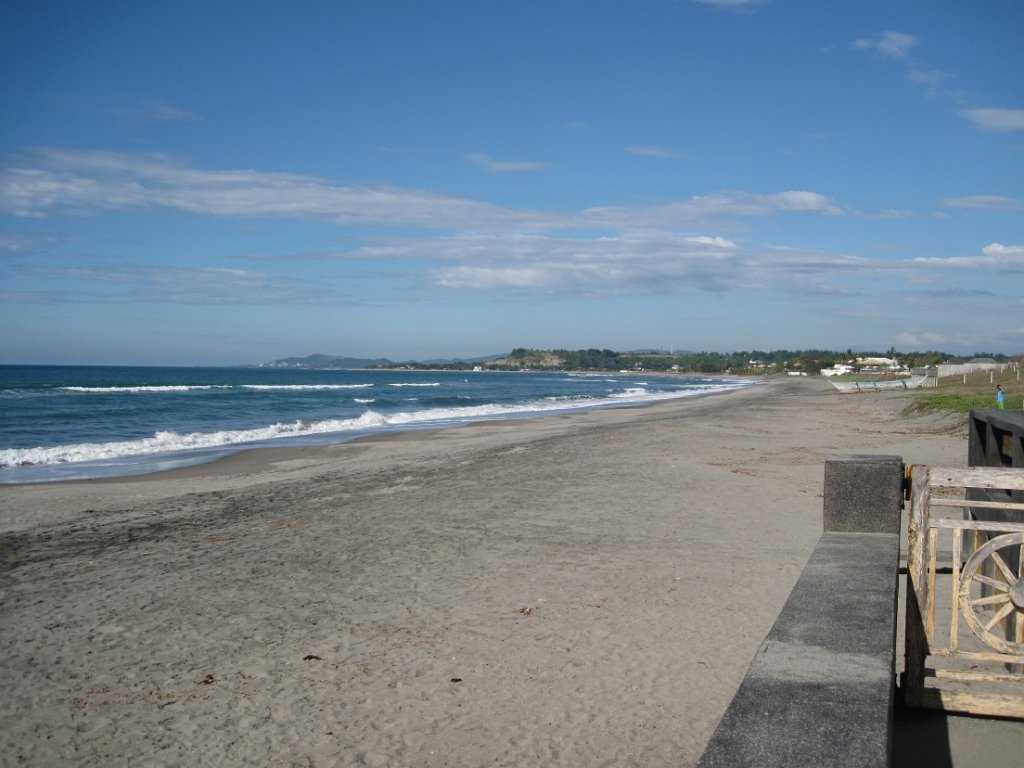 That afternoon, they took us on a walking tour of San Juan, down to the beach, several resorts, the pottery stalls, and we got acquainted.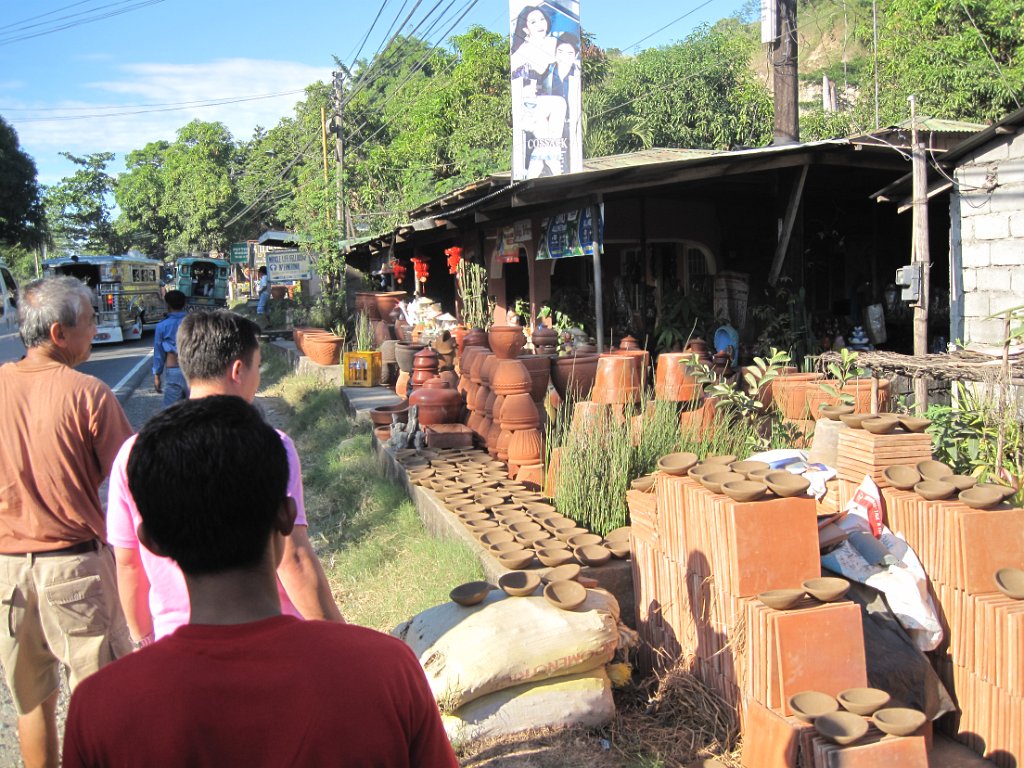 Gary drove us out to Point Poro (former Wallace AFB) for a drink and a view of the ocean. We went out to Max's Restaurant that evening. Clyde's been feeling a bit queasy – some temporary bug – so he didn't eat much. I sat on the porch later and chatted with Daum's sister and his father. We dozed off about 9:30 pm. They were also very hospitable to our driver, Gary.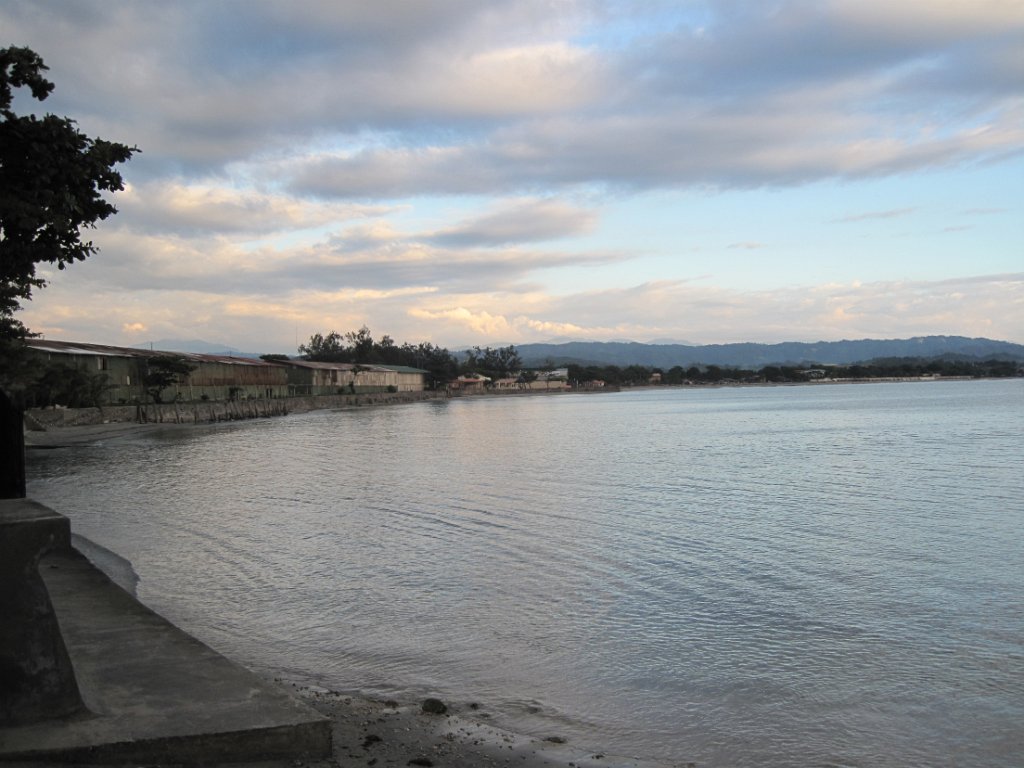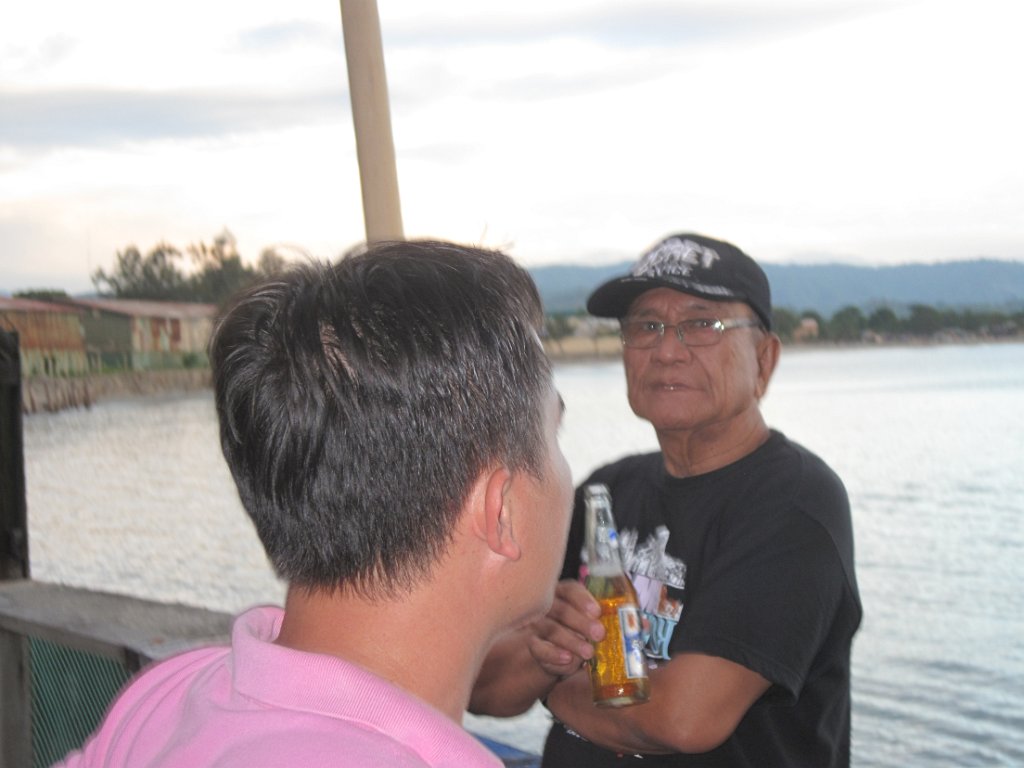 December 30, Friday
Today we had breakfast with the family, and then Gary chauffeured us to Angeles. That took five hours, through Rossario, Pangasinan, Urdaneta, Mondcado, and Paniqui, home of the Cockpit Arena. (No, we didn't bet on any cock fights). Agyo has a beautiful old basilica. Clyde picked up a pair of glasses which he had ordered at SM Mall in Angeles. We checked in at the Red Tulip. While Clyde napped, I worked on my computer preparing courses for the spring. We went to an Italian restaurant we liked for dinner, though Clyde still doesn't feel like eating much. He had minestrone soup. We arranged with Gary for him to pick us up at 10am tomorrow morning for a ride over to Clark airport for our Tiger Air flight to Bangkok.
December 31, Saturday
Today, we packed our bags and caught our flight to Bangkok. Jim Brown arrives in Bangkok today, though late in the evening. We got transportation to our hotel (Sawasdee) and settled in. Clark to Bangkok 12:35 pm = AR Bangkok: 2;50 pm. Their Wi-Fi isn't working well, and the room is very satisfactory – a stronger AC than it needs, really. It's good to be in Bangkok again with Clyde.
---
---
---
---
---
---
---
Thailand - Bangkok
January 1, Sunday
Today we explored Bangkok and revisited the Golden Palace.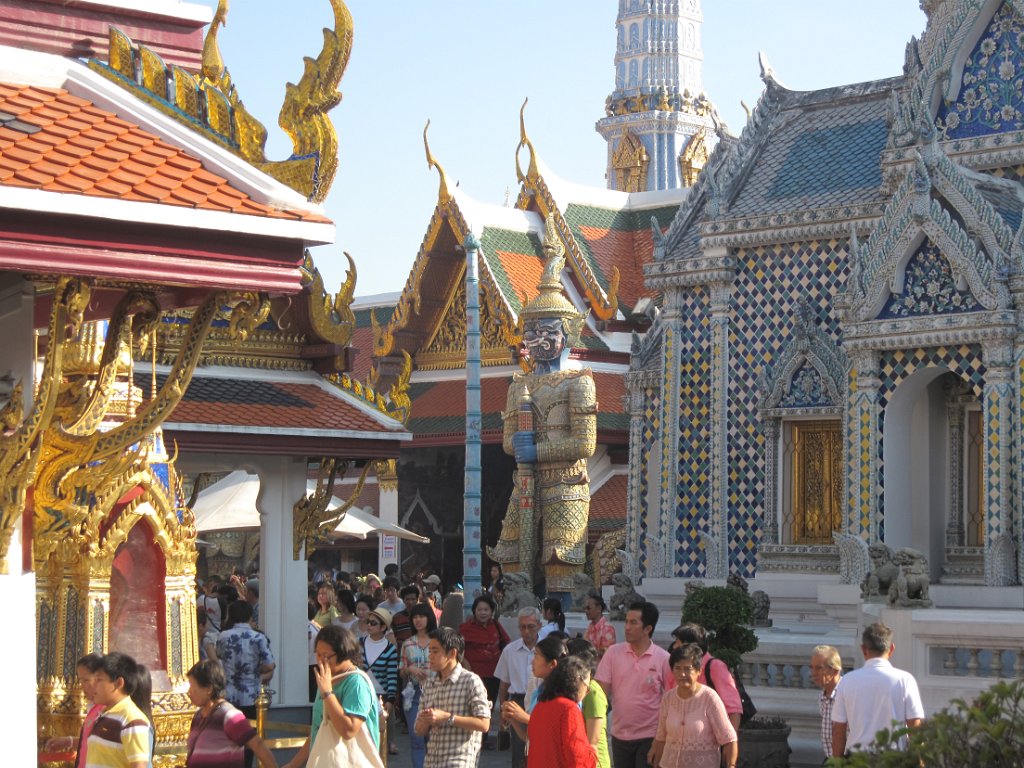 Because it's a holiday, admission was free, so it was popular with the Thai public too. The buildings are still sparkling and majestic in equatorial sunlight. We visited Buddhist shrines at Wat Pho.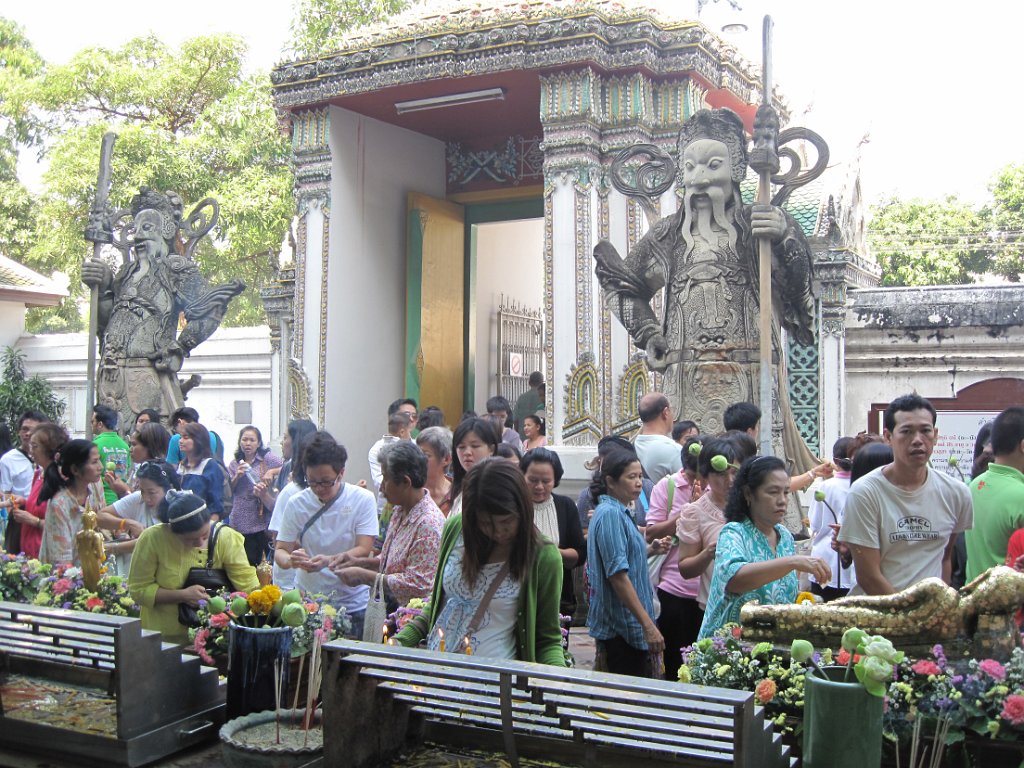 "What for?" you may ask. Well, it contains a huge golden reclining Buddha, and we enjoyed learning about the inscriptions which Kings of Siam made to inform the public about medicine, healing, and the arts. We later picked up our laundry and enjoyed our last night in Bangkok.
Cambodia - Siem Reap
January 2, Monday
This morning, we checked out of the Sawasdee hotel, and a taxi took us to the border town of Aranyaphatet. The trip took about three hours – quicker than we expected – but there was some confusion with the driver about where to drop us off so that we could get our passports stamped to exit Thailand. We simply wanted to go to Immigration, but he took us to a visa service, which we didn't want. I think this was his first trip to the border. We dodged various scams for special fees or services. We finally made it to immigration, but the line for foreigners wasn't moving very fast compared to the Thai line.
One English teacher in line grumbled that his green Pakistan passport was a "bullshit passport" because it only got him profiled as a potential terrorist. We waited about two hours, whereupon we exited Thailand and walked across the bridge to the Cambodian town of Poipet. There were a few other lines then: One to get our passport stamped (a little mandatory bribe helped here), and then the final line before finding a taxi at the right price ($25-$30) to take us to the Pacific Hotel in Siem Reap where Pich would meet us. Clyde negotiated the fee, and we were on our way. The signs were now in Khmer rather than Thai, with plenty of banners for a new product: Cambodia Beer. We phoned Roy and Pich who met us at the Pacific Hotel later that afternoon. It was a very happy reunion!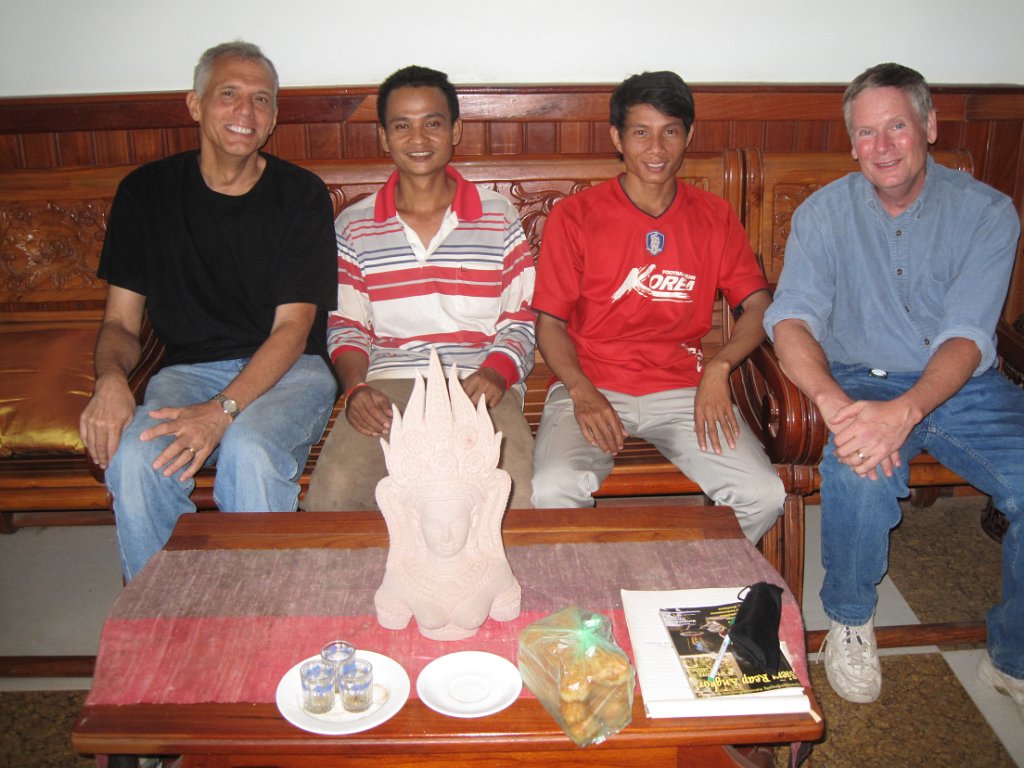 We had dinner that evening at the Khmer Kitchen – tasty rice meal for $1.00. We checked into the Tan Kang hotel – which had a nice pool but was a bit pricey at $22.00 per night but came with a good breakfast included. Pich and Roy found a cheaper one called Ancient Angkor Hotel, which was less busy and the rooms were fine. The Wi-Fi mostly worked.
January 3, Tuesday
Today we moved into the Ancient Angkor Hotel and we like the accommodations.
Pich then took us in his Tuk-Tuk to Angkor Wat and Angkor Thom. We understood the stories and meaning of the sculptures better than we did the first time we saw these massive temple comlexes. At Angkor Wat, the central tower of the five main towers (the quincunx) was now open, though visitors were expected to observe proper decorum and dress in approaching this Buddhist Shrine. It was originally dedicated to Vishnu. On the vernal equinox, the sun appears to rise directly out of this tower, like the sun-god Vishnu ascending in fire. The entire complex incorporates Khmer astronomy, using lunar and solar cycles in its measurements. Even in the 12th century, Khmers knew perfectly well that the earth is round – they learned that from India. Europeans were slower to catch on.
January 4, Wednesday
We got up at 4:00 am this morning to see sunrise over lake Sras Srang. Only a few tourists in the predawn minutes – not so crowded as the sunrise crowd at Angkor Wat. We then went up to the Mountain temple: Baphoun (no bapounery allowed :-).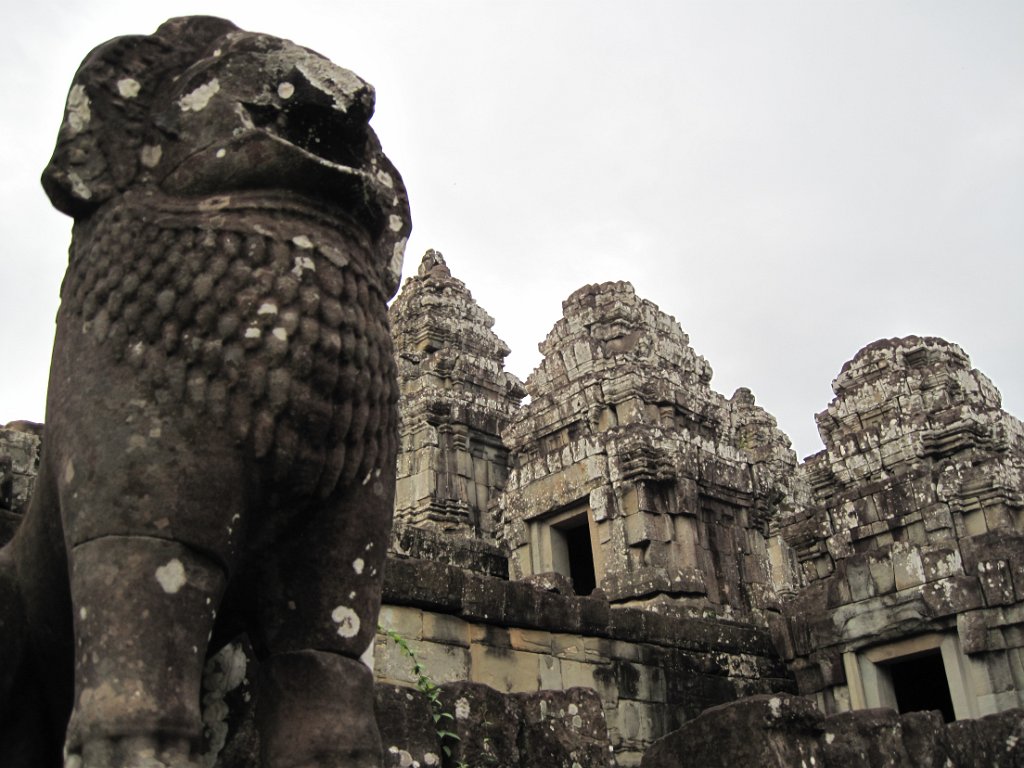 Since most tourists come to Baphoun for the sunset, we bucked the trend and trod the path less taken, up to the top for early morning enjoyment. Clyde discerned the outline of the reclining Buddha etched on the western side of the temple. The Elephant Terrace and the Leper King Terrace had wonderfully detailed bas reliefs.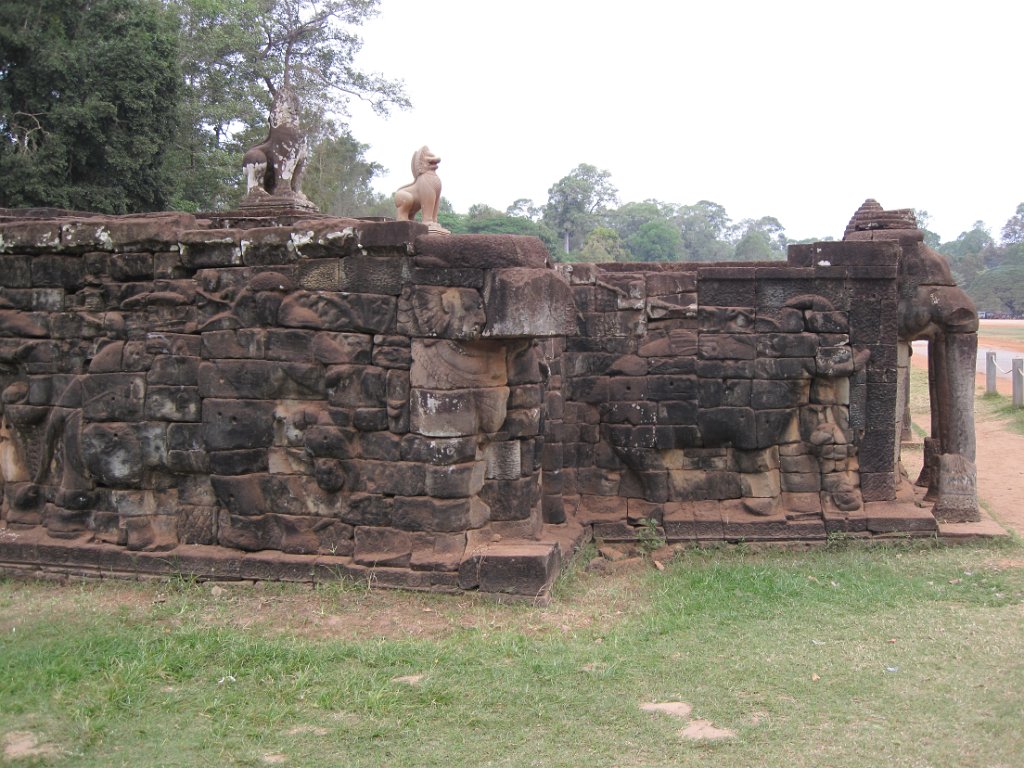 We had it pretty much to ourselves because we stayed one or two temples ahead of the tour buses. We then revisited Angkor Wat and Angkor Thom.
January 5, Thursday
We had breakfast this morning with Khan and his family, as well as Roy and Pich, at a small restaurant which Khan and his wife had just opened.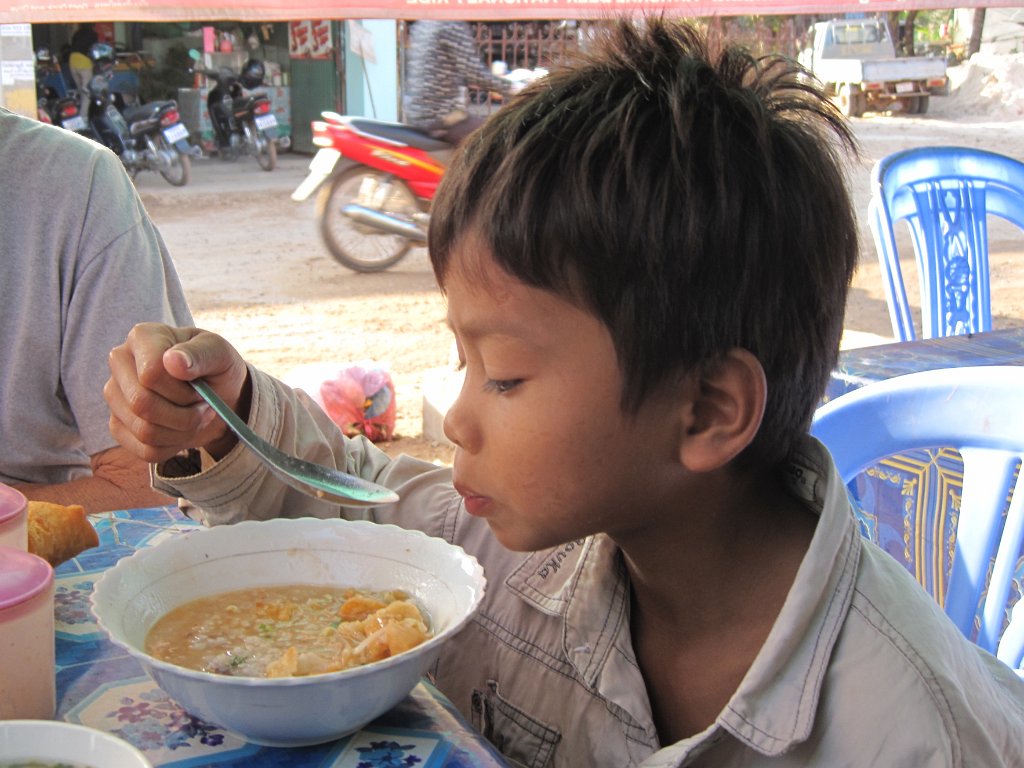 They're hoping to do better business when the road is paved. Khan's wife is a great cook! We rode in the Tuk-Tuk to the ticket station for the temples, and I discovered that I'd forgotten my ticket, so we went back to the hotel and retrieved it. Pich then chauffeured us up the road 48 km north of Siem Reap, past the temple of Banteay Srey to an amazing site out in the jungle: Kbal Pean, at Phnom Kulen. We hiked through the Cambodian jungle and climbed over boulders for about an hour. The channel to the cascading mountain Stung Kbal Spean River served as our path. The boulders in the river are carved in bas relief, along with plenty of carved lingas in the streambed.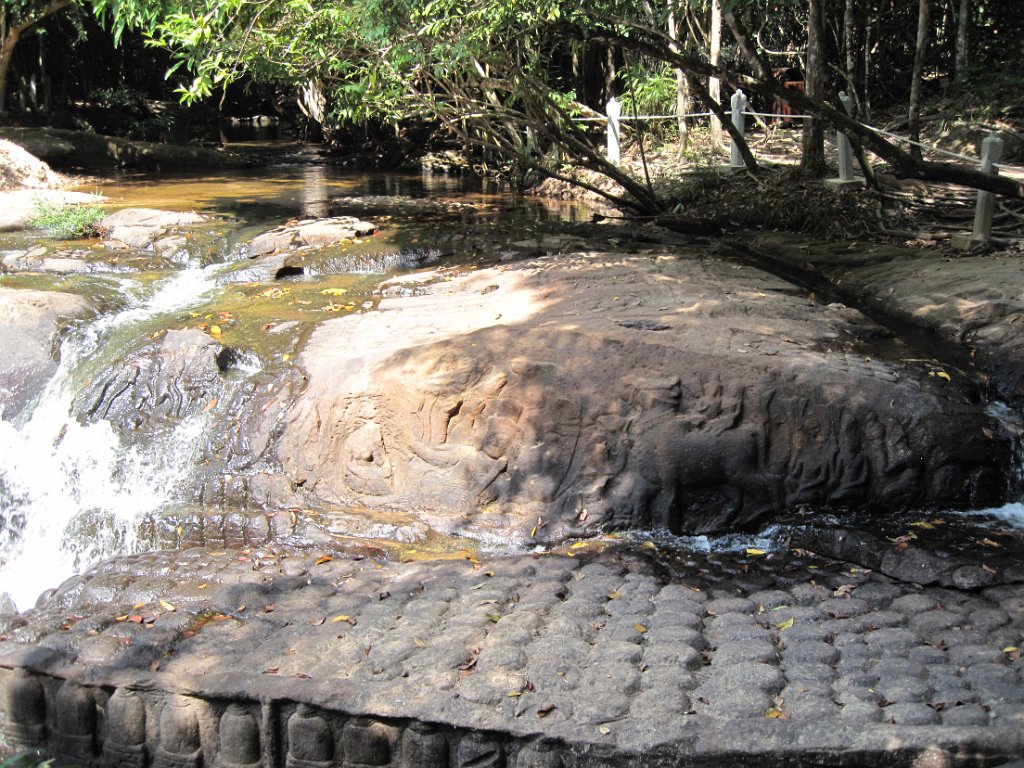 We hiked along the stream bank, finding unexpected carvings along the way. But the prize was the unexpected waterfall grotto in the slopes of the Kulen hills.
We climbed down to the roaring water and clouds of butterflies in the grotto. Some were bright orange, black and white, lime yellow, or orange and white. It was awfully hard to tear ourselves away from that magical grotto. We didn't jump under the waterfall, but enjoyed the cooled ion-charged air. I discovered a carved rectangular yoni in the grotto stream bed - the female counterpart to the lingas upstream.
The cold pristine water flowing over the ancient sculptures was thought to be sanctified thereby on its way to temples downstream. We hiked on through the jungle as the trail circled back to our departure point.
Pich then took us to Banteay Srey and Banteay Samre.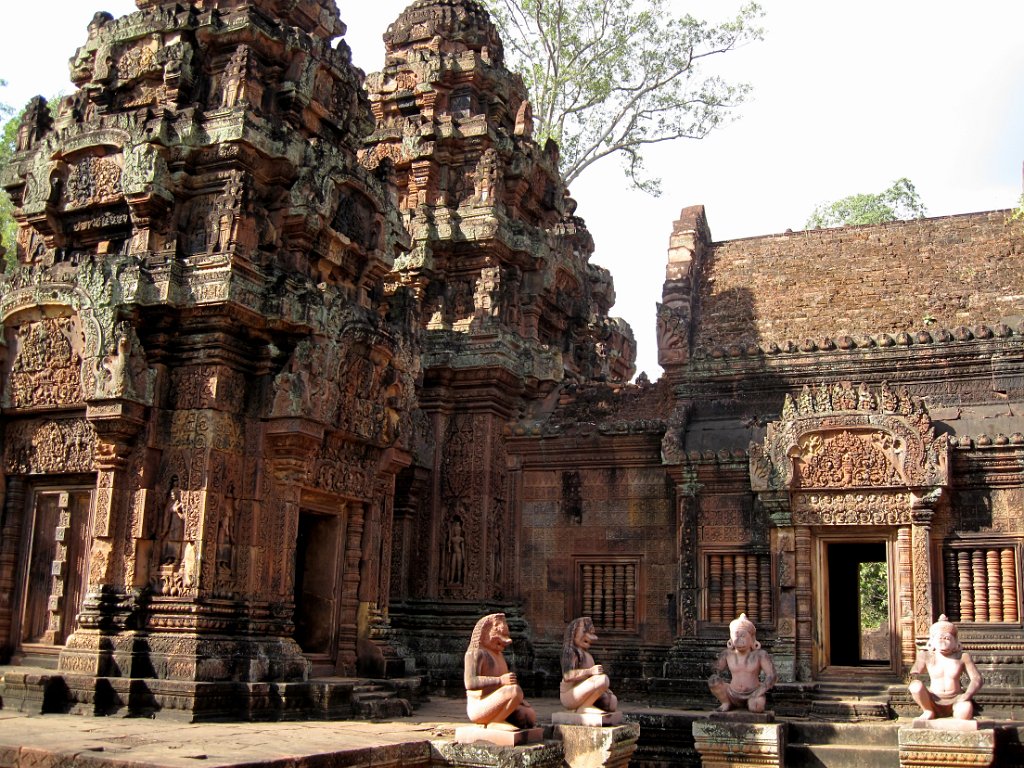 These sandstone temples were built on a much more human scale than Angkor mega-Wats. Their column and lintel carvings were fantastically intricate, just as we remembered, and more restoration had been done. We watched the sunset from the top of Pre Rup
– I was not feeling well, because I'd missed my medication, but I recovered and we went out to Speaking Easy on Pub Street for very good Quatro Fromage Pizza that night. Oddly, it only had three cheeses, but the blue cheese worked well the other French cheeses. Roy recommended it because it's run by a good Khmer family though their Western dishes are better than their Khmer dishes.
January 6, Friday
We felt templed-out, and I had schoolwork to do, so we stayed indoors for the most part today. Clyde took care of some business and I prepared courses for the spring. We'll get together with Roy tonight. He's been mentoring a gay teen who would like to talk with us, so we'll make time for that. Clyde and I also want to donate blood to the Jayavarman VII Hospital for children. He's O-positive and I'm O-negative (universal donor). We don't donate in USA because they don't allow gays to give blood.
January 7, Saturday
We got up this morning and went to a local sidewalk restaurant, the Navy Khmer Kitchen, with Roy for breakfast. The kid who runs it is quite a jokester. Pich then took us on our last temple trek.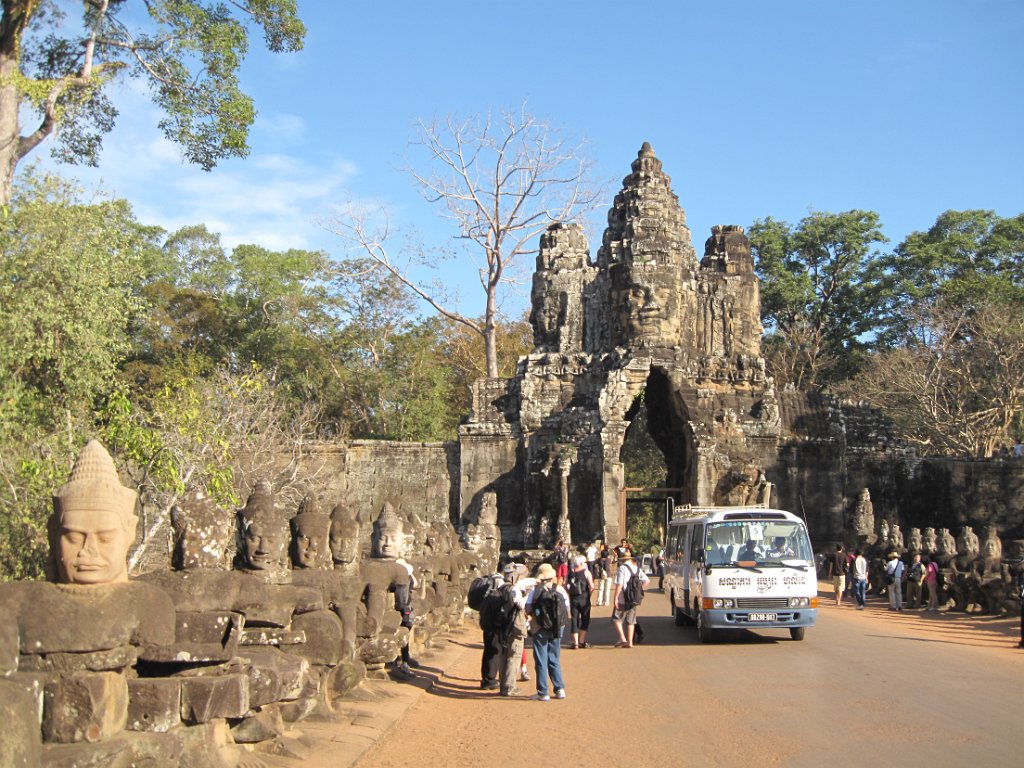 Preah Kahn used to be a Buddhist monastic complex, so there are many chambers.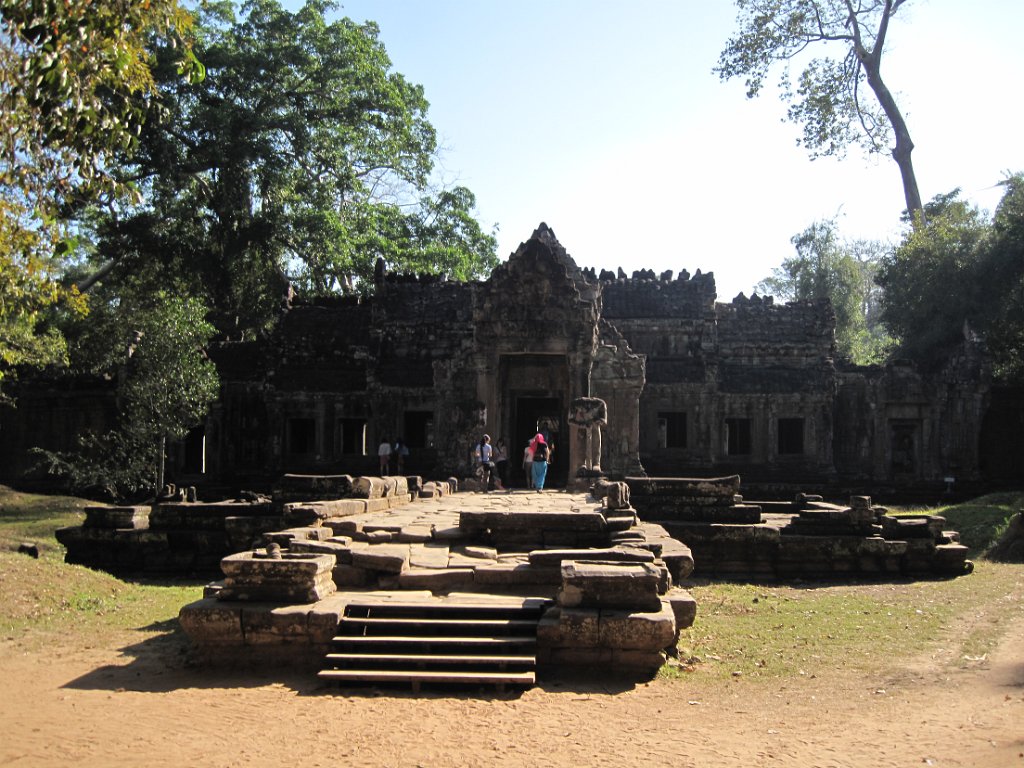 I think the Shivaists or other vandals broke up or removed many of the Buddhas. We were thirsty and stopped to get a couple of coconuts to drink. We scooped out fresh coconut back in the room later.
Clyde remembered Neak Poan with its spouts and water features and wanted to see it again, but, after the flooding in the area, we had to cross the water on a long boardwalk causeway with trees on either side sticking up out of the water. Most of the complex was fenced off for safety reasons, so we respected the rules and admired it from a distance. .
Tiny Ta Som's Jenga-like blocks were propped up entirely by wooden buttresses. We went to the honorable-mention "untouristed" temples today. Lots of rubble and "work in progress" signs posted on renovations. We explored the sandstone Banteay Prei ("forest") with tottering walls barely held up by wooden flying buttresses. I think the Khmer Rouge used them for target practice.
It was touching to see small crowns placed on the heads of some of the bas relief figures at Banteay Prei.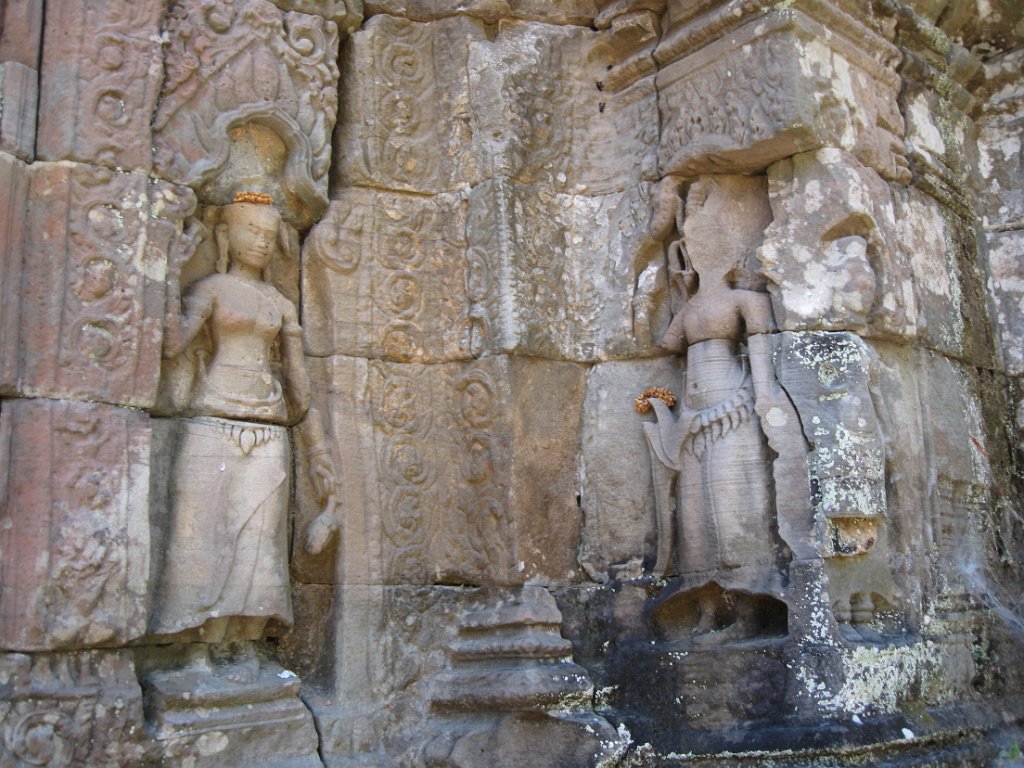 Tommanom is tiny, with one central lotus tower and two satellite temples – Decidedly un-Disneyfied but fascinating.
My favorite of the un-touristed temples was Chau Say Thevoda. Like other Cambodian temple complexes, it was in a quincunx format – each temple has four faces and a central tower, and four temples surround a larger central temple – like the five dots on a die. However, in one of the side temples, there is a one-way entrance, like the door to a chapel. Inside there is a small room with steep narrow red sandstone walls open to the sky above. The sunlight illuminated a square black central feature that was probably the base for a figure but now looks like the altar of a Celtic Chapel. No carvings here.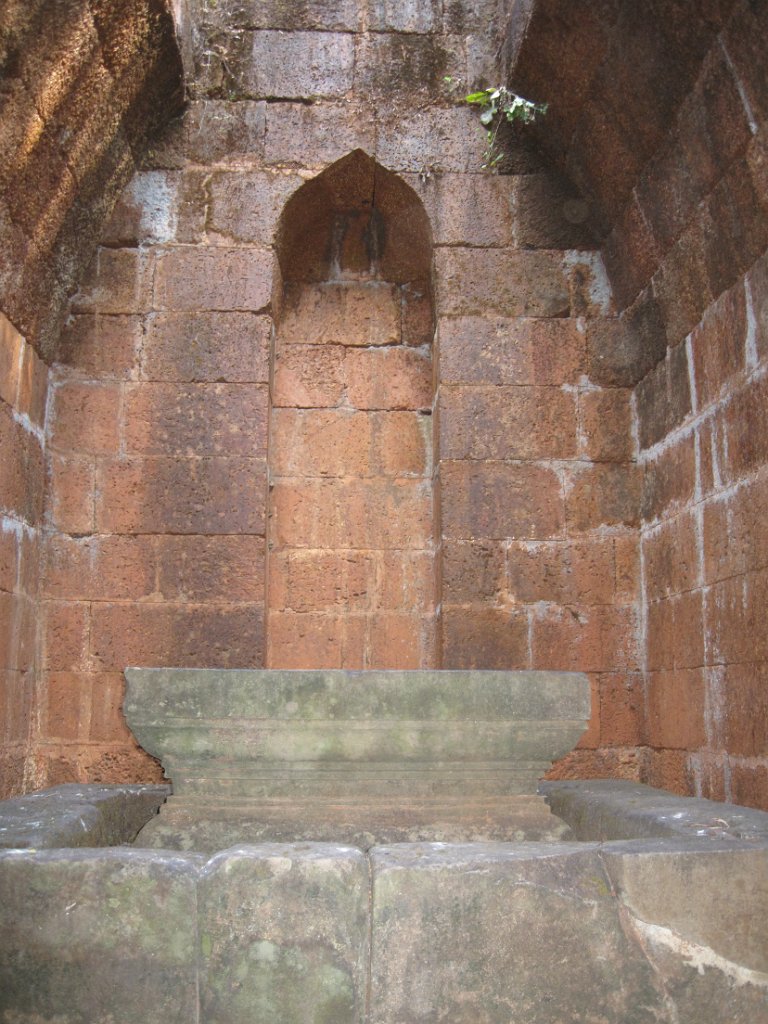 The strangest little untouristed spot was Spean Thma. It was neglected next to the river. Here, the trees had grown into the monument rubble to make one tree/stone outdoor sculpture – more than just trees growing out of debris flower pots – an organic combination of nature and artifact.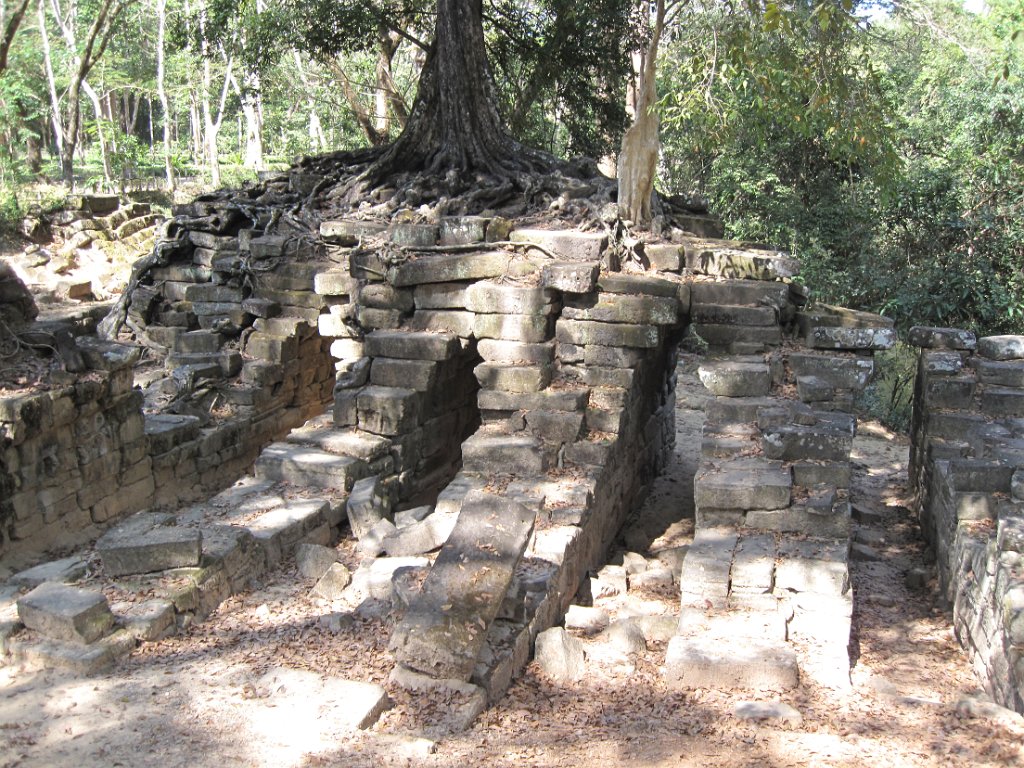 Ta Keo is a temple mountain renovated by Cambodia's Apsara Authority and the Chinese Academy of Cultural Heritage (1935). We had climbed to the top of it on our last visit, but we must admire it from the ground this time around.
We made a sentimental visit to Ta Prohm ("Old Braama")
which was consecrated in 1186 A.D. and its ancient walls are rent asunder by the roots of rubber fig trees. That makes it famous as a setting in jungle adventure films – it's getting plenty of renovation too.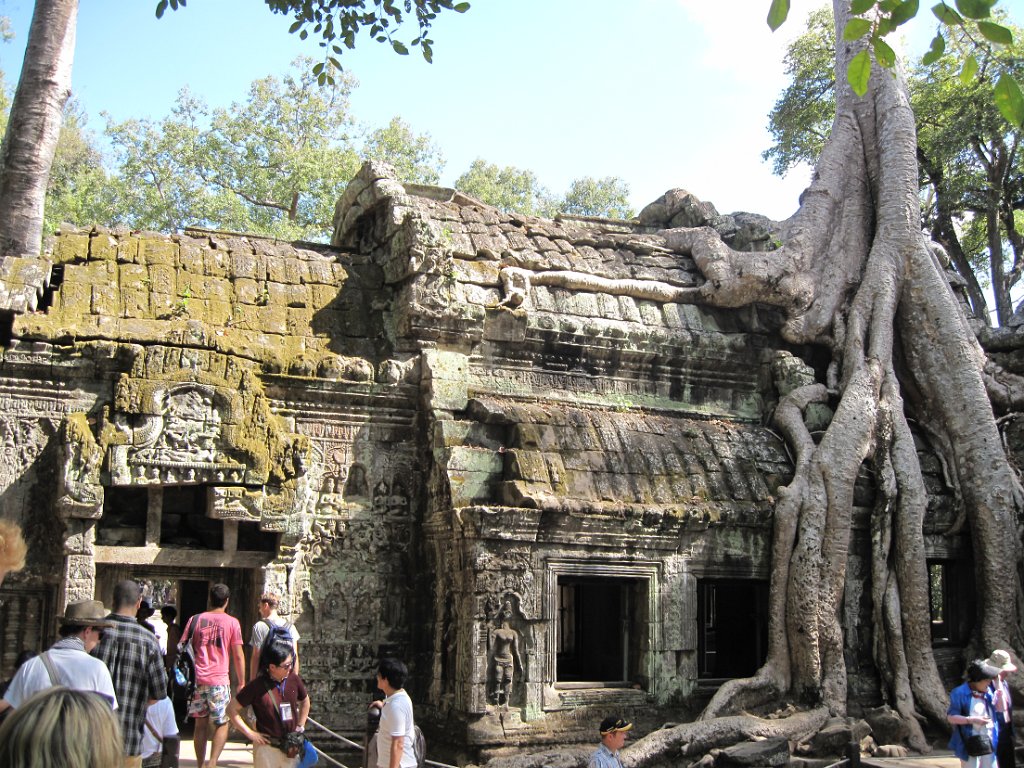 Banteay Kdei is near the Sras Srang reservoir, and it was touching how the headless Buddhas vandalized centuries ago, were today adorned with gold or saffron.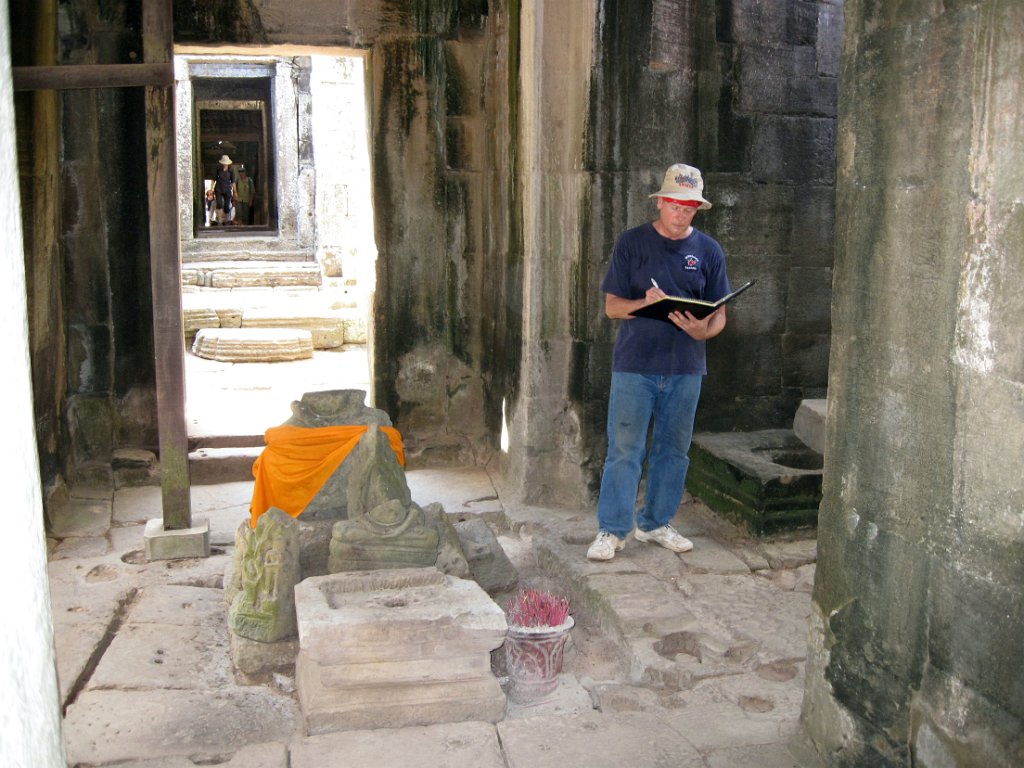 The damage occurred a thousand years ago in the Khmer version of the Counter-Reformation: Shivaists tried to undo Buddhism by busting up Buddhas. The iconoclasts missed one Buddha which was complete and was being honored by a woman who invited me to pay respects. I did so with incense. Not idolatry, but just a way of agreeing that Buddha deserves respect. She gave me a red string bracelet for good fortune.
As we walked through the stone archways, we looked up and saw a spider web occupied by a VERY large spider the size of my palm which looked like it could trap a bird.
We got out of its way quickly. We sat down by a pond nearby – it was mostly covered with algae which made it look jade in the sun. Prasat Kravan, consecrated by Mahidharavarman in the reign of Harshavarman, was a favorite of ours, and I'm glad we had time to revisit it. It's a brick wonder, with five little temple-chapels in a row facing east, dedicated in 921 A.D. The Hindu bas relief carvings inside the chapels were impressive.
I saw a wooden mobile for sale which I had seen elsewhere in Siem Reap – I talked with the carver about the price and thought that $6.00 was too much. However, Clyde later happened to talk with the same guy and paid $5.00 to get it for me. I guess our minds were on the same track. We took a photo of the carpenter and his handiwork. He was obviously proud of the detail.
Bat Chum consists of 3 little towers in the middle of nowhere, held in place by bamboo scaffolding. Just a few kids hawking out here. We had dinner with Roy Saturday night and afterward checked out the Temple restaurant with its free Apsara dancing show. We decided to see the show tomorrow night.
January 8, Sunday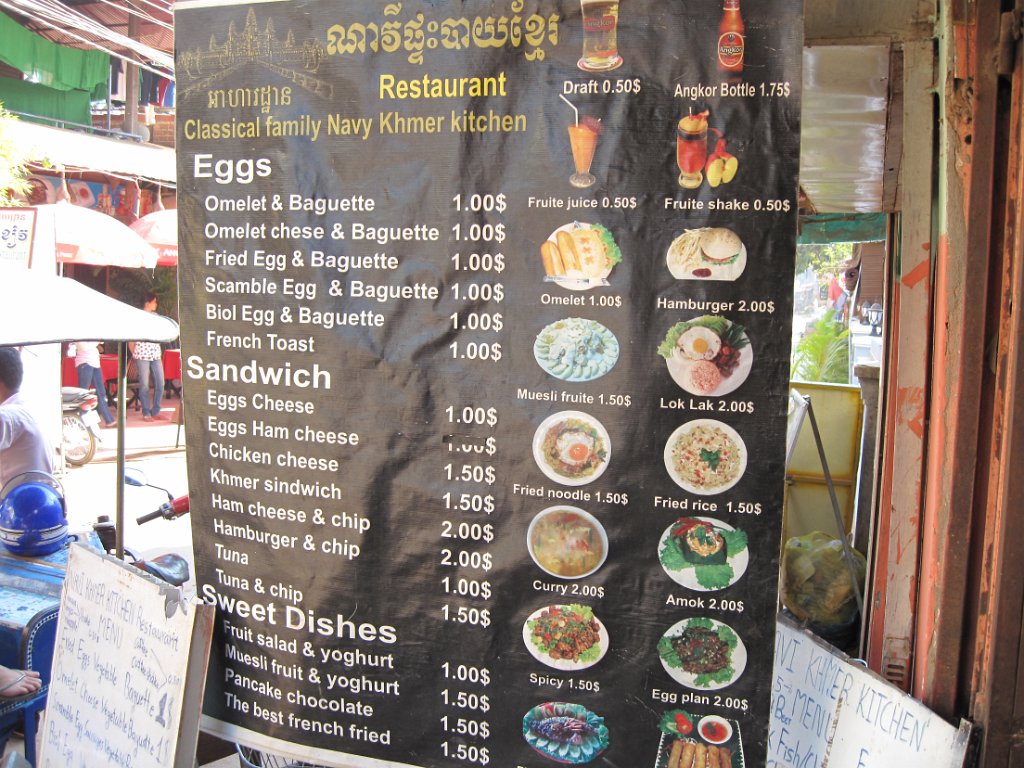 We took it easy this morning with a leisurely breakfast at the Navy Khmer Kitchen. The bob-tailed black and white kitten knows us but likes Clyde best. He's also interested in whatever we're eating, so he gets a few morsels on the floor. We had omelets and shared a banana pancake and a chocolate pancake (their relationship to the food pyramid is sort of like Turkey's relationship to the European Union: almost but not quite.) We arranged to meet Pich at noon to do some shopping. We also plan to give blood today to help the children's hospital.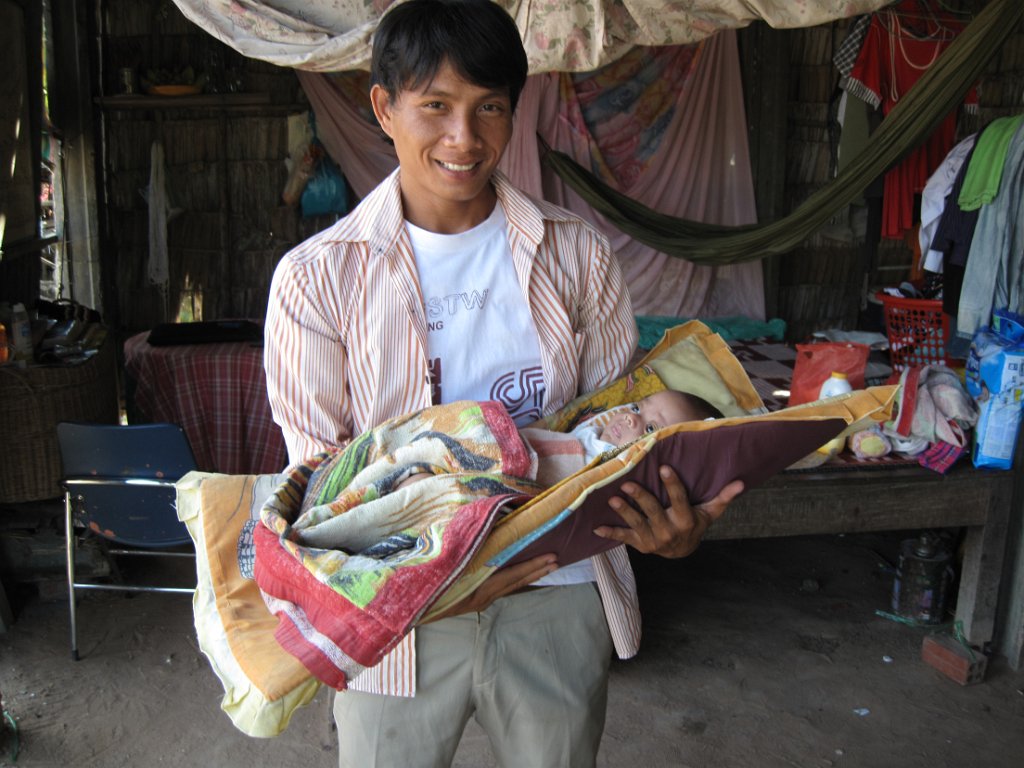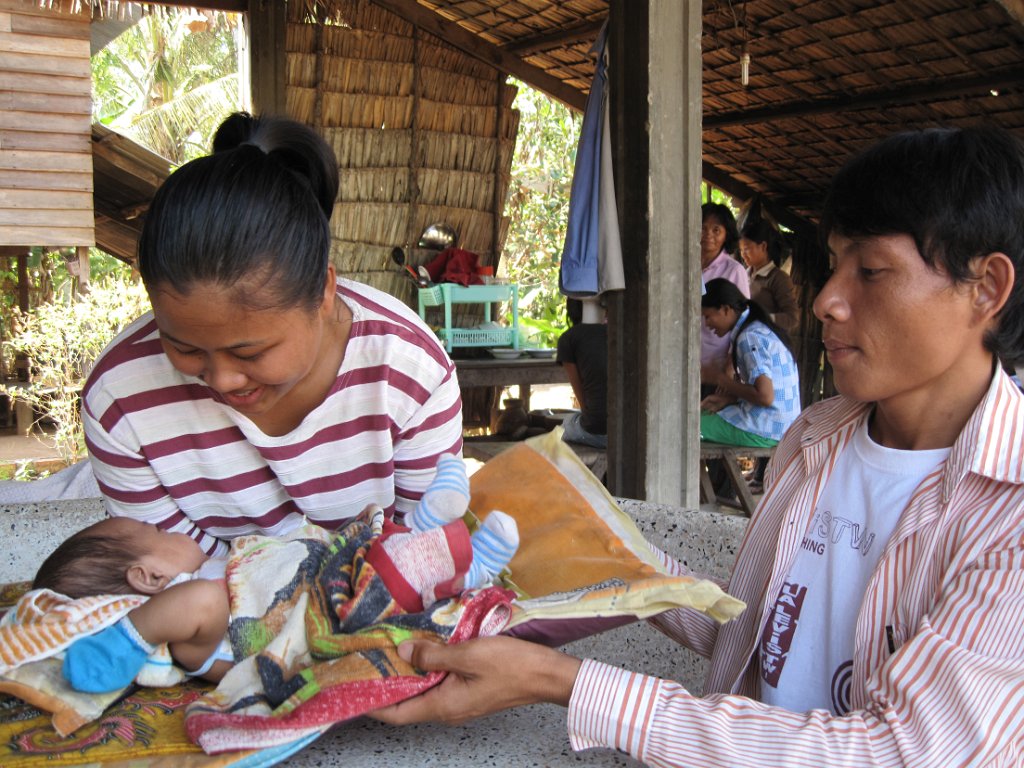 Laos - Luang Prabang
January 9, Monday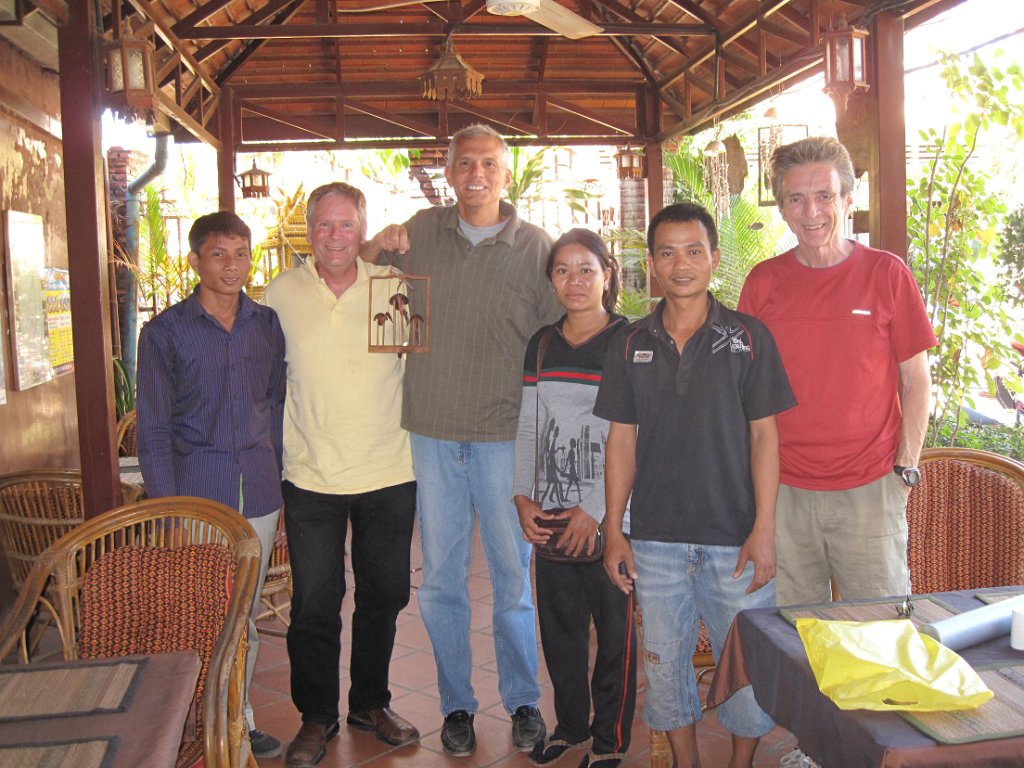 It was hard to say goodbye to Sinin, Kahn, Pich, and Roy this morning. Khan brought us a going-way gift: a wooden mobile consisting of three storks which bob their heads in the breeze and turn in the direction of the wind. It's now hanging near the air vent in the ceiling of our bedroom. After goodbyes and hugs, we checked out of the Ancient Angkor Hotel and Pich took us the airport.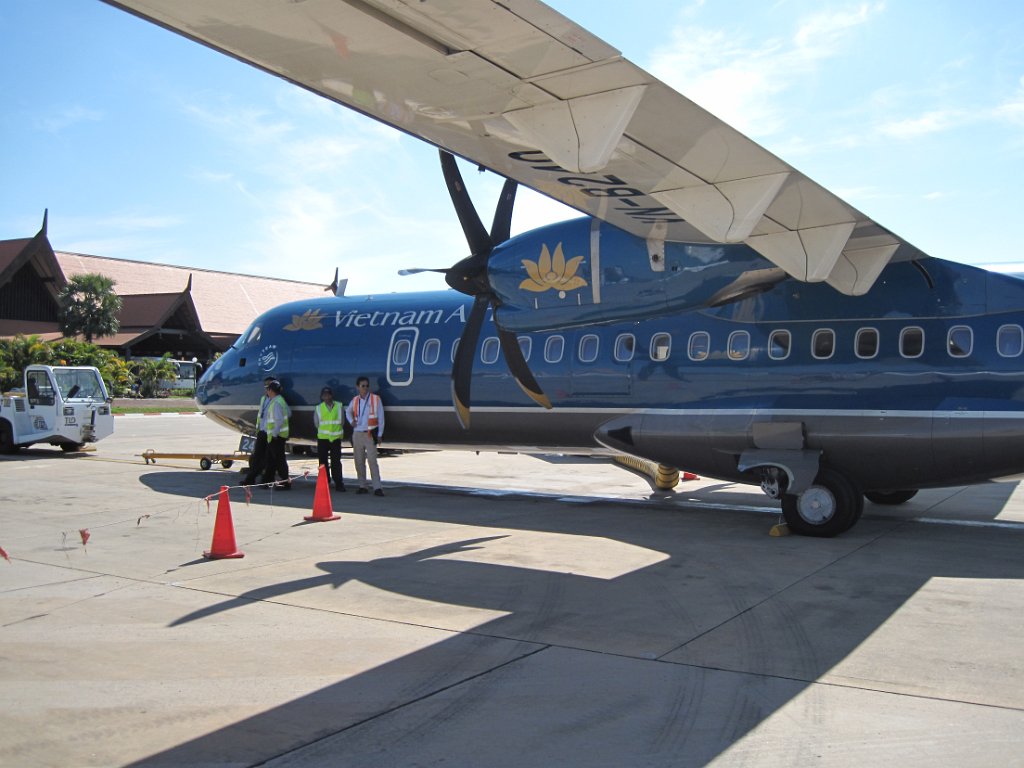 We then departed on our two-hour Vietnam Airlines flight to Luang Prabang up in the northern mountains of Laos. Because the plane is a small turbo-prop, we can barely cram our carry-on baggage into the overhead bin. We have great visibility as we watched Cambodia's flatlands give way to the green mountains of Laos with the Mekong River snaking through the forest. We had hoped that Jim Brown or Roy Clark could join us, but they were unable to do so. The weather is wonderful here. We got a pretty basic room which would do for one night until we find a better and cheaper one. It was a bit dismal, but functional. The owner wanted to charge us $25 per might, but Clyde got him to agree to $20 per night with no breakfast (no TV either).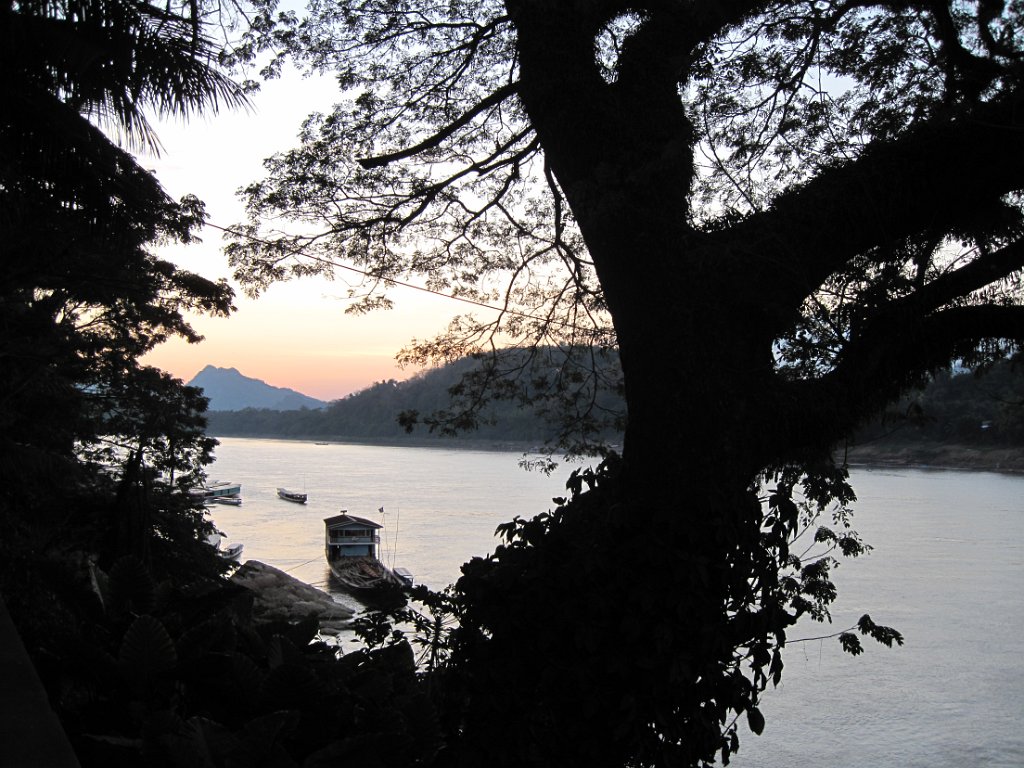 We walked a block down to the river. Clyde took some pictures of the sunset when an Aussie expat started chewing him out for trespassing on what was apparently her private riverfront property. Her Laotian friend looked more chagrined by her tirade than by anything we'd done. She had small sign on a utility pole which stated "Warning: Private Property" but it wasn't clear that the river bank was someone's land, or that the warning wasn't about the transformer. She accused us of being ugly tourists in a poor country, so we politely apologized and left her to occupy her little strip of paradise in a communist kingdom until the next unwitting tourist shows up, or the flooding Mekong exercises emminent domain.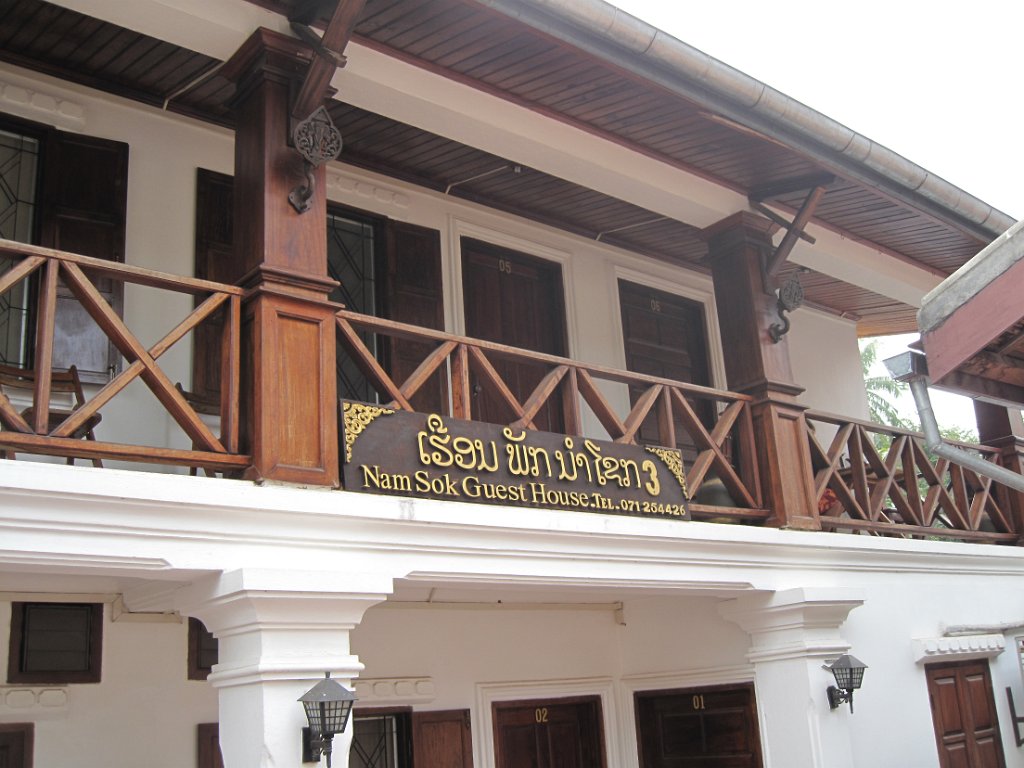 Clyde got some extra Laotian money (kips) and we had dinner. Laos has a vehicle which is a hybrid of the tuk-tuk and the jeepney. As I worked on my computer, Clyde went shopping for a different room. He found a good 2nd story one: the Nam Sok, just a block away. The cost was only 100,000 kips per night (about $12.00). It had cheery windows and a nice atmosphere.
January 10, Tuesday
We checked out of our cell block at the residence house and rolled our bags over to the Nam Sok this morning. No T.V., but we didn't come to Laos get cable. Our 2000 kip bills has "2000" in the lower right-hand corner, and then are rendered in Laotian in the upper-left hand corner using number script which looks very much like "6000." That must confuse tourists. They have a cheap laundry here, so we got our clothes washed. We had brunch at a quiet sidewalk café up the street (with great Laotian coffee) and then we did a get-acquainted promenade around LP. We feel more comfortable in a place if we've explored it first. You often see the Lao flag and the hammer-and-sickle Communist Party flag together here, since it's a socialist republic.
I think the ornate Buddhist temples are outnumbered only by guest houses in this town and maybe by young saffron-clad Buddhist monks. It's a cool lovely day. At the foot of the Phousi temple (300 steps to the top of the mountain),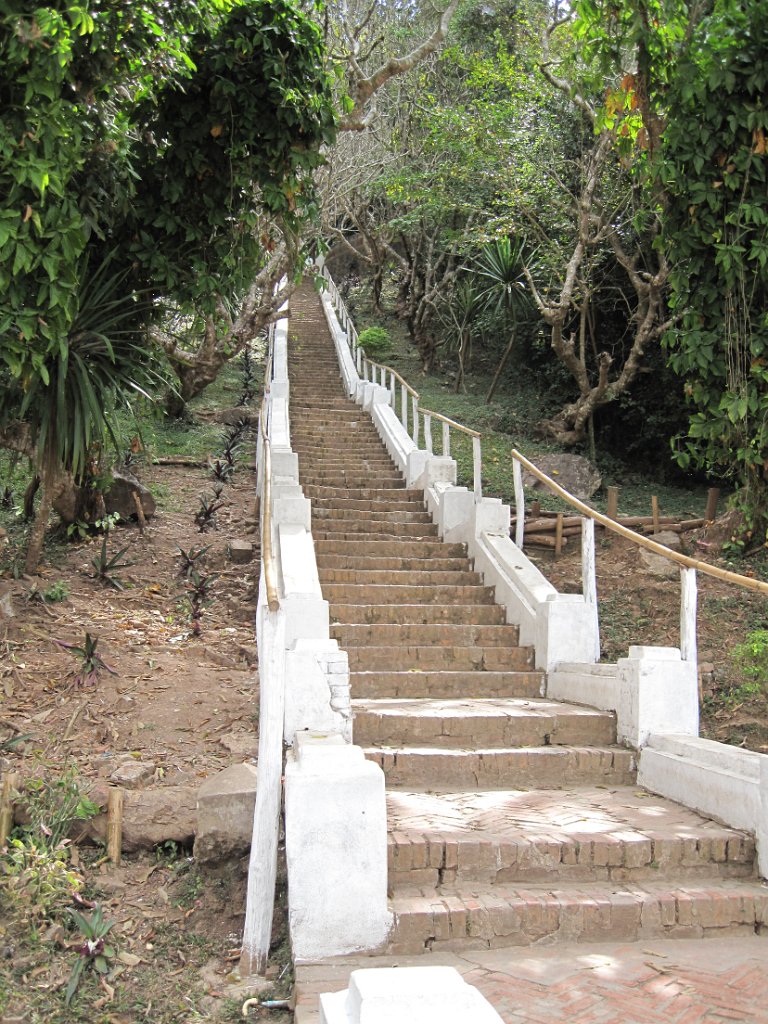 there's a restored older one (the Wat Pa Houak) from 1860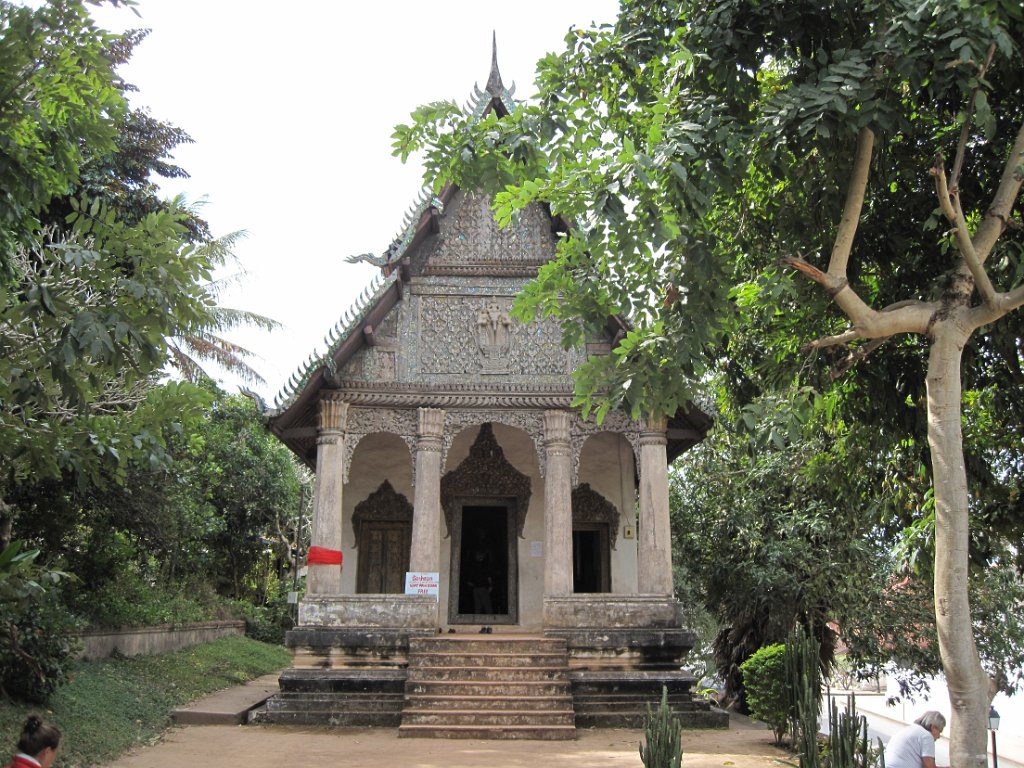 which has a colorful mural/fresco inside of 19th century life in Laos.
The National Palace (1904) where the King once lived is now a temple, behind the National Museum.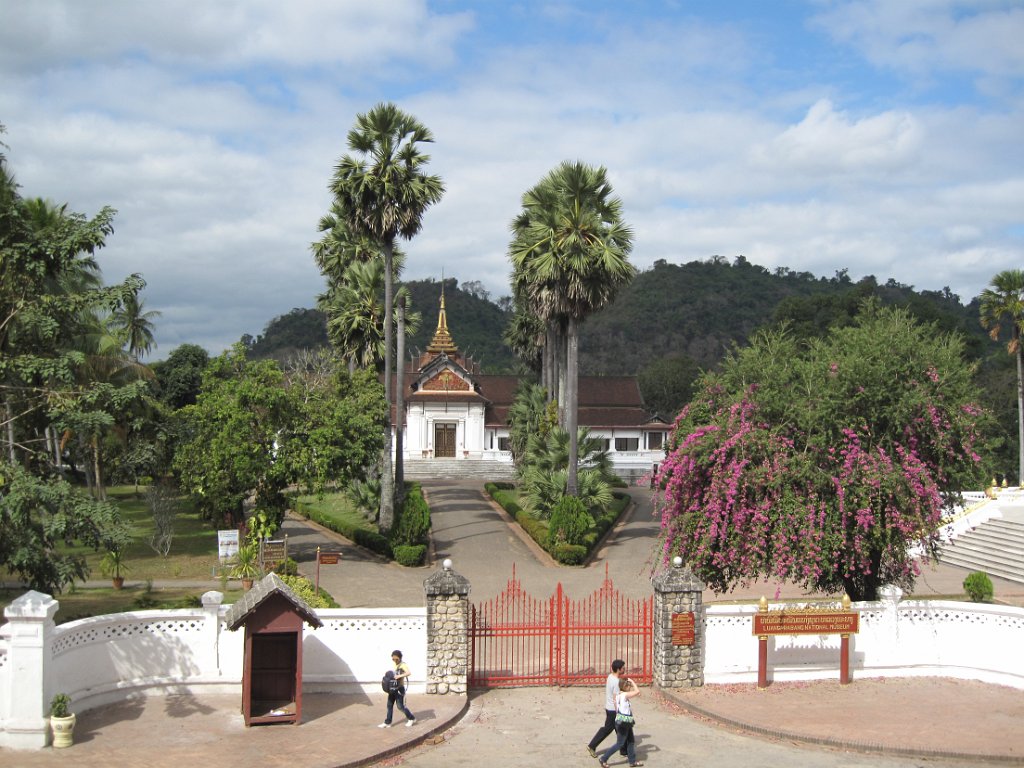 We walked around residential streets where tourists were few. One kind of tree makes a distinctive and unusual clicking noise in the breeze. It reminds me of the sound of the tree spirits or kodama in Miazake's "Princess Mononoke." In a breeze, the branches really do sound like they're inhabited by little forest spirits. We saw thorny Euphorbia milii (aka. crown of thorns) in pots on the perimeter of temples. We circled back to the room (only after I stopped for a large Laotian iced coffee) and some browsing of the local stores in the Dara market. Judging by the well-carved wooden furniture, this would be an excellent spot for a furniture store, but I haven't seen one, or any typical western mall. That's a relief.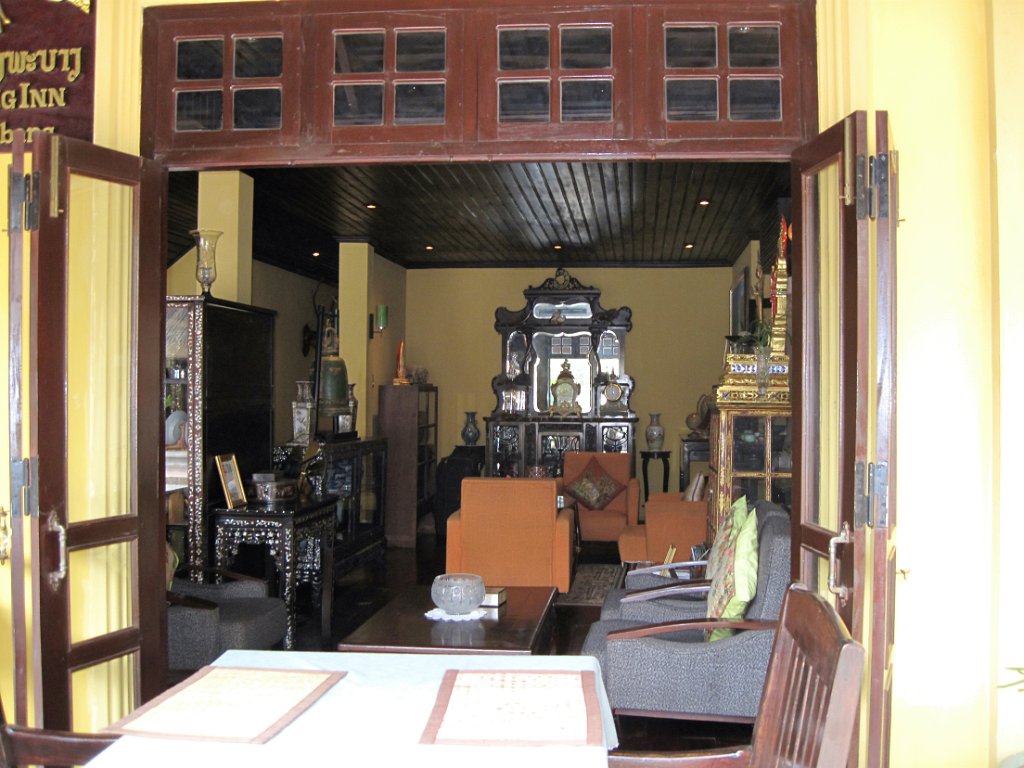 January 11, Wednesday
This morning, we had breakfast at a nearby corner café with mango, bananas, and Pitaya (dragon fruit). We did a "Buddha blitz" by visiting several nearby temples (wats) in the vicinity. The Vat Xieng Thong or "Temple of the Golden City," is curious in several ways.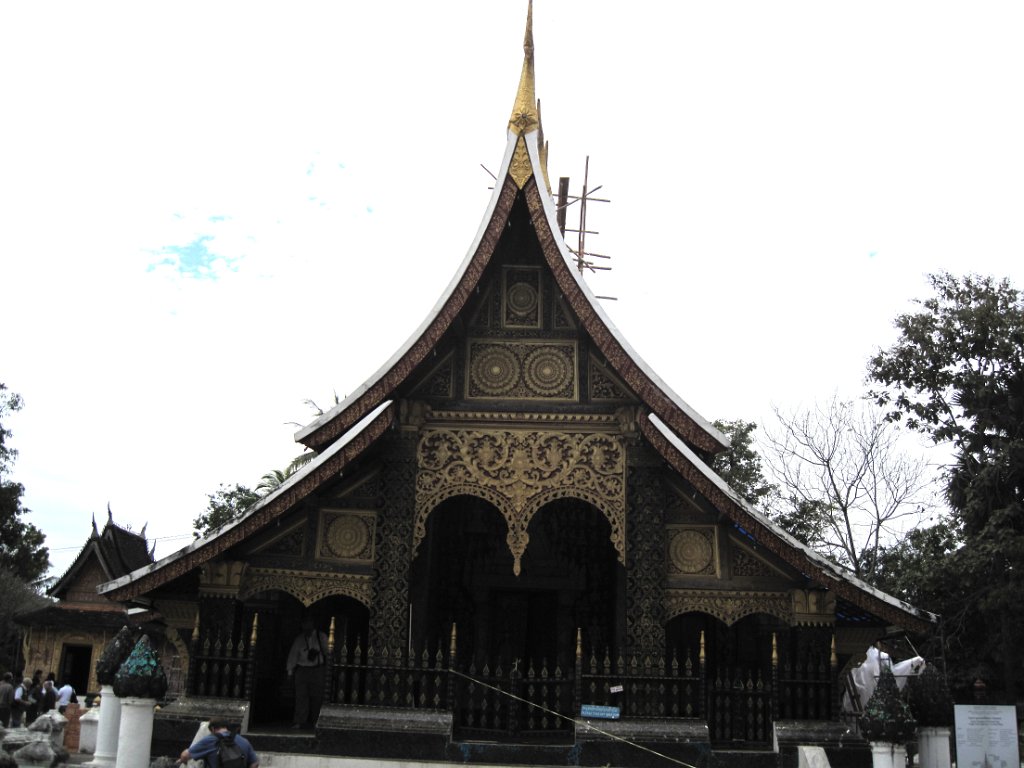 Built around 1560, the main temple not only shelters the usual large gold seated Buddha, but a smaller gold statue of a teacher or bodhisattva.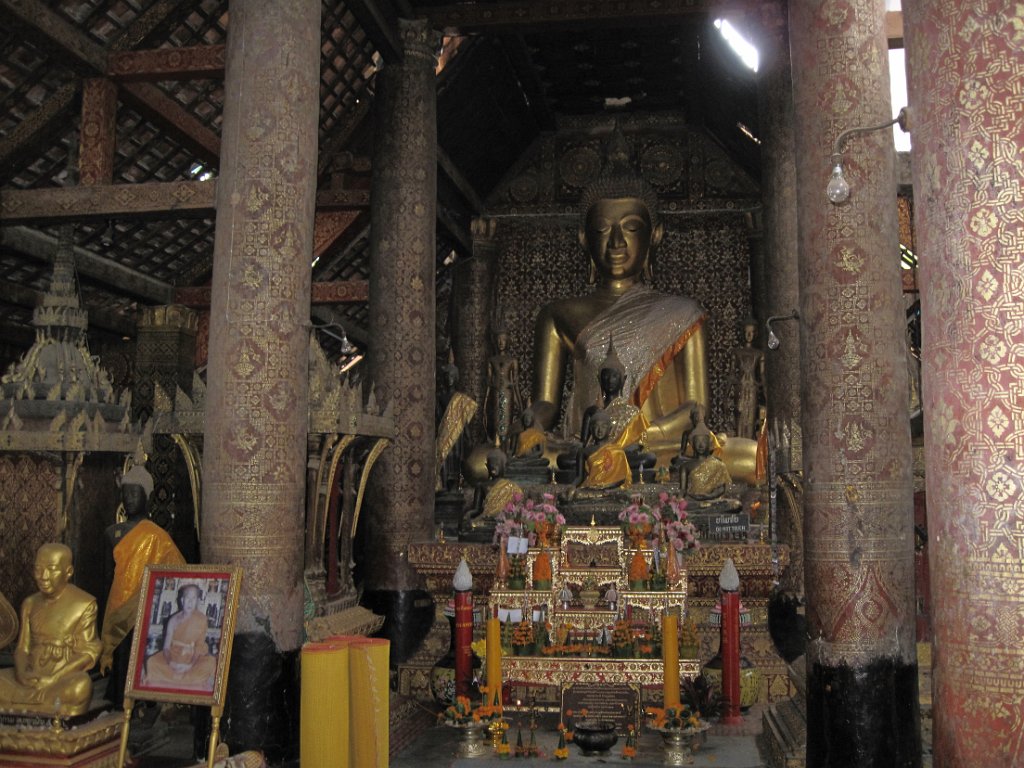 The layered roofs are unique to Laos, as is the gilded wood carving in their design.
It's under renovation.
I was surprised by the small temple nearby, only big enough for 1 or 2 people. Inside, the walls are covered with red and gold tapestry, and it's like an intimate personal chapel.
Another temple in the compound had relics or icons of Buddha. In the center was the funerary chariot of King Sisavong Vang, built in 1960.
The beautiful flame tree mosaic on the back of the temple also dates from 1960.
The temple is at the juncture of the Nam Kahn River and the Mekong River. The monks had paper origami figures hanging from the balconies.
The Van Pak Khan was undergoing major renovation. The sturdy 8 pillars inside were flanked by two small funerary chariots (barges) on either side. Right next door to our guesthouse is the Vat Souvamakhin which announced itself with a wake-up drum call about 4:30 am this morning. We disturbed a little gecko at the entry. It was either prostrate with adoration of Buddha or just taking it easy. They usually cling like Velcro to a wall or ceiling.
Down the street is the Vat Sirimoungkhun Sayaram. I call "compromise Vat" with a clock next to the altar, a small shrine for Chinese Buddhists, ceiling fans, and plenty of blooming potted "Crown of Thorns" around the temple. Not many temples please more than one kind of worshiper.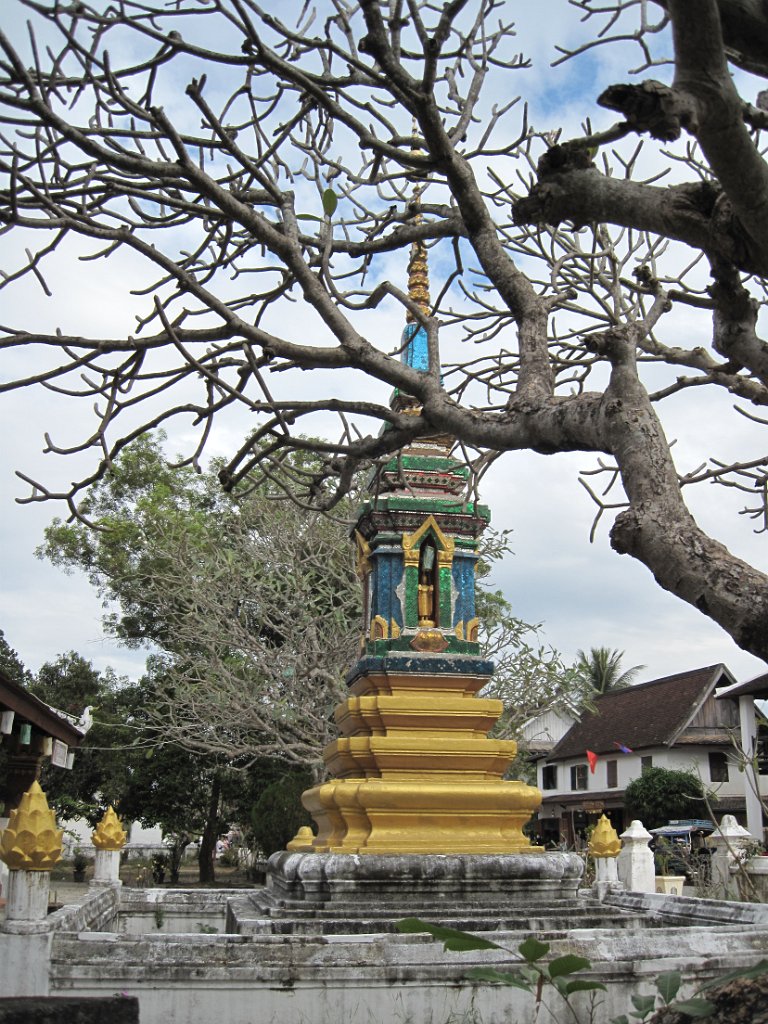 The B. Phoun Heuang had a seated gold Buddha under a gazebo, with a smaller Buddha in front: Like Buddha, Sr. and Buddha, Jr., or even Madonna and child. This temple reminds me very much of Bangkok. I can smell the incense inside the temple, and the gold Buddhas look distinctly Thai. Even the stupa outside is brilliantly decked out in brightly colored tile mosaic like the Golden Palace in Bangkok.
Vat Sensaukharam is a no-nonsense temple – locked up with plenty of signs admonishing tourists to show respectful behavior, especially during morning alms giving.
Wat Paphaimisai Yaram has an interesting altar inside covered with metallic tile mosaic, and crammed with Buddhas. The open windows help. The paper star lanterns remind me of Filipino Xmas decorations, so I guess it's a SE Asian tradition which the Filipinos Christianized. Vat Choumkongsourin Tharame (1843) has Chinese guard statues . The statues are apparently a gift from a Chinese ambassador representing two bodhisattvas of Chinese Buddhism, representing yin and yang. The wooden entrance and breathtaking wood-carving of the lintel or Huang Pheung is unlike anything I've seen before.
We went to see classical Laotian dancing tonight at the National Theater – the story of Phralack Phralam – a Laotian version of the Ramayana epic – only the demon King Ravana is Kasakhan, and Sita is Sida whom Ravana steals away. I heard some rain tonight outside our window - proof that we're no longer in sunny Cambodia.
January 12, Thursday
This morning, we explored the National Museum which was Laos' Royal Palace in 1903. It's quite a sumptuous royal home, with the spacious bedroom and formal reception area still intact. The mix of French architecture and Laotian décor works somehow. There's even a tile mosaic mural about Laotian life (done by a French artist in the 1930s). The museum is full of gifts to the King of Laos from different countries: intricate ivory carvings from China, exquisite porcelain from Japan, polished silverwork from Cambodia, and American gifts which were…well, tacky. The little wooden/plastic lunar lander was thoughtful but looked like something bought at a K-mart 10 minutes before closing. The American desktop pen set was no doubt useful, but not exactly a silk painting. The windows were all open to the cool air outside.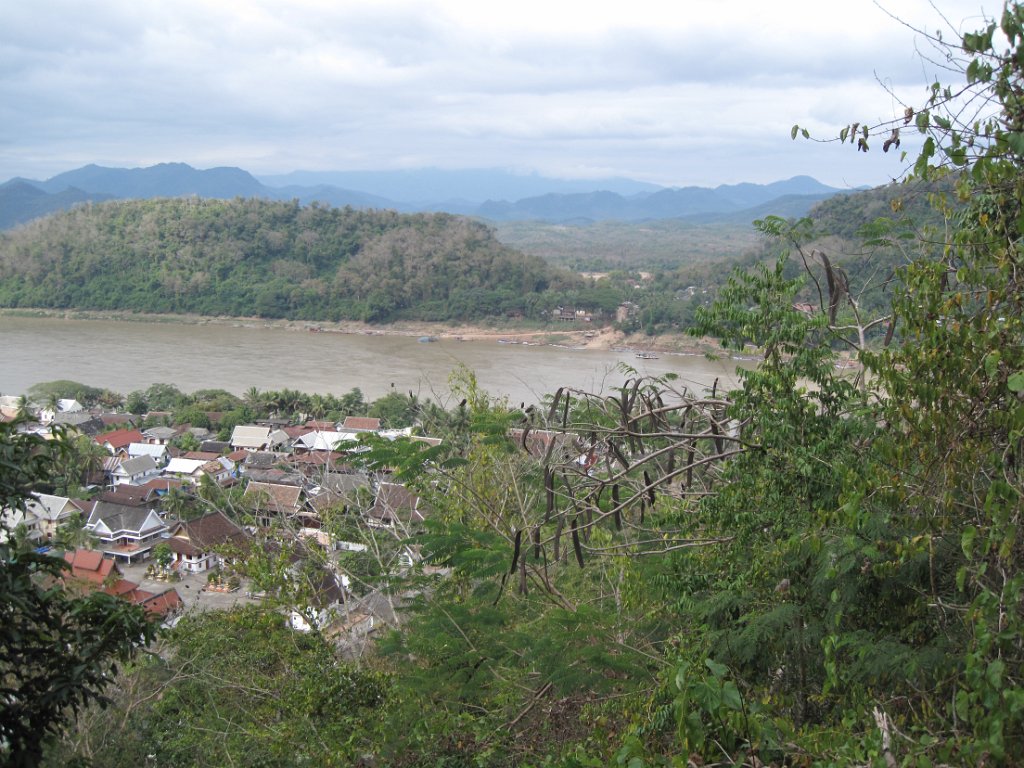 Afterward we climbed 300 steps up a hill to see the Pra That Chomsi temple on the top of the steep hill overlooking Luang Prabang. We could have bought a tiny caged bird to carry up the hill simply to release it at the top. What would Buddha have done? It's a long climb. No runners competing to win any "nirvana-thon." The panorama of town, temples, and the merging Nahm Kahn and Mekong rivers was marvelous.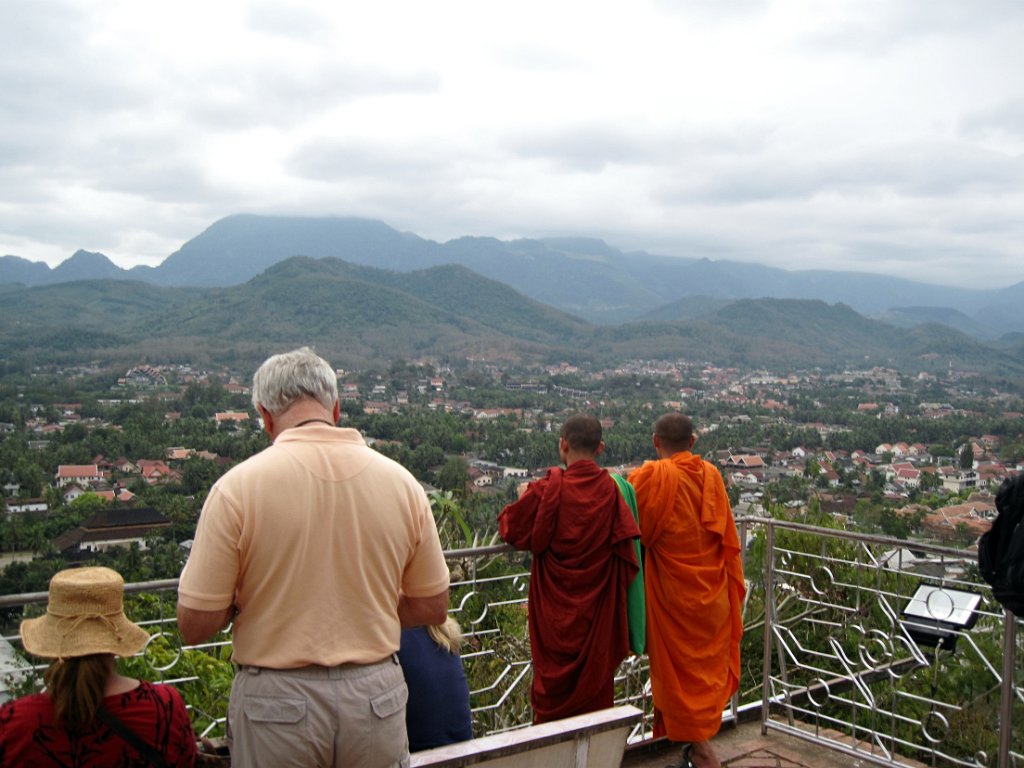 A black butterfly with white piping flittered nearby, as did a green warbler.
After resting, we climbed down the other side of the hill where there are other Buddhist shrines, such as a reclining "Tuesday" Buddha. That's Buddha just before his death, entering a state of bliss. 'If it's Tuesday, this must be pirinibbana." A couple of boys from the school nearby tried to get us to help them with their English homework. We coached them some, but their English was already pretty good.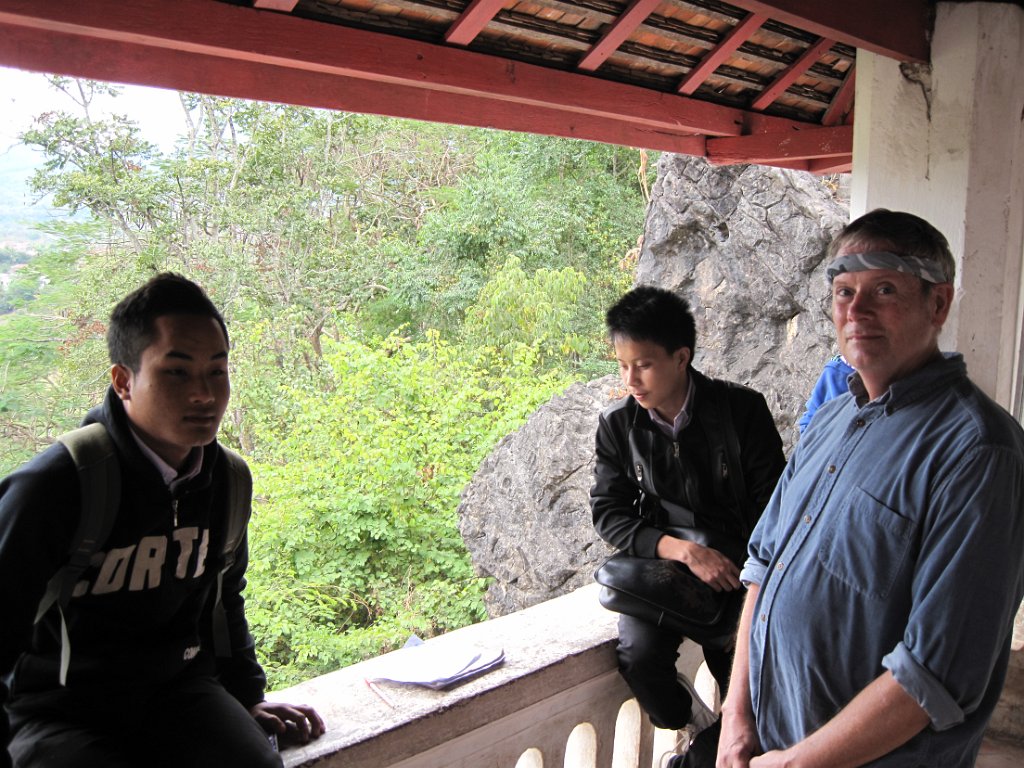 I conversed some with them in French. They asked whether we were married, and when we explained that we are married to each other, the look on their faces suggested that no translation would help. They understood us too clearly to not be bewildered.
At the bottom of the hill we visited Vat Aham, the "monastery of the opened heart." Its sanctuary is fairly modern looking and it mostly only gets tourists due to its next door neighbor, Vat Vasoun.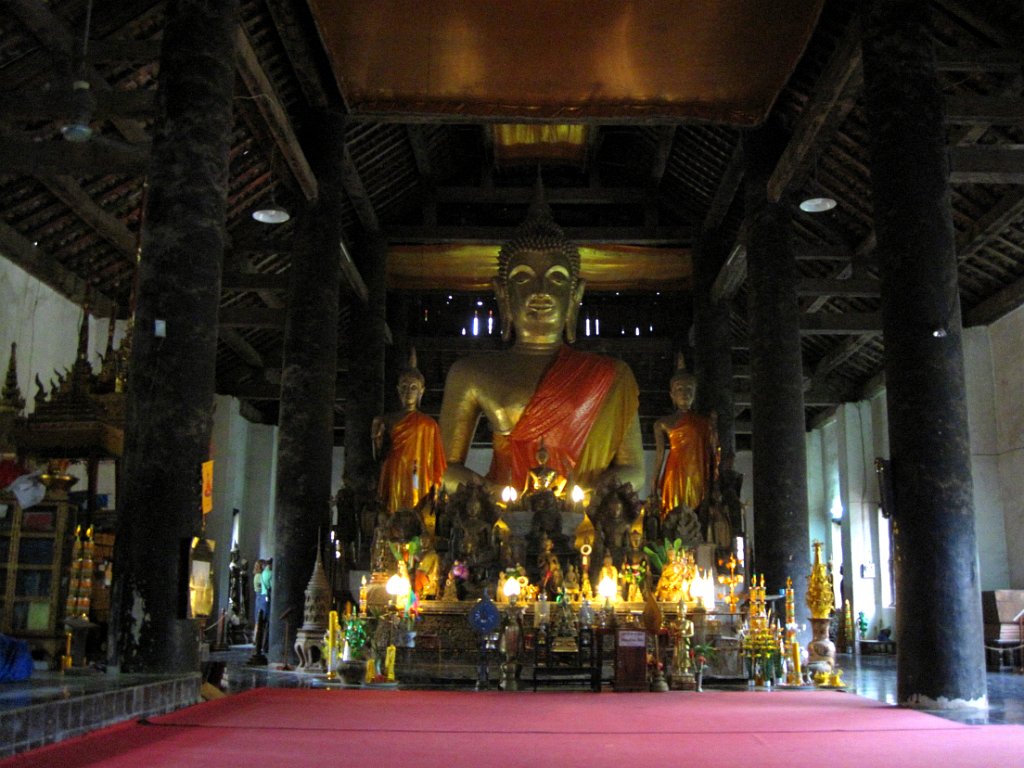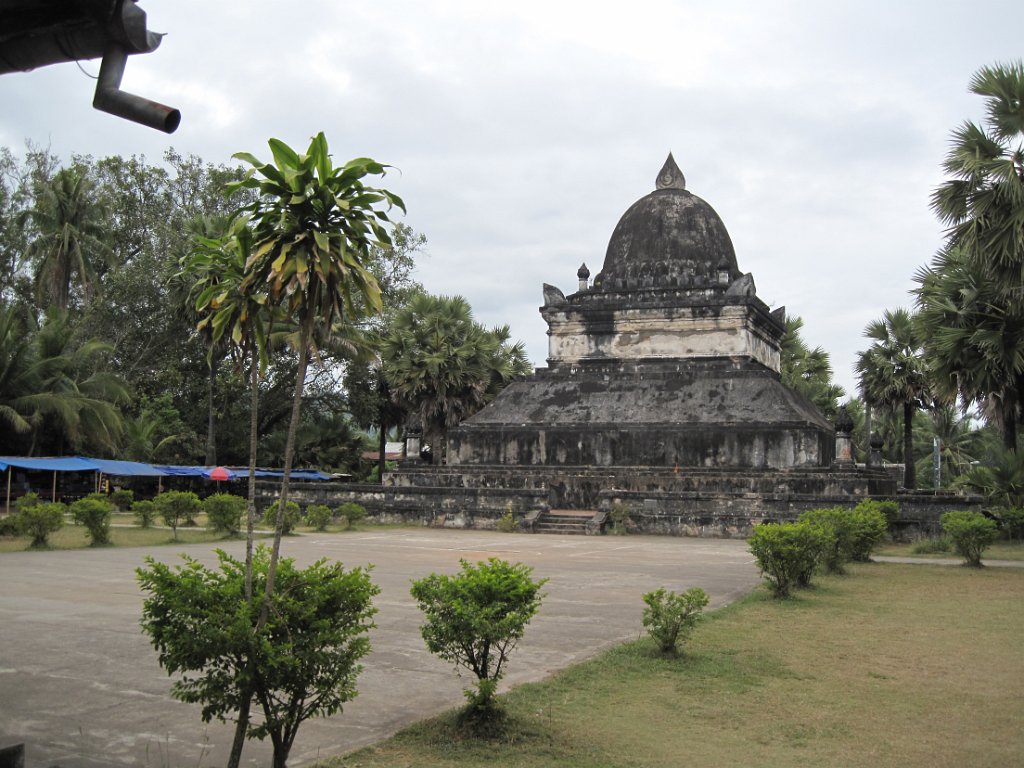 Vat Vasoun is the most ancient temple in Luang Prabang, dating back to the 1500s. It has a Giant Lotus stupa out front (the "watermelon stupa"). The altar has six lights burning, and the floor is covered by red carpet. We could see under one corner a rich parquet floor which we thought was hard wood but turned out to be a durable local material called Lihn Oli Houm.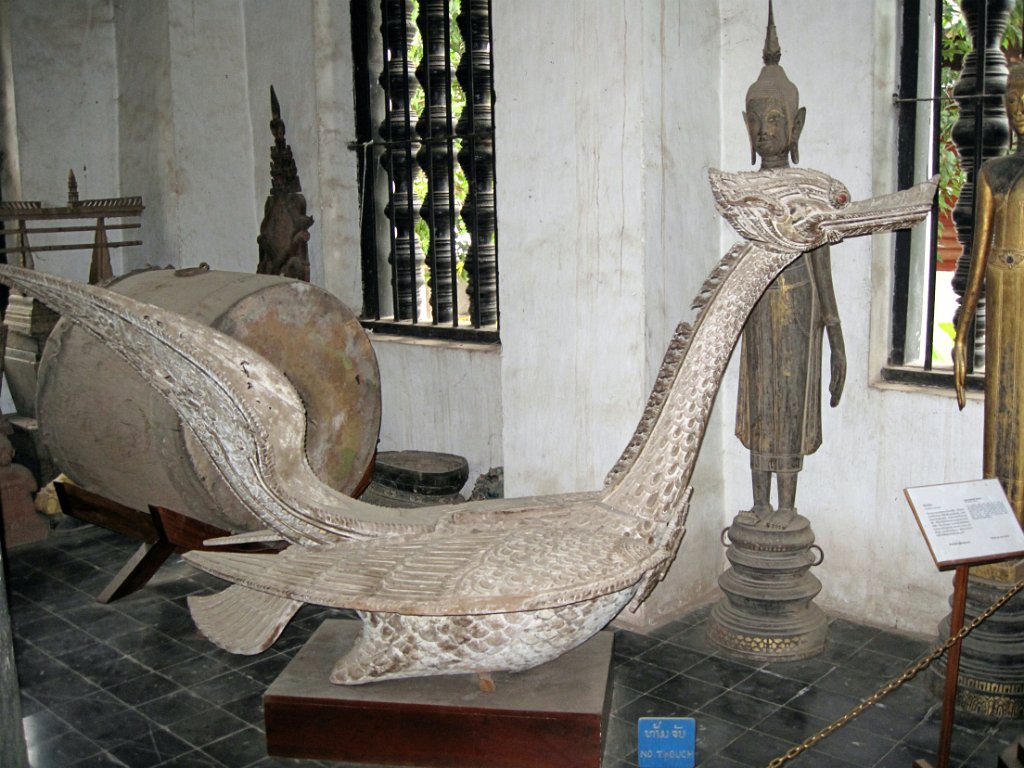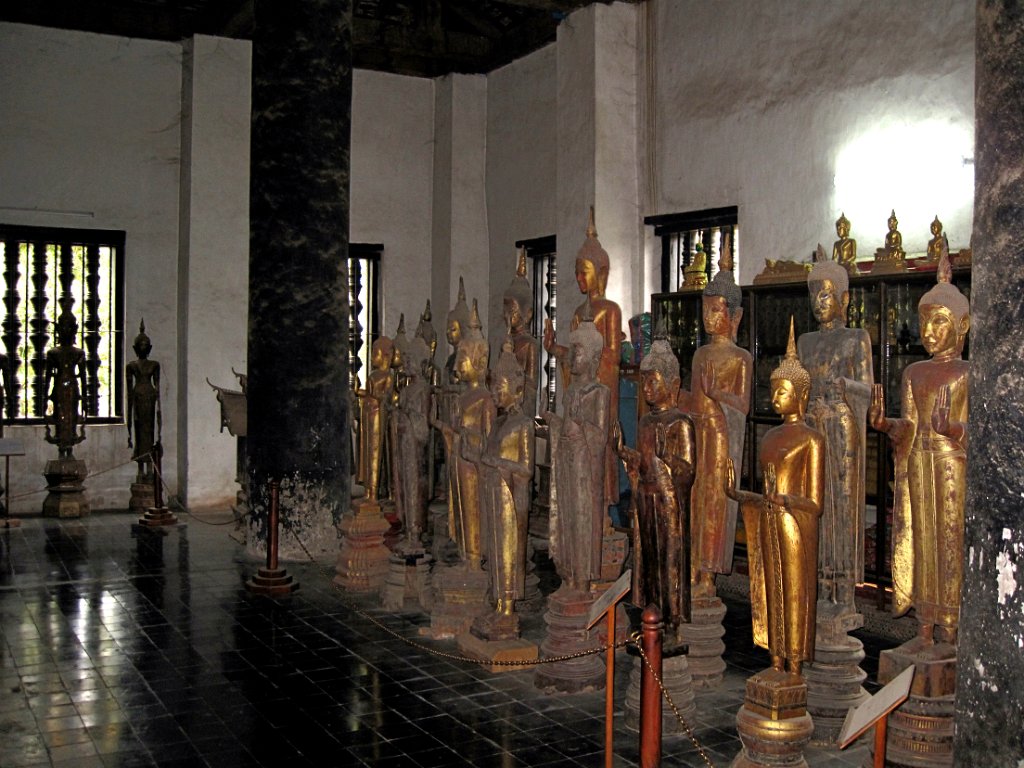 Well, the temple has been rebuilt since it burned a century ago – the posts in the windows look just like the ones at Angkor Wat. The building shelters a behemoth Buddha surrounded by a museum of Buddhas, many standing at attention like a heavenly honor guard. Some are posed in the "calling for rain" posture. Others were in the "cease fighting" posture like school crossing guards stopping traffic. A ceremonial wooden swan is preserved. That's where the prince would bathe in perfumed holy water before his coronation.
We had dinner at a neighborhood restaurant with mostly Laotian and French customers, and great Laotian food, although BeerLaos is not as good as Cambodia beer or Angkor beer – not as smooth.
January 13, Friday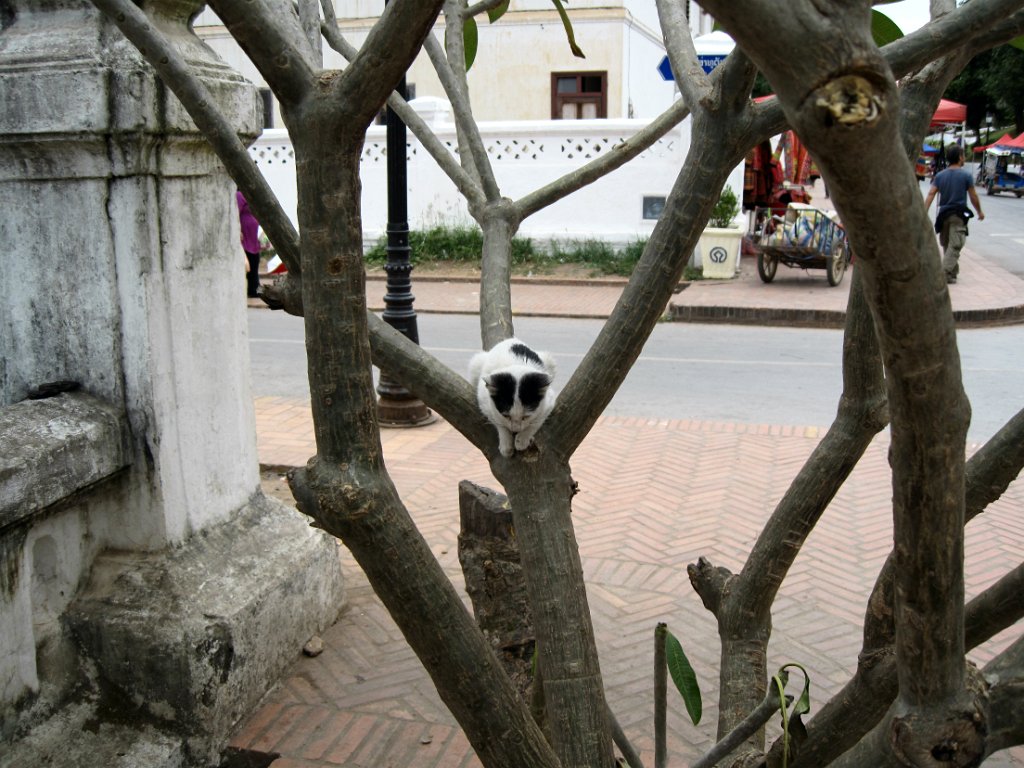 It's Friday the 13th today. After breakfast, we visited the Vat May Souvannapoumaram near the National Museum. On the way to the temple, we noticed a little black and white kitten asleep in a small champas tree two feet above the sidewalk – a furry purring Buddha. The Vat is an old temple with a large gold Buddha at its center flanked by older elongated gilded standing Buddhas.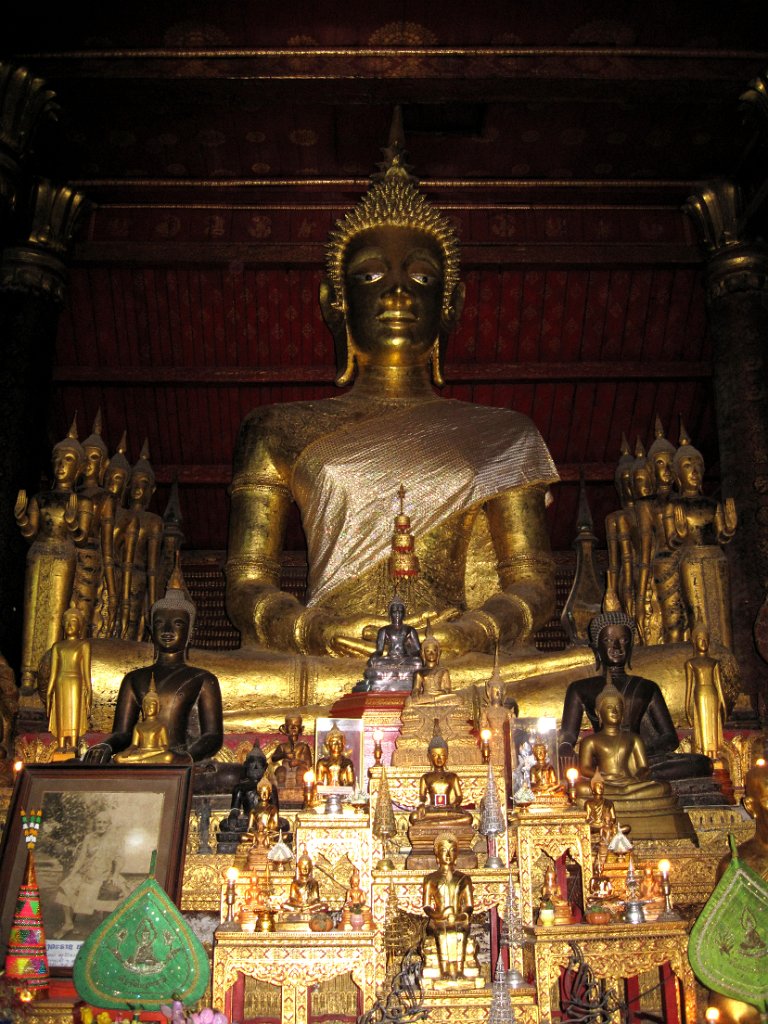 They remind me of Modigliani's figures. There's a small altar with an "emerald" green crystal Buddha in a side chapel encased in an ornate wooden display. That emerald Buddha looks stern and imposing at a distance, but, up close, he has the same nirvana grin as the other Buddhas. These are the first columns I've seen inside the temple which seem to have capitals, though in a lotus pattern. The ceiling is covered with gold wheels of reincarnation against a crimson background.
In the evening, I went to the Big Brother Mouse book operation near the Mekong. They publish picture books in Laotian and English for children in the countryside, most of whom have never seen a picture book. Instead of paying some tour guide to drive me out into the country to ride an elephant for thirty minutes and look at a waterfall, I volunteered to help students learn English. I chatted with one Hmong student (22 years old) named Porlee. After two years of English, he was pretty proficient, so we worked through his text book and conversed on a variety of topics for 90 minutes or so. He has relatives in St. Paul, Minnesota. The Hmong aided US troops in the Vietnam War and many came to the USA as refugees at the end of the war. Clyde and I decided to have dinner at a local eatery afterwards which turned out to be a "family" restaurant - mostly gay young men. It's an international tribe, for we knew each other without saying a word. I suppose that's pretty much the gay night life in this town. One asked where we're from, and Clyde said "America." He immediately placed this palms together in a Buddhist mudra of respect with a grin on his face.
Vietnam - Hanoi
January 14, Saturday
Today we flew to Hanoi and our first visit to Vietnam. Clyde's already made our hotel reservation. The Times Hotel is about a 15 minute walk from the Old Quarter and should not be so touristy. That country shaped and twisted my adolescent view of the world from 1963-1975. It was the place where America dropped its bombs (though Cambodia and Laos also got more than their fair share of ordinance). How would I react to a country which had been on newscasts and newspaper for a dozen years of my young life?
The flight to Hanoi was only an hour. The Times Hotel was much nicer than anything we expected or had parked ourselves previously on this trip. We explored the neighborhood looking for a place to eat. Hanoi's quite a change from sleepy Siem Reap or conservative Luang Prabang. Unlike Taipei, parked motorbikes take up most sidewalks, and people here are very assertive in their driving. Khmer traffic is collaborative give-and-take. Vietnamese traffic is "take" in which no empty space is allowed for very long. The government apparently blocks Facebook, so we couldn't check it at first. However, it didn't take Clyde long to find a way around that particular fire wall using a proxy on his server. Big Brother will have to try harder if it wants to outfox Clyde!
January 15, Sunday
We had breakfast as part of our hotel fee, which was a more sumptuous buffet than anything we've encountered on our trip. The Times Hotel's motto should be "Come for the breakfast, stay for the room." Omelets, pancakes, many kinds of fruit, some we knew and others we didn't – very good coffee. I better appreciate why Vietnam has such a reputation for good coffee.
We walked over to the Hanoi International Church on the east shore of West Lake. It's actually in the Hanoi Club hotel. They have Christian worship – in English – for Protestants, Catholics, and Orthodox. We walked over there from the hotel, trusting our sense of direction and the Holy Spirit's guidance while following the shore of West Lake to the Hanoi Club hotel. The pastor was a young man who went to Lenoir Rhyne College in N.C. – J.P. Cima. The service was done completely by lay volunteers, other than communion. It was an excellent service. They had a song book with about 150 hymns from different traditions which reminded me of the Evangelicals Concerned hymnal. We chatted with folks from Denmark, Finland, and a couple from Australia celebrating their 30th anniversary. One man from St. Louis taught at the Lutheran Concordia International School. He and his wife are getting used to Vietnam and he's slowly learning Vietnamese.
We walked back to the hotel and got lost a few times. That allowed us to stumble upon the One-Pillar Pagoda and Cua Bac Church where George W. Bush worshiped with Catholic and Protestant Vietnamese back in 2006. We found the massive Hanoi Citadel with its ancient gate to the city. We stopped by a store with wooden carvings more amazing and polished than any we'd seen so far.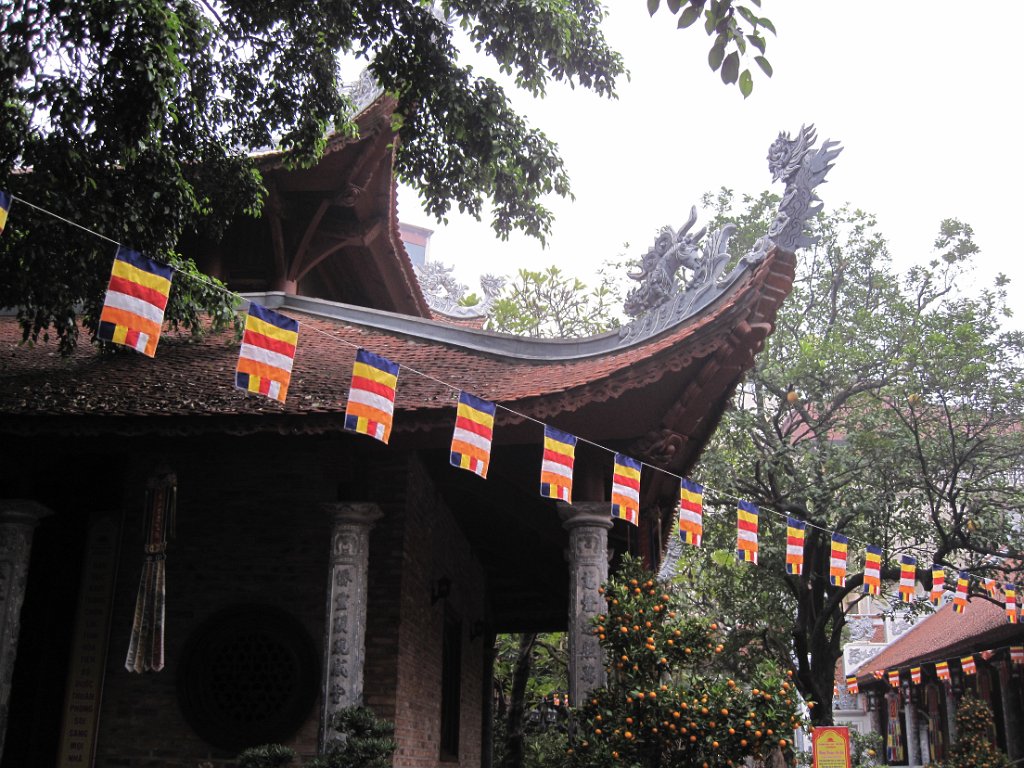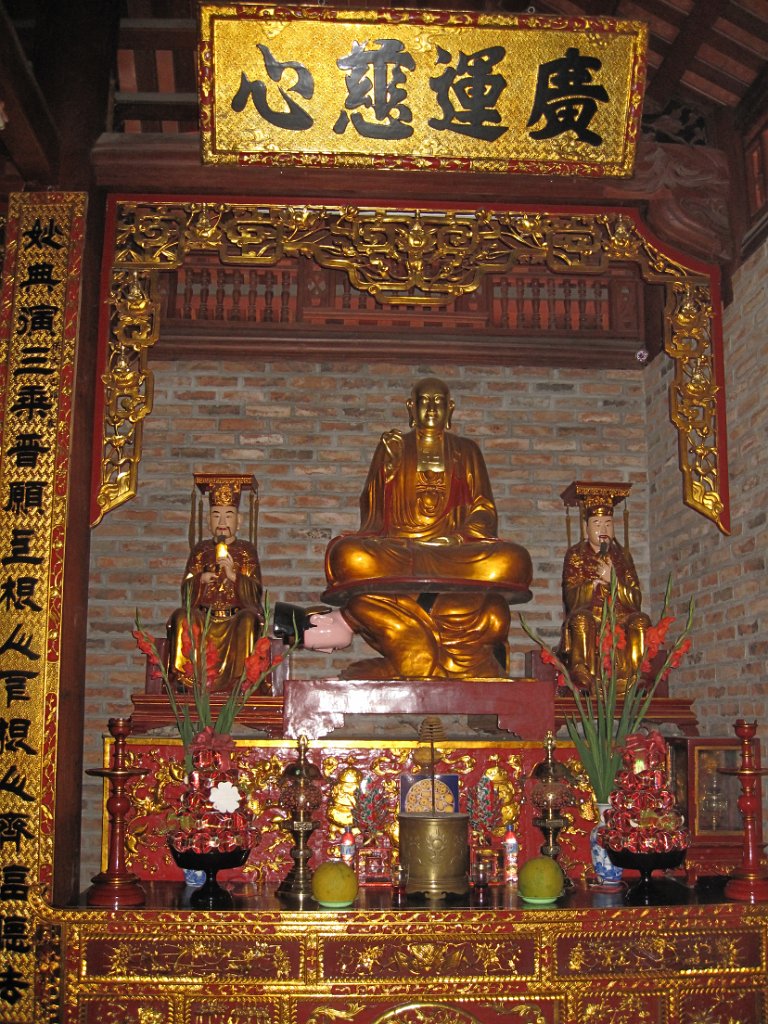 We peeked inside what looked like a Buddhist monastery next door to the Times Hotel. It turned out to be Hoe Nhai Pagoda – a 600 year old Zen Buddhist center. The monastery itself is over a thousand years old. The shrine had famous statue of Buddha sitting on the back of a prostrate king. You never know how much history is tucked behind a wall next door to your hotel!
January 16, Monday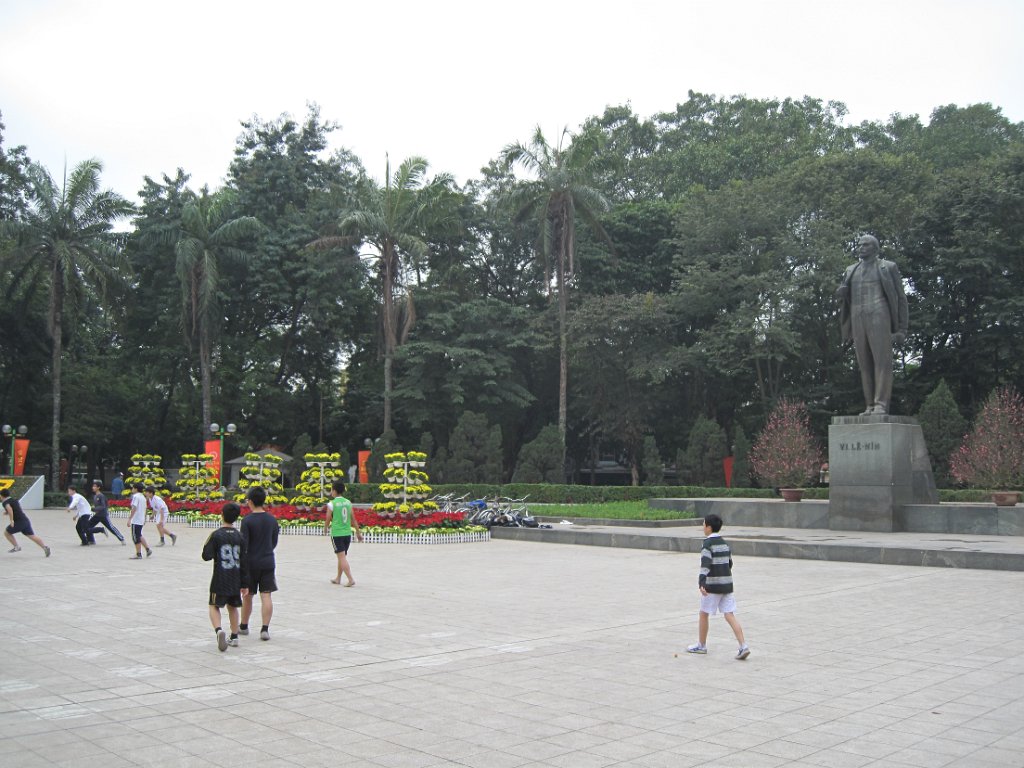 This morning we enjoyed our rooftop breakfast at the hotel and then trekked a few blocks to get a haircut and scalp massage. We paid $10 each and felt pretty mellow as we hiked to see some sites. The imposing statue of V.I. Lenin is mounted on tiers of polished marble pavement. That made room on the pavement for two boys' soccer games in progress around the statue. The impressive "Fallen Heroes" memorial nearby is very well done – especially compared to other chunky Soviet-style "Common Man on Steroids" statues in Hanoi.
"Chuc Mung Nam Moi!" was emblazoned on banners and arranged in flowers everywhere – Happy New Year! The vendors are gearing up for Tet with plenty of red and gold merchandise. It was nice to hear "Tet" associated with something other than the Vietnam War's 1968 "Tet Offensive." Cone-shaped trees loaded with miniature oranges were biked and toted everywhere. It's sort of a Vietnamese version of Xmas tree. The public areas are landscaped with flourishing marigolds. The military museum was closed on Monday, so we used our map to find Hoa Lo Prison (after getting creatively lost a few times). Well, if we hadn't gotten lost, we would never have seen the true extent of the Hanoi Citadel or the almost-finished Hang Da Galleria. Also, getting lost allowed some very helpful Vietnamese to help us get reoriented. It's amazing how much good will can be communicated without a common language.
Hoa Lo prison is a fragment of the old French colonial prison "Maison Centrale" and known to American POWs as "Hanoi Hilton." The museum was a secular shrine to revolutionary patriots who resisted imperialism over the past 100 years. Some of the original cells and locks are preserved, housing mannequin representations of skinny abused prisoners with feet in stocks, including death row cells for inmates facing the rusty old guillotine, also on display.
Upon seeing room after room of languishing prisoner-mannequins, relieved only by stories of occasional successful escapes, one gets the impression that the French never incarcerated criminals – just patriots. In their litany of martyrs, the Vietnamese included American Rodgers Lapoter who set himself on fire in front of the UN building on November 9, 1965. The cachot – a dark narrow dungeon for solitary confinement was pretty brutal-looking.
So, "Maison Centrale" was hell for inmates for over a century, with the apparent exception of one miraculous respite from oppression during the interment of American POWs. Unlike the revolutionary patriots before them, POWs enjoyed an exceptionally deferential hospitality which catered to and anticipated their every need. At least that's the story of the museum photos and text. It doesn't quite jibe with the testimony of practically every American POW who spent any time in Hola Lo. The French had a word for "Maison Centrale" and it wasn't "vacation."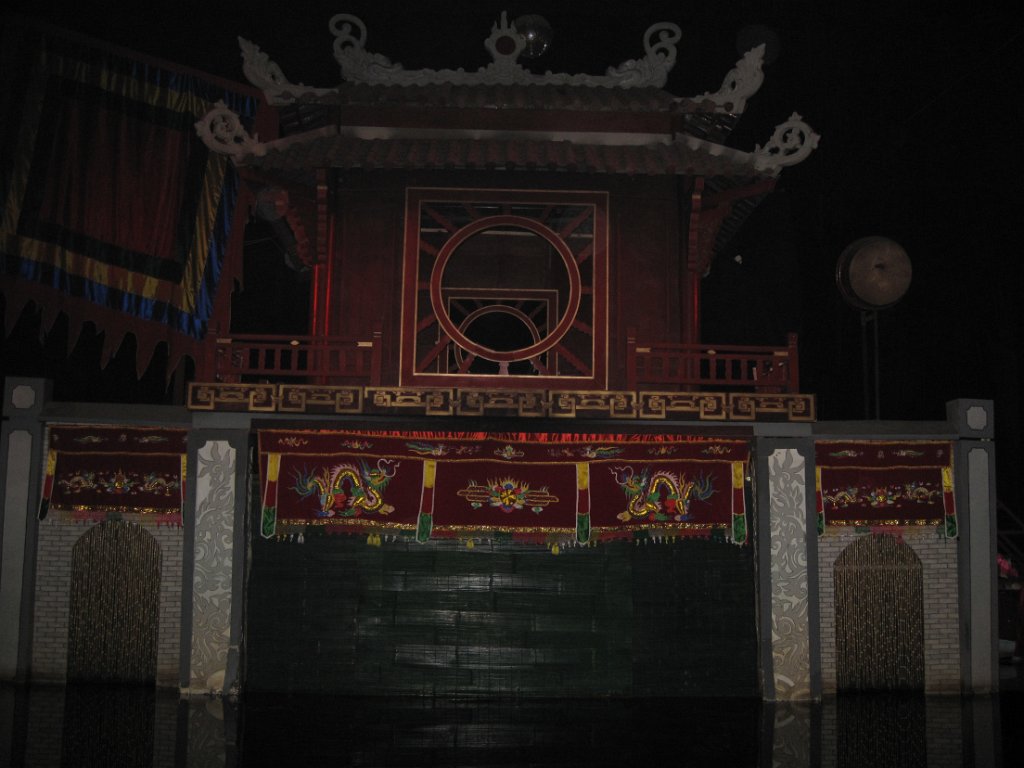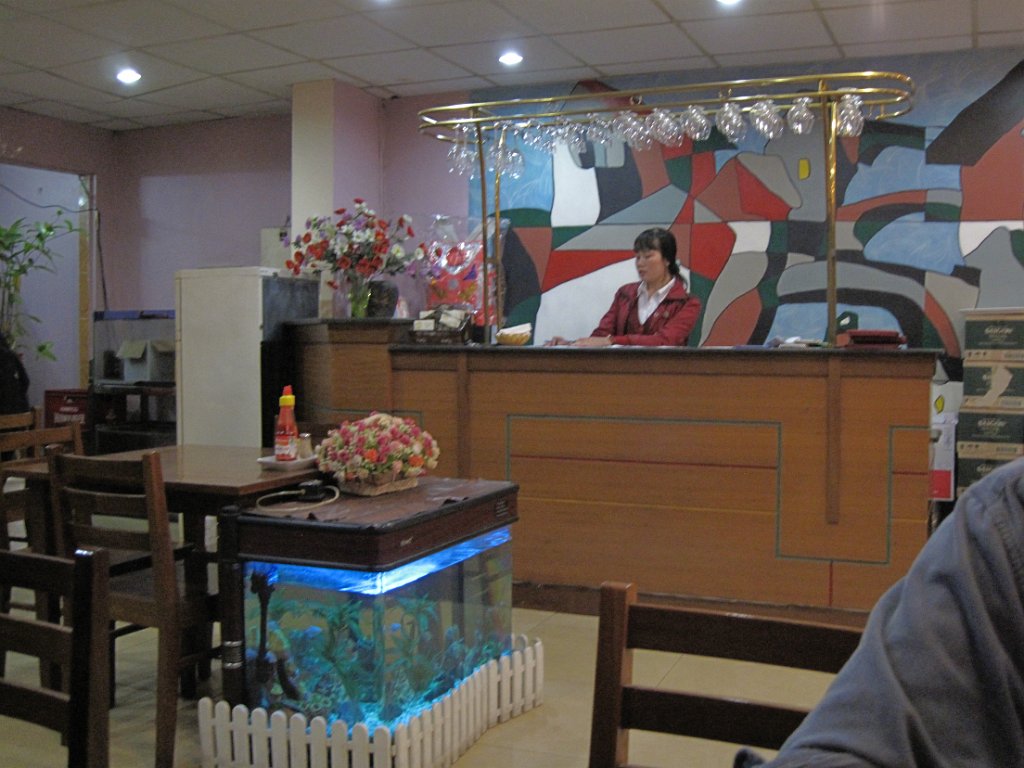 One hawker offered to take me to the lake where a B52 was shot down in 1972, but I was in no mood for that. I wonder what John McCain thought when he visited this place in 2000? This same hawker showed up at every site we visited, hoping that we'd pay for a ride on his bike. He was nothing if not persistent. Happily, we went afterward to KFC for a snack and then to Hoan Kiem Lake with its famous red bridge and turtle tower. We got tickets to see the traditional water puppets show – front row seats with just 10 min. till the 3:30 performance. I loved the traditional music (with non-traditional electric guitar accompaniment) and the puppet stories in the water. Afterwards, we walked back towards the hotel and had supper at ABC restaurant before returning to the hotel.
January 17, Tuesday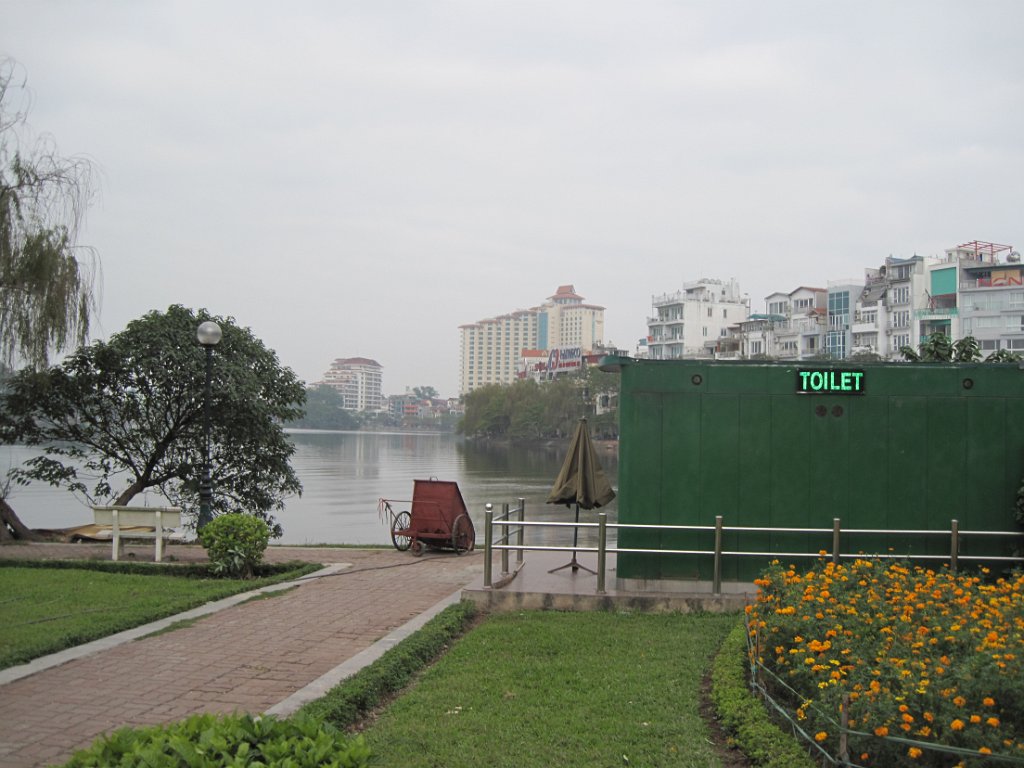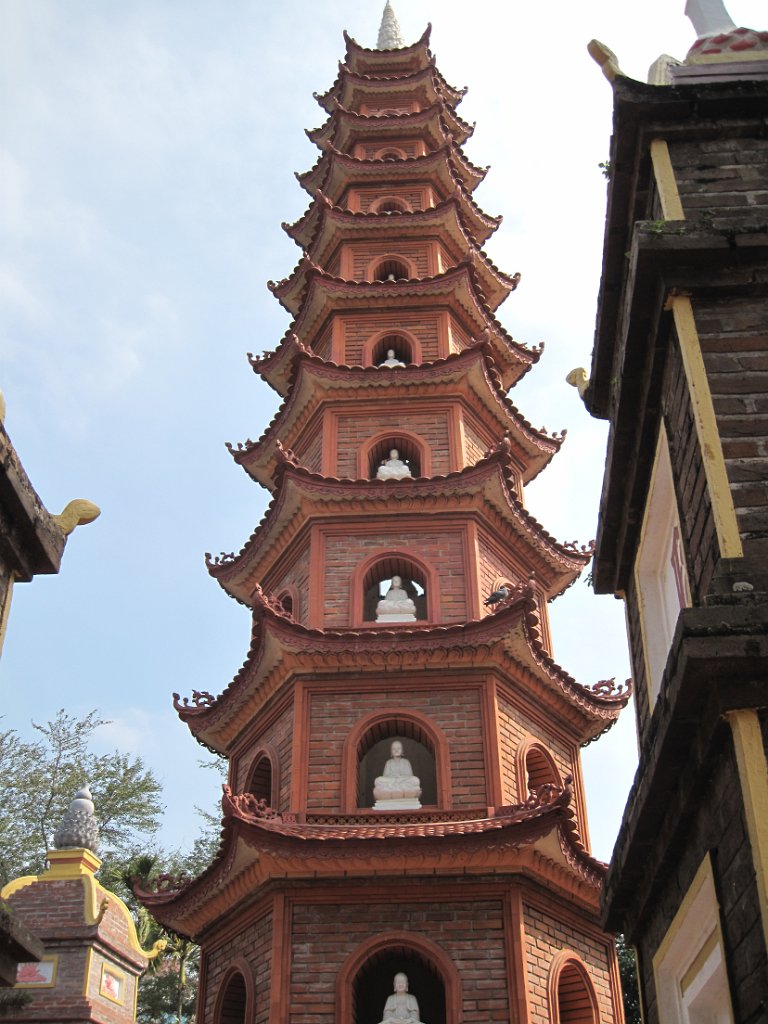 It's a cool cloudy day. Today we continued hiking through Hanoi which has more motorbikes than any Asian city we've visited. There are no walking tours since most of the sidewalks are for parking motorbikes. I cross the street to deepen my prayer life, calmly crossing four lanes of nonstop motorbikes in sublime confidence of not being hit. Hanoi's traffic is an endless river. We walked over to the West Lake (Tray Lake) and visited the beautiful 6the century Tran Quoc pagoda. It contains a tall tower-like structure – an 11-layered pagoda – with figures of Buddha for veneration. The pagoda has a Bodhi tree doing pretty well, a gift from India and taken from the Bodhi tree under which Sakyamuni attained enlightenment. Many come to burn incense and pray in this lakeshore pagoda. We tried not to interrupt those praying before ascending tiers of gold Buddhas. Outside, hell money is being burned in the furnace. I remember the story from the Chinese classic, Journey to the West which describes the Emperor's three days in hell where he took out a loan to mortgage the lives of blameless in hell.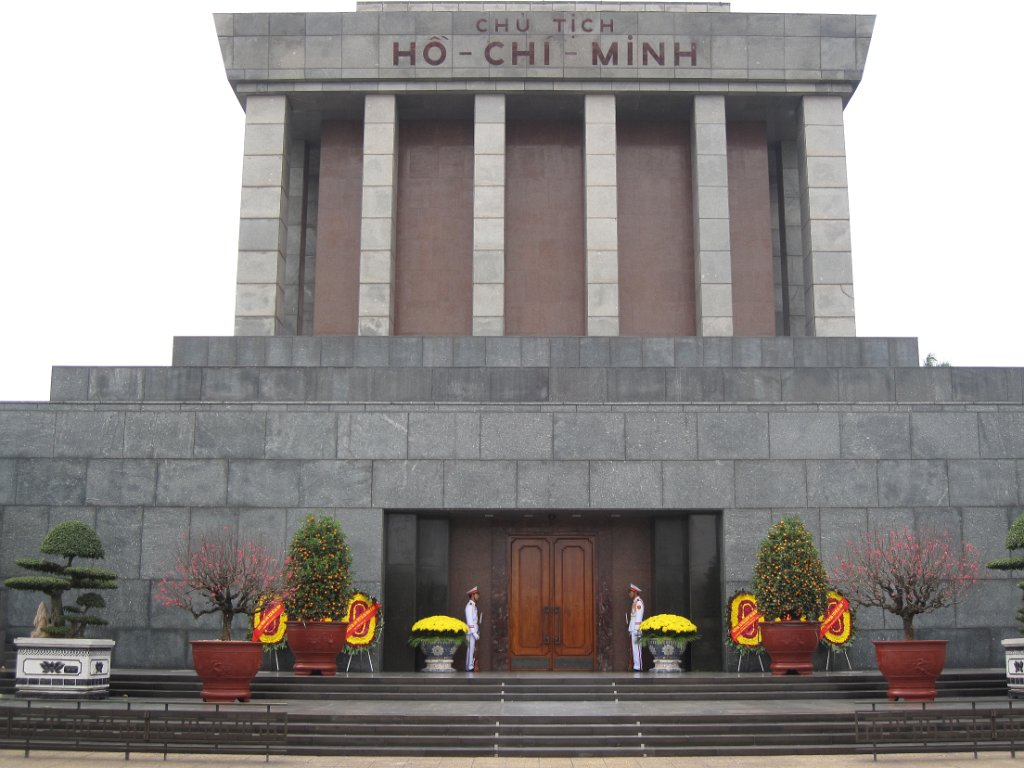 We hiked over to the Ho Chi Minh Mausoleum just in time to see the changing of the honor guard at noon. I thought that Chiang Kai-Shek's Taipei memorial was more impressive. In walking around looking for a pagoda, we stumbled upon the Hanoi Botanical Gardens. What a find! We paid the exorbitant 10 cents apiece to walk through the garden, which was more of an arboretum and a venue for at least six or seven wedding photo sessions. No other tourists around. Just a few locals – some gay young people who silently welcomed us (don't ask – we just recognize each other) and some Victorian cages for peacocks, doves, one lonely baboon. There were some playful topiaries too. We strolled around the two lakes without a motorbike in sight. The rubber fig trees were botanical works of art – ficus elastic – with aerial and buttressing roots anchoring them in the soil. The garden is a century old, built by the French – for the French. I'd guess that Vietnamese were kept out.
We then walked down the street to a Vietnamese book store – on a par with Barnes & Noble, though all the books were in Vietnamese. Clyde picked out some CDs ($2.00 each) and I browsed the books. We asked for a 5am wake-up call tomorrow. It will be strange to arrive in a country which is 20 degrees warmer than it is in Hanoi.
We then went to the military history museum. It's a bad sign when the decorative items on the grounds are war trophies; mostly U.S. aircraft, including a downed and wrecked F4 jet fighter turned into a standing sculpture. The long military history of Vietnam includes an account of resistance against the French and then resistance against the USA in the American War 1954-1975. No Americans were featured (oddly), but Ho Chi Minh and General Giap were pictured throughout as master strategists, and the Viet Cong fighters who (apparently) had the whole world on their side. This grew tiresome after a while, although there were surprises in the museum – one room dedicated entirely to the mothers of Vietnam who endured the war years – not something you'd see in any American war museum. Then the displays resumed with later heroic military exploits against the Khmer, the Chinese, and anyone else who crossed the Vietnamese up to the present date. You'd never guess that America is Vietnam's biggest trading partner today.
The best part of the tour was actually the stone and brick Hanoi Flag Tribune – a tower / flag staff dating back to the early 1800s, with a winding staircase inside all the way to the top. It's worth the climb for the view and the cool breeze. Some kind of reality game show was filming on a lower level of the tower – very surreal. There are actually two steep spiral stair cases from the top of the tower to the ground but one leads to a dead end with no exit. Don't ask how we figured that out. We trekked back to the ABC restaurant for dinner.
Malaysia - Kuala Lumpur
January 18, Wednesday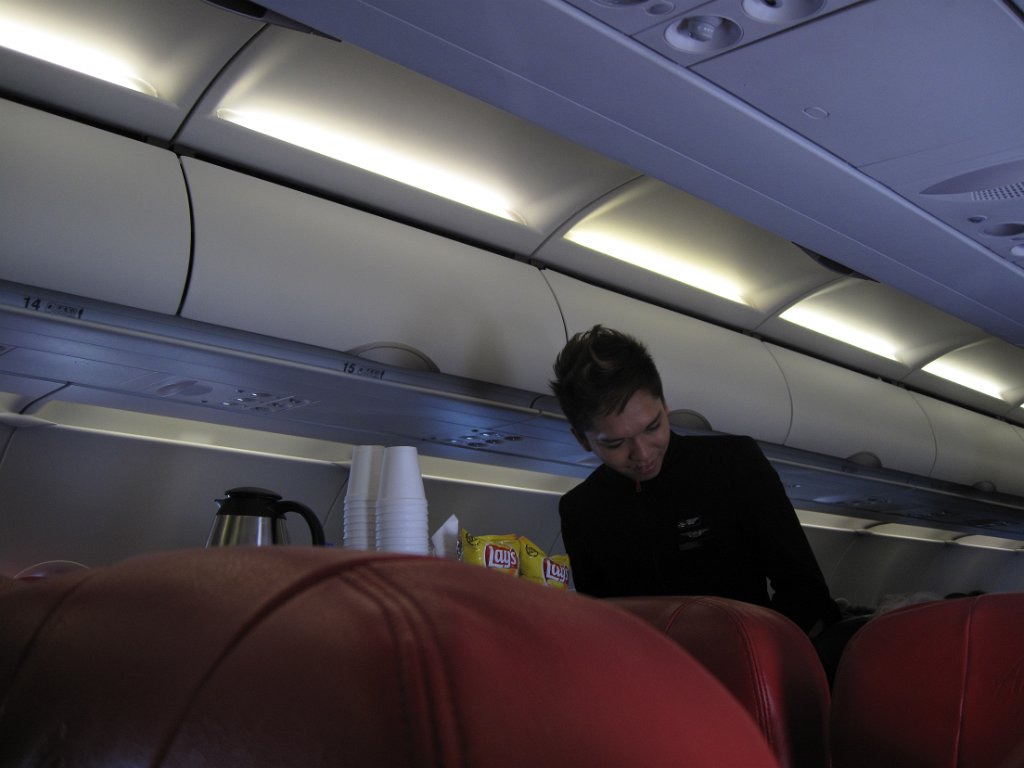 We flew from Hanoi to Kuala Lumpur today. A dark-thirty ride to the airport this morning which is about an hour's taxi ride from downtown Hanoi. Hanoi to Kuala Lumpur; 9:AM – AR 1:30 p.m. When we got off the plane in KL, we could feel the equatorial tropical heat right away. We got into central KL fine by Sentral bus, but Clyde had an awful time finding the hotel while I waited with the bags. He was given confusing directions and the streets don't have street signs. I was suffering from traveler's diarrhea too, so it was a rough afternoon when we finally checked in at the A-One Hotel.
January 19, Thursday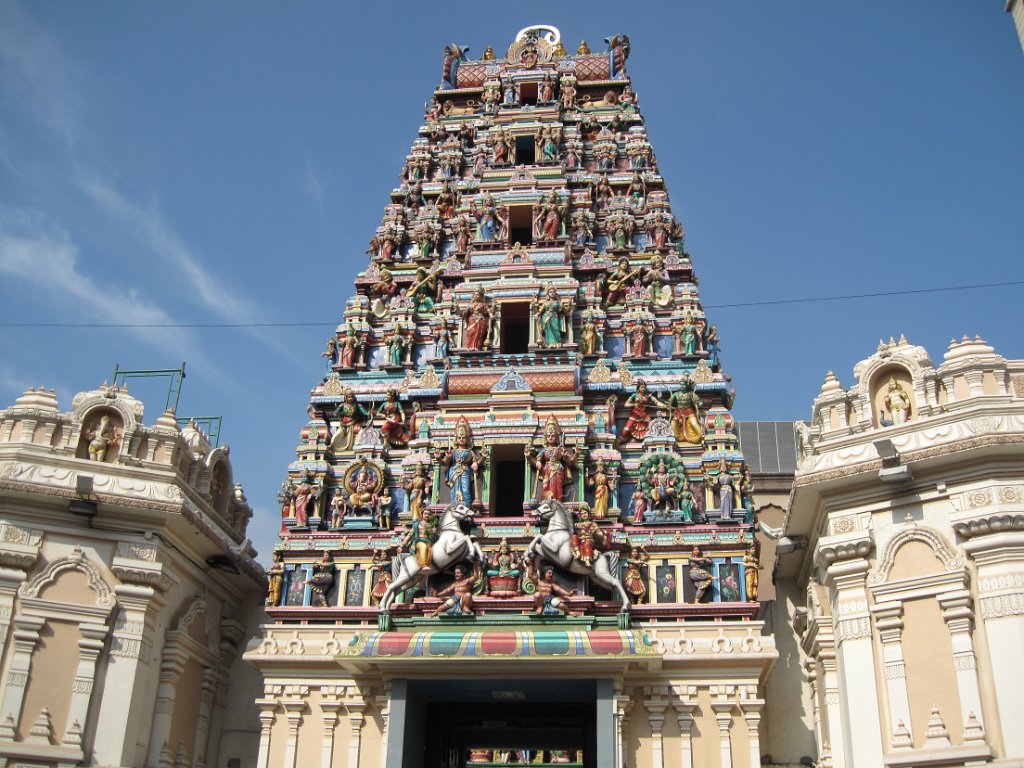 Today went much better. This morning we walked past a Hindu temple which had a wedding in progress, and a Confucian temple. We found a place to get breakfast. There's an omelet-like dish which Clyde and I liked. Muslim morning prayers were in progress, and, since the restaurant was obviously Muslim, I didn't ask for bacon with breakfast.
Afterwards, we went to the subway system where an older man generously explained the routes to us, so we took the metro (which didn't exist during our visit 20 years ago) out to the KLLC mall to shop for music by a Malaysian Buddhist singer: Imie Ooie. Clyde loves her music. The 6-story mall is at the foot of the Kuala Lumpur mammoth "twin towers." (After 9/11, I never expected to use that phrase again in the present tense). Clyde found music he liked, but not the songs of his Buddhist muse. We came back to our hotel room, and Clyde went to a local Buddhist temple to inquire about Imie Ooie's music.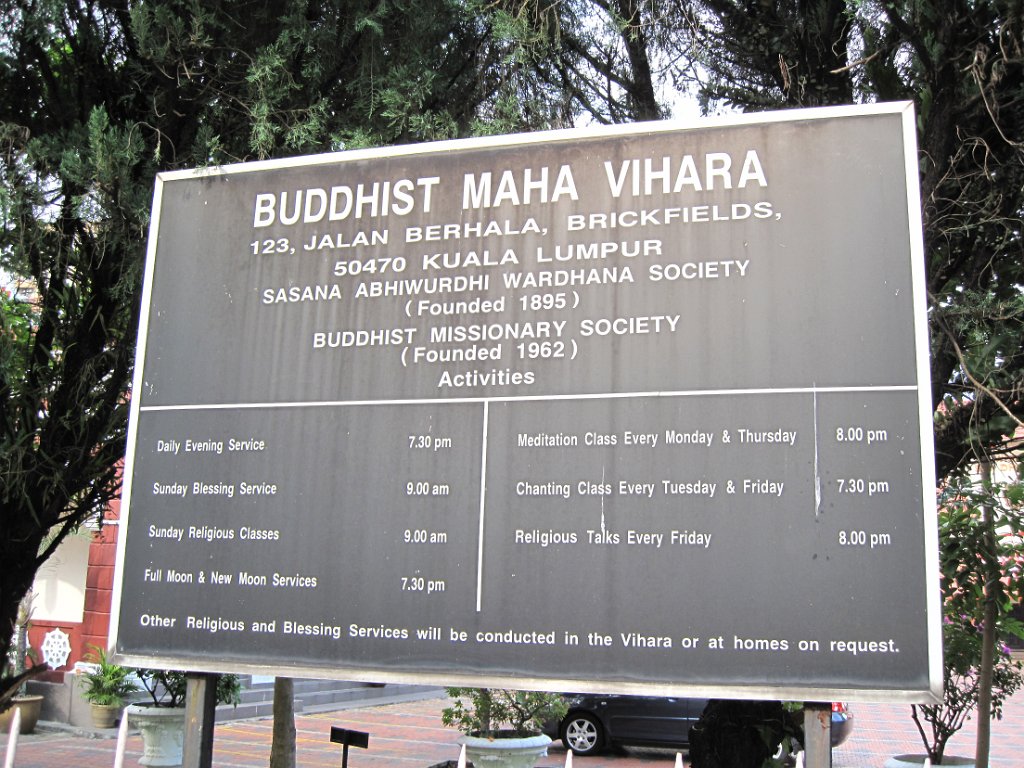 A woman there brought him to the Buddhist Missionary Society of Malaysia. The educator there was so impressed with Clyde that he gave Clyde plenty of literature and recordings of messages for Clyde to hear (so that Clyde could learn from "the original scriptures"). If there's such a thing as evangelical Buddhism, Clyde found it, complete with Christian hymns sung with Buddhist lyrics, and, of course, a Sunday school. We sent an E-mail to Imie Ooie since her studio is in town. Tonight we went looking for Chinese dinner in Chinatown. There was a big noisy night market going on, with plenty of Chinese restaurants.
Back to Taiwan - Taipei
January 20, Friday
Clyde's had sinus problems again. He probably needs antibiotics. We completed the circle and flew back to Taipei today at 5:50 p.m. and our old Hotel 73. We knew the bus and metro schedules now. Taipei has been our "bookend" destination for the beginning and end of our vacation.
January 21, Saturday
Today, Clyde still wasn't feeling well, so we didn't get out and about until early afternoon. We then took the subway to downtown Taipei to see the Tapei 101 building and the 6-story Eslite Bookstore. We spent the first half hour reconnoitering the location of these sites. You might reasonably ask, "How hard can it be to spot a 101 story building?" but winter fog and haze made the tower visible only partially. Clyde hit upon the idea of using the Skyway walkway as our map since we couldn't read signs. The walkway was bedecked with thousands of red paper lanterns and an enormous dragon woven out of bamboo and painted red (Chinese New Year).
These department stores are decidedly upscale and exclusive – not like the Chinese retail outlets in the States (a.ka. "Wallmart.") We couldn't afford tickets to the Observatory at Taipei 101, but we got to admire the soaring tower's architecture. It looks like an 11-story giant pagoda on a surprisingly narrow base. Inside, the support beams and columns are designed to be interesting décor features as well.
Actually, it reminds me of Dr. Morbius' underground Krell laboratory in Forbidden Planet - very retro scifi. One store was devoted exclusively to Liuli GongFang glass art – exquisite museum-quality glass sculptures on store display as if in a gallery. Mindful of the universal "you break it, you pay for it" rule, we tiptoed carefully through the store. We found the Eslite book store nearby. Eslite is an amazing hybrid of book store and library reading roo, with an entire room devoted to philosophy, East and West. Many young people were quietly sitting on the floor reading books in all categories. Even with most of its inventory in Chinese, Eslite had a better collection of philosophy texts in English than I've seen in most bookstores. It occurs to me that I might not be living in a First World country after all…
We had supper tonight at a restaurant we liked on our visit to Taiwan six weeks ago: The food was great and inexpensive. They were eager to please (offering a bottomless bowl of rice) and constant refills of tea. The waiter drew directions to a neighborhood pharmacy where Clyde got some antibiotics to treat his sinus infection.
January 22, Sunday
Clyde's feeling somewhat better this morning. It's rainy, so we worked in our room. Clyde received an E-mail from his Buddhist muse, singer Imee Ooi. She told him how to buy her music retail in Taipei, so our search for her enlightened music continues. Not many folks buy CDs in stores any longer, so retail outlets are fewer and less conspicuous. Still, our hotel concierge wrote down directions in Chinese to a place where he expected us to find a music store. We set off on our trek through the rain with one umbrella between us. Unable to read signs, we asked passersby to help us from time to time, which they were glad to do, pointing us roughly in the right directions. They were part of our musical scavenger hunt. One hotel bellboy gave us directions and then ran out into the rain to stop us when he figured out that the store was closed for Chinese New Year. We finally found a record store tucked away on the second story of a building in the shopping district. That's where Clyde hit pay dirt – over 21 different CDs of his beloved Imee Ooi and costing only half what he'd pay in the States. The store was not sufficiently appreciative to extend a discount to Clyde, but he was a happy camper all the same.
We couldn't eat at our favorite restaurant tonight because it was closed for New Year's Eve, but we found a 24 hour place next door which was open and the food was decent.
January 23, Monday and January 24, Tuesday
Happy red and gold Chinese New Year in Taipei! We spent morning on New Year's Day getting our bags ready for our trip home. After we checked out of our room, we rearranged the big black and white seating cushions in the hotel lobby to make our own laptop workspace platforms near wall outlets that afternoon before going to dinner. After dinner, we got a taxi to the bus station and then took the no. 1819 bus to the airport. Our China Air flight was delayed and didn't leave till after midnight. However, it was a good night flight. Our connecting Delta flights from San Francisco to Atlanta and from Atlanta to RDU didn't compare well to China Air and other Asian airlines for food service. We had only a few bags of peanuts to hold us across America. But we arrived home safely. It was odd at first to hear American conversations again. When my mind and body reach agreement as to the time of day, it may seem less odd, but it's been forty days which felt like a much longer vacation than that for both of us.