The Philippines segment
Note: Click on pictures that have blue boarders to see a full size image. Then use browser "back" button to return to travelogue.
December 22, 2008 Monday / December 23, 2008 Tuesday
Hellboy in the Dark.

James Ong, Clyde, and I shared a cab at 4:30 a.m. to RDU airport. Our Filipino friend, James, had generously texted and e-mailed his friend Junie in Manila who said she'd be glad to meet us at the airport. James was also catching an early flight, but to L.A. Our first flight was to JFK. At JFK, our Boeing 777 seats were in the very back of the bus, but we built rapport with the stews in the back galley. The overhead lights at our seats wouldn't work on the flight from JFK to Tokyo, and, unable to fix the light, they instead passed us wine and some little Bailey's Irish Cream bottles. We happily sipped, dozed, and sort of forgot about the broken lights. We watched repeated loops of "Hellboy II," the only movie that would play, on our seat video console. The horizon outside was a cheerful perpetual dawn which our jet chased across Alaska and all the way to Tokyo, so we didn't miss overhead lights. At Narita airport, we got a JAL flight to Manila. Great cuisine! When we landed in Manila (now 10:15 p.m. on Tuesday, Dec. 23rd) it was hard to find James' friend, Junie Navarro, in the crowds of people meeting holiday travelers, but a kind lady helped us out with a cell phone so that we could call Junie. We found each other, and she put us up overnight in her 12th floor condo. Junie's pink Princess décor was very welcoming.
December 24, 2008 Wednesday
Christmas Eve Birthday Party. To have no cell phone in the Philippines is to be a bit out of touch — they're much more in use than are land lines. Junie worked out a cab for us to Angeles where we'd meet Bert Masbang and his family. The Tagalog conversations, jeepneys, and even the feel of the air brought back memories of our past trips to the Philippines. We checked out a few hotels and stayed in the Century Resort.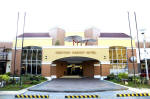 That's the same hotel we stayed in when we visited Angeles in 1992, just a year after Mt. Pinatubo erupted. We seemed to be the only guests in the hotel at that time. Angeles is bustling now. The volcanic ash has been cleared away. Bert brought us along as guests to a big birthday dinner for Precy's sister at Shangri Lai restaurant. She was very gracious sharing her party with us. It was a wonderful way to spend Christmas Eve.
December 25, 2008 Thursday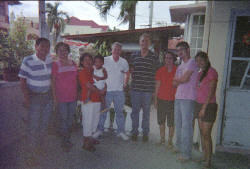 Bert, Precy, Peng & child, Martin, Clyde, Lida, Benedict, and Jolly on Christmas day reunion.
Hundreds of gifts under the Tree. Our hotel room is a good isolation chamber for two guys recovering from jet lag. The owner of the Century Resort, who died of cancer this past year, was a much-loved philanthropist and had started a tradition of giving Christmas gifts (and money) to the needy of Angeles, who lined up by the thousands, including plenty of children, this morning. It was a combination of Halloween, Thanksgiving, and Christmas. We traveled with Bert's family to San Fernando to spend the day visiting with Lida and our hostess, Peng, her children, R-Jay, Jolly, and Joshua. Other family members joined in, for a wonderful feast. We spent the day talking and visiting and having a good time.
December 26, 2008 Friday
No Longer in the Navy. This morning, we headed out in Bert's SUV down the new expressway to Subic. The US Navy is no longer there, of course. The installation and especially the bay and the hills, are very impressive and beautiful. We returned later in the afternoon and explored Clark Free Enterprise Zone (formerly the air base) where Clyde and Lida tried to find the old Zuber residence on Clark Avenue. We figured out that the glitzy new Fontana Resort now encompassed the old residential area. The resort had renamed Clark Avenue as "Florida Avenue." That helped us to locate the house. Bert reassured the resort security guards to let us through at the checkpoints. It was getting dark, but Clyde and Lida finally located the dwelling they remembered, mostly overgrown by trees and shrubs: not quite jungle, but no longer Main Street USA either. Archie and Benedict were patient through this sentimental house-hunt in the night.
December 27, 2008 Saturday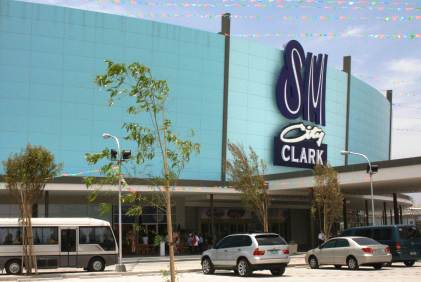 Clark Lark.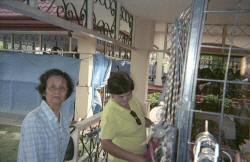 In Angeles, we went to the SM Mall at Clark Free Enterprise Zone (formerly Clark Air Force Base) with Roberto, Precy, and Lida today, and we took care of banking and airline reservations. We also visited the 1998 centennial exposition at Clark which was interesting, though it could use some upkeep. The display of traditional dwellings from different parts of the Philippines reminded us of a similar Indonesian village exposition we had seen in Jakarta. We found some wonderful quality dress shirts on sale and very cheap.
December 28, 2008 Sunday
Sizzling Squids.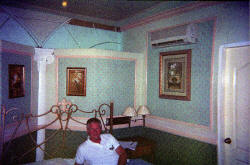 Clyde and I hopped a cab at the Century Resort and went to Clark Airport where we caught a Cebu Pacific airplane which flew south to Cebu. We landed at the airport on Mactan Island and looked for some hotel information. We encountered Robert Sayid at the airport who was advertising his Europa Mansionette Inn. We decided to give it a try, and he drove us in his Mercedes to a somewhat secluded old stately house barricaded from the street near Cebu City. It had elaborate and eclectic décor: Chinese-y white and turquoise, statuary mixed with Filipino accents. Robert very nicely treated us to dinner at a local Korean Grill. I passed on the "Sizzling Squid" special and enjoyed the lumpia and rice. He was fun to talk and argue with. We got to bed sometime after midnight.
December 29, 2009 Monday
Dive! Dive! Dive! We slept late this morning and took a cab down to the pier to find an afternoon ferry to Bohol. Clyde and I were perplexed at the ferry queues, but a local dive master, Mockiey G. Tatay,
struck up a conversation and told us about his work supervising dive instructors and Japanese divers on Mactan Island and working with non-Japanese divers at the Polaris Dive Center on Calibao Island, off the coast of Bohol. The dive resort sounded interesting, and, since we were already in the line for the ferry to Tubigon (close to Calibao Island), we boarded together. It was the height of the dive season, and resorts were booked on Panglao Island and elsewhere. So, we didn't know what to expect at Calibao. Together with Mockiey, we found a 400 pesos trike (a motor bike attached to a small passenger compartment), compared to a 1600 pesos van. We strapped our luggage onto the back of the trike and rode along for an hour or so through coastal Bohol — lots of goats and kids and very green rice paddies. The overloaded trike gave out once at the bottom of a hill, but Clyde and Mockiey helped push it until the engine took over. When we arrived, we hopped on a catamaran for Calibao.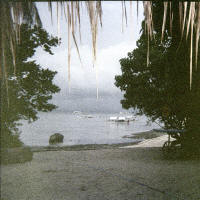 The restaurant manager greeted us and announced that the resort was full, but that she would do her best to find us a spot elsewhere.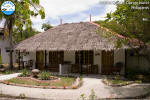 As it turned out, a room was vacant when two guys checked out, so we moved in, equipped with our blue fish room key. As our own travel agents, we take our chances constantly. It usually works.
December 30, 2008 Tuesday
Coral Reefer Madness. We awakened on Calibao Island this morning. I decide to take Mockiey up on his offer to teach me diving. The German, Thai, Japanese, and Filipino customers had already reserved dive boats, so Mockiey found time to teach me the basics in the pool and to take me out for a "discovery dive." I squeezed into my dive suit / body glove and cinched on my weight belt, fins, BCD, and tank. After learning safety maneuvers and signals underwater, we took the catamaran out to a dive spot where we flipped over backwards into the ocean and started exploring the fish and corals.
The ocean was spectacular. Its better visiting wildlife as a guest than it is being a snorkeling voyeur overhead. I got vertigo just watching schools of bright yellow and indigo fish swimming far down the coral walls into a canyon. They're lit up like Christmas tree lights without the cord. The little orange tiger fish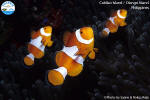 were entirely unfazed by our presence. The corals are more textures and shapes than you can imagine. We spotted one huge fish called a Napoleon (hump head wrasse). Clyde had sinusitis, so he didn't feel like scuba diving. He provided moral support. We had dinner around 4:00 p.m. and talked about our plans for tomorrow. We moved out of our Blue Parrot room, and climbed up into a cheaper bamboo "tree house" room without air-conditioning, but with a good fan.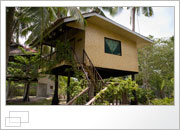 The bungalows are named after planets. Ours was "Uranus," pronounced with NASA straight face and emphatic accent upon the first syllable. J It was cheaper and more to our liking that the Blue Parrot Room. Today is Barbara's birthday, but I don't have a way to give her a call to wish her a "happy birthday."
December 31, 2008 Wednesday
Hot Frogs on the Loose. It started raining hard and steady last night and continues to rain today. Good thing we're up in the tree house above all the new ponds of singing bullfrogs and other amphibian choristers for whom flood time is party time. Clyde is feeling better and decided to redeem the rainy day by learning how to dive and doing a scuba discovery dive this afternoon.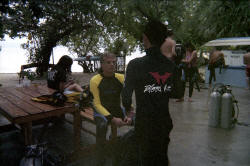 He had a great first dive, so, after lunch, we dove together with Mockiey.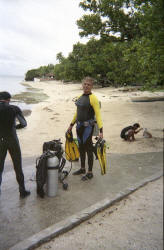 I knew just enough not to step on the needles of the black sea urchins I spotted. At 11 meters down, we spotted divers below with clouds of bubbles over their heads. The Dive Center had a great New Year's Eve buffet. The main entrée' was roast pig. We watched two guys hoisting the pre-roasted star into the kitchen earlier. We chatted with three Swedish teenage girls (their parents didn't seem to worry much about a same-sex male couple hanging out with them) until the fireworks display on the beach. The Philippines had half a dozen fatalities and 342 injuries from fireworks this New Year, but none of the staff kids were injured arranging our beach spectacle. They'd make good artillery officers. Meanwhile, an army of little Pacific hermit crabs migrated with their shell-houses across the resort in response to the rain and all the new flood ponds.
January 1, 2009 Thursday
The Last Resort. We go to Tagbilaran City today. Happy 2009! The sun is out. We share a van with two other guests of the Polaris Dive Center and check in at the little Sun Avenue inn. It's just our speed, with beautiful tiled floors and a view of the water. I use the wi-fi in the lobby to check and reply to e-mail. We hiked around town and have a late lunch at the open-air Bohol Tropics hotel restaurant — nice breeze overlooking the water between Bohol and Panglao Island.
January 2, 2009 Friday
Not Afraid of the Dark. We took a car tour around Bohol today. Our driver, Anthony is from Cebu and, took us to the 412 year-old Baclayon Church, the very first church in the Philippines. Magellan planted a cross first in Cebu, but, after Lapu-Lapu killed him, the Spanish fled to Bohol to plant a church instead.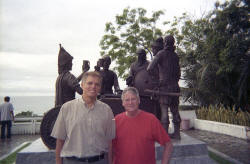 The church had a great museum guide who showed us centuries-old vestments and icons. I try to imagine being a priest wearing eight layers of heavy gold-threaded vestments with no fans or air-conditioning. We also visited the windy and misty Chocolate Hills which are more like lime drops this time of year.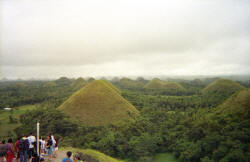 We loved the butterfly sanctuary, cute little tarsiers, and the floating River Watch lunch down the Loboc River. The tarsiers are tiny nocturnal cricket-chomping primates with big eyes.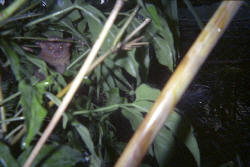 They're endangered, and we let them sleep on their branches in peace. Anthony took us to the Bohol Quality Mall down the street. Clyde got some new made-in-Philippines luggage (half-price after Xmas). I bought some t-shirts, and we got some passport photos for our Cambodia visa. We walked up the street from the hotel for dinner at Leopoldo's. We didn't recognize the dishes on the menu, but everything we ordered tasted great. We heard the Magnificat from the open-air church across the street celebrating mass. That was accompanied by "Hotel California" in the restaurant. Afterwards, it was dark and we walked down to the mall again to use the ATM to get some more cash. We plan to take the speedy super ferry to Cebu tomorrow morning.
January 3, 2009 Saturday
Not Ferry Fast. This Saturday, we took a cab to the pier and stood in line for a fast ferry to Cebu City. At 9:15 a.m., the line for the 9:30 a.m. Ocean Jet fast ferry was long, so we shuffled over to the queue for the smaller 11:20 a.m. Weesam fast ferry. We listened to three blind singers croon popular songs for applause and donations. Our Weesam ferry rocketed across the ocean to Cebu. Oddly, we passed the Ocean Jet on the way. It was tugged very un-jetlike to port. We found out later from Roberto and Benedict that its captain had misjudged the depth and the ferry had nearly capsized. That was the boat we missed. We checked in at the de Mercedes Hotel and shopped down on Colon Street at the Gaisano Store. We had lunch at the Chow King. I've gotten in the habit of ordering Halo-Halo for dessert everywhere. It's my favorite combination of ice milk, ice cream, fruit, gelatin, and other items too numerous to mention. We stopped at local barber shop where Clyde got a good 40 pesos ($1.00) haircut. We waited for Clyde's turn. The barber wore a surgical mask and was fun. I didn't make any smart or smart-mouth answer to one girl's question of why Americans have such long noses,
January 4, 2009 Sunday
Food for the Journey. This morning we got up and had some breakfast downstairs and then checked out of de Mercedes at noon. We went back down to Colon Street and shopped at the grocery store. Grocery stores are fun to shop and browse in any country because they're full of interesting new brands and foods to try. I passed on the crisp and tasty squid chips, but loaded up on squash seeds, graham crackers, and dried mangos. At 3:00 p.m., we took a cab to the Cebu airport and caught our Cebu Pacific 2-hour flight to back to Angeles. Angeles is home for us on this excursion to SE Asia. The Cebu Pacific flight was the same airplane, flight crew and stewardesses, so we all recognized each other and said "hello." It's a caring airline. They take time to point out the blinking light and whistle featured on the bona fide life jackets. That's actually useful information. American stews barely mention the seat as a "flotation device." Bert and Benedict picked us up and took us down to the Miyabe Hotel on MacArthur Highway in San Fernando; the only hotel within walking distance of Lida's home in St. Jude Village. We were in that hotel back in 2000. So, I guess it's "Our-yabi" now. J
January 5, 2009 Monday
Secret Recipe. We woke up in the windowless Miyabe Court this morning. There is still a white plastic sign on the wall which proudly proclaims in red letters: "This ROOM is SANITIZED." We remember that well from our visit eight years ago. We got some wi-fi reception for our laptop and took a car over to St. Jude Village at noon and surprised Lida.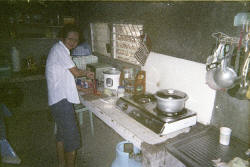 She fixed lunch for us after preparing fried rice. Clyde paid close attention. She had grated carrots, mushrooms, and green peas to add. She started with yesterday's steamed white rice which was loose and not gooey. She stirred up two eggs in a bowl and then poured some cooking oil into the heated skillet. Lida then poured the eggs into the skillet to cook, and then scrapped the cooked scrambled eggs/omelet into a bowl. Next, she added onions and garlic to the skillet (mostly onions, about two sections), along with grated carrots, and then let it cook. She added oil as needed. Last, but not least, she added the white rice. She stirred it, pressed it down, and then added some more rice along with seasoning, such as soy sauce, and then the scrambled eggs. You can add some "magic sarap" or MSG, but it's not required. We talked and visited all afternoon and then walked back to the Miyabe Court. We got a little turned around in the St. Jude neighborhood,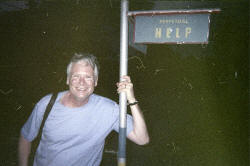 but that helped us to meet the neighbors and their kids who interrupted their basketball to give us directions. Actually, Peng's son, Josh, was there too, concerned that we had gotten lost, but not knowing enough English to offer directions.
January 6, 2009 Tuesday
When a Hotel is Too Secure. We took a trike to the huge SM Mall this morning and got cash at the China Bank ATM. We bought an electric oven with rotisserie for Lida. That was our Christmas gift. She said that we shouldn't have done that, but we hope she will get good use out of it. We also looked at the new SoGo hotel across from the SM Mall, but, like the Miyabe, it had no windows. Privacy, safety, and security matter most for the local hotels, instead of landscape views and open spaces. We also walked back to the Miyabe from the neighborhood. I don't think the Miyabe Court was used to customers who paid days in advance or walked around the area on their own. They attributed our otherwise inexplicable diligence to being two missionaries of some kind. Lida made lunch for us, including asado. Joshua got home from school around 3:30 p.m. He doesn't speak a lot of English yet, but he communicated clearly that, at age 9, he doesn't like school very much. (Neither did I when I was nine). We hear the house gecko chirping on the wall somewhere from time to time.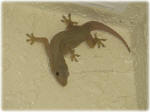 That's a reassuring sound.
Peng got home about 6:30 p.m. and insisted on making dinner, despite our protests. We watched the TV news in Tagalog which was actually pretty informative considering that we don't speak the language. Lida arranged for the next door neighbor to give us a trike ride back to the Miyabe.
January 7, 2009 Wednesday
Rest and Recovery. We took our bags of laundry over to Lida's house this morning. She had arranged for a neighbor laundress to clean our clothes. Lida wouldn't consider payment but Clyde insisted. Lida fixes a delicious lunch, but Clyde is feeling sick again, perhaps the old sinus infection. So, we take it easy and I work on my book, Belong Where You Live. I'm glad that I'll have a sabbatical next year when I'm ready to complete it.
I also do some online research about Kota Kinabalu and sites to see there. I discovered our need to book an extra flight from Kota Kinabalu over to Sandakan on the east coast of Borneo, to see the eco-tourist spots, so we're doing that online through Air Asia. Clyde's still ailing, so I'm treating him with ice-cold calamansi juice and plenty of rest.
January 8, 2009 Thursday
Clean Clothes and Fresh Music. We had a good long visit with Lida today and folded our laundry. Clyde feels better. We have a stack of Filipino CDs which we bought a few days ago. I enlisted the bored but quickly animated sales girls eager to offer their music opinions about which singers were best for us to buy. They also established that we have no wives and live together. I added, "for 25 years." Tonight we listened to Freddie Aquilar, Gary Valenciano, and Sam Concepcion. Freddie's music is melodic Tagalog, Gary V's is contemporary Christian, and Sam's

singing is a mouth full of "Da Doo Ron Ron" bubble gum, but he may be the next Filipino Chris Aiken.
January 9, 2009 Friday
Departure Photos. We checked out of the Miyabe and had breakfast with Lida: chicken soup, mangos, papayas, watermelon, bananas, and pancakes. Bert surprised us by arriving early from Manila. Clyde then surprised him and Benedict with photos from Clyde's Dad of Bert's family in 1972. That was such a hit that we drove back to Bert's house where Benedict used Clyde's memory stick to load the photos onto his computer for the family. Archie was sound asleep from third shift work, so we didn't wake him up. We stopped by to see Precy at the school where she works, and she gave us some candy for the road. We then went to Clark Airport to catch the 6:00 p.m. Air Asia flight to Kota Kinabalu today. It's sad to leave the Philippines behind. But it does occur to me that this could be the beginning of a future Elon study abroad course about eco-tourism, scuba diving included. I would enjoy doing that.