Our Second Trip To Southeast Asia (Indonesia and Borneo): 1995-96
Indonesia and Borneo segment

Dani and Gregory Churchill's household staff in Jakarta.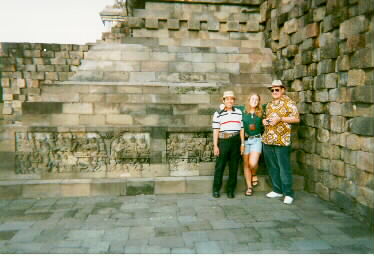 Gregory Churchill [right], Dani, and their niece vacationing at Borobudur several years before our visit.
Wednesday, December 27th. Today we flew to Jakarta, Indonesia to visit with Gregory Churchill and see some of the country. On the flight, a young Indonesian man named Omar explained to me that Bangkok was a much more dangerous city than Jakarta. We didn't find Bangkok to be so scary, but then every foreign city looks relatively threatening when you see it as a foreigner. The sea near the coast of Java is five different shades of blue and I can see oil tankers down below. We arrived at beautiful Sukharto airport and Greg's driver, YoYo, met us at the airport and chauffeured us to Greg's law office in downtown Jakarta. Clyde had some problems getting a cash advance, but we finally managed at an ATM that Greg had suggested. Greg and Dani have a splendid mansion outside of town with a household staff who took our bags in for us and greeted us on this hot day with glasses of ice water.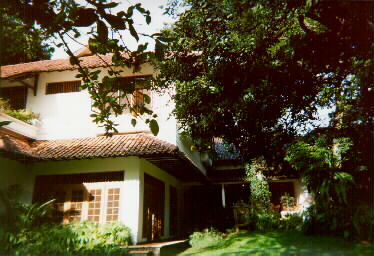 This is a nice change of pace after feeling like international bag ladies the past few weeks. The house has parrot bushes outside and is full of dark Javanese woodwork and is open around the top to the air and sounds outside. No air conditioning is really necessary. Although it is a secure compound, it doesn't feel like a fortress.
This setting is a real symphony for the ears: Dani has cages of tropical birds in the back that make a variety of calls and songs, accompanied by a neighborhood rooster, with tropical insects humming in the background together with chants five times per day from several local mosques. Combine that with the radio news and the sounds of motorbikes in the distance and your ears never get bored for long. Greg has invited his other expatriate friends, Jed and Dean, to dine with us, and his cook, Kardjo, prepared a wonderful meal for us. As there is no dusk to speak of, night falls very quickly, and the geckos start their familiar barking.

Thursday, December 28th. Greg provides us with a driver, Darmin, who takes us to the National Museum which has a huge bronze elephant out front (a gift from the King of Thailand).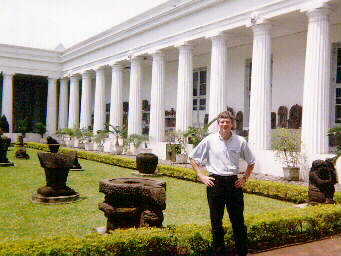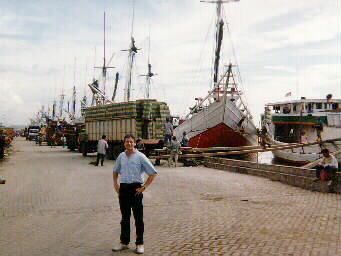 We also go to the bay and see the commercial sailing schooners and have lunch at the old Dutch-style restaurant, Batavia. There is a nearby Chinatown (I think they run the docks) but you'd never know it because the Chinese aren't allowed to put up signs in Chinese - a little ethnic tension there. We have dinner with Greg, Dani, and their household. Greg and Dani have been together 20 years and are a good introduction to Indonesian hospitality.
Friday, December 29th. We went to an amusement theme park today called "Little Indonesia" (Taman Mini Indonesia Indah) which is centered around a map of the Indonesian archipelago in a lagoon, and has an aviary and exhibits about different islands. It's much more than we can see in one visit, but we have a good time. Not much is spoken or written in English in Jakarta - even at the theme park - so we get in the habit of hunting and guessing to find our way around. I look up at the birds and Clyde's the one who notices a rat or two scurrying beneath the tree. We see different things when we travel. There are birds that sound like the cartoon Roadrunner and huge cassowarys from Irian Jaya, as well as Victorian Crowned Pigeons which are about as impressive as a pigeon can get.
The Imax theater housed in the Giant Snail building was a high tech pleasure, but my favorite exhibits were the "typical" Protestant and Catholic churches which must have looked quaint to the Moslems. The Catholic exhibit had its pews in disarray due to cleaning, at least one person was praying quietly and in earnest. The Protestant church had a small electric organ up front and a "Praise the Lord" banner. It's a great park and not as expensive or commercially relentless as American parks. We saw a number of "majik benge" shops on the way back to Greg's home, where you can get your automotive repairs accomplished by the right magic spells and incantations.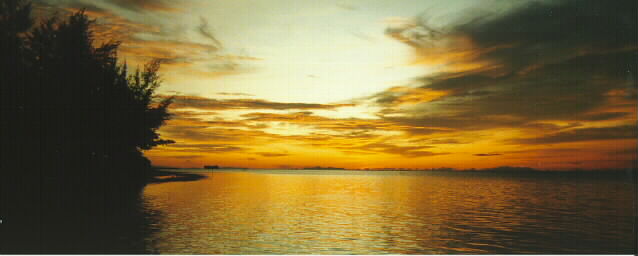 Saturday, December 30th. Greg has gone to Thailand today and we're catching a train to Yogyakarta. We rested around Greg's house today, researching Yogyakarta, Bali, and Cebu. YoYo [pronounced JoeJoe] took us to Gambir Rail Station around 5:00 p.m., but none of the signs on the platform were in English to tell us which train to board. I got into a conversation with an Indonesian man who was curious about our marital status and spoke enough English, German, and French to carry on a sort of Esperanto conversation and direct us to the right train. I don't know how we wind up traveling on New Year's Eve, but we did get the $12.00 night train - a nonstop 2nd class non-sleeper (unless you count the aisle) across Java with local stops for vendors to get on and offer their wares for anyone likely to buy a box of chocolates at 2:00 a.m. Javanese seem to dislike drafts and want the windows shut even when someone is smoking. At 2:00 a.m., Clyde reopened the door between the cars anyway to let in some fresh air. We were relieved to roll into Yogyakarta that morning about 7:00 a.m.
Sunday, December 31st. After our rail trip, we settled on the Ambarukmo Palace Hotel - a 4-star hotel near the airport, especially since the 4-star Hotel Garuda was booked. We listened to the gamelan orchestra in the lobby and enjoyed the Olympic-sized outdoor pool where Clyde suns himself like a gecko and swifts swoop and dive overhead. We booked our flight to Bali for $53.00 each. We tuned in the local TV and saw the Charlotte Hornets playing the Bucks - a little touch of home. We watched some Javanese dancing and a Wayang Kulit shadow play. At sunset, we sat on our balcony watching white herons roosting in the trees as the evening prayers were chanted. The swifts vanished into the trees and small bats took their place diving for insects. Some of the insects have a low-decibel whirling kind of call, so we call them "phaser bugs". No firecrackers, but still a fine way to spend New Year's Eve.
Monday, January 1st. In Jakarta, only the poor people walk. Others drive, even when the roads are congested with traffic. But "Yogya" is a college town, so there are lots of students walking around too, and loads of street stalls open for the holiday.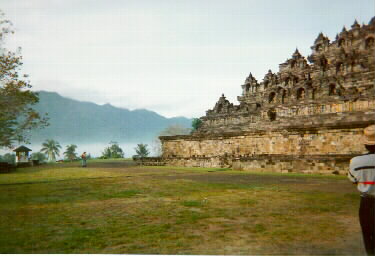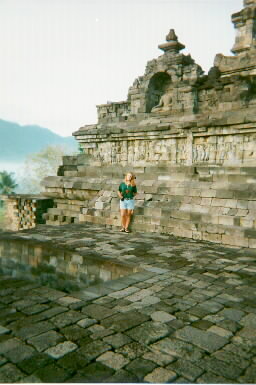 Greg and Dani's niece vacationing at Borobudur several years before our visit.
We rode up to the ancient Borobudur Buddhist temple where we were about the only Westerners in the crowd of Indonesians, and, as such, constituted a bigger tourist attraction than the temple.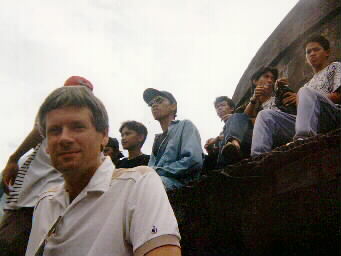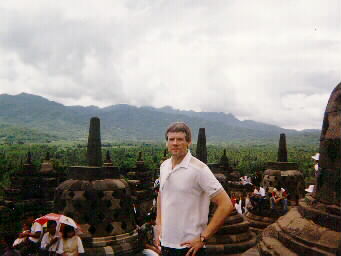 We were asked to pose in pictures a number of times. This monument with its Buddhas and stupas is a thousand years old, but with all the twisting outdoor walkways and towers, all I can think of is the castle of the Wicked Witch of the West. The only thing missing are the flying monkeys.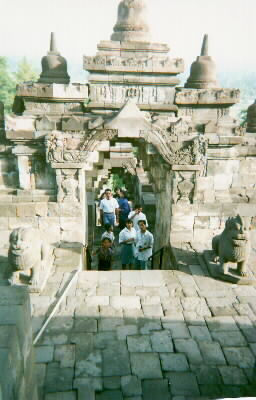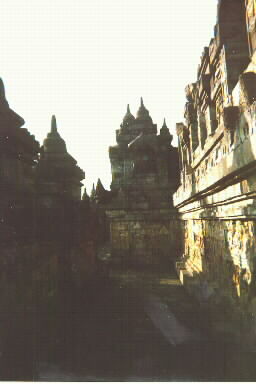 I am told that there is a Buddhist monastery nearby, but they must worship here early in the morning or late at night.

We took a bus to downtown that night and found the old Superman's restaurant for some coconut milk and banana pancakes. This is an old youth hostel - with laundry attached - and you can see young people (Australians, I'm guessing) wandering through the alleys in their travels, with some local musicians looking for a handout, sort of recreating the mood of the 60's youth culture here.
Tuesday, January 2nd. The Ambarukmo keeps an army of groundkeepers busy with brooms so that the place is tidy. There is actually a Sultan who is the titular head of Yogyakarta, so we visit his palace and then roam through the thousand year-old Prambanan temples.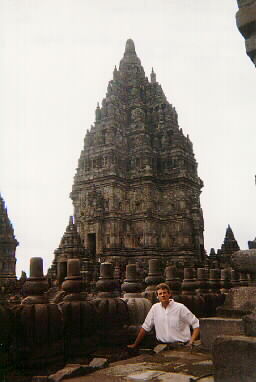 These Hindu temples were built at roughly the same time as Borobudur - both of which were rebuilt by archeologists and are now national landmarks in this Moslem island - sort of like the way that Disneyland and Robert Schuler's Crystal Cathedral are landmarks in otherwise markless Anaheim. We went out and bought some Indonesian CD's and got some dinner.
Martin is wondering why Kali's temple is bigger than his.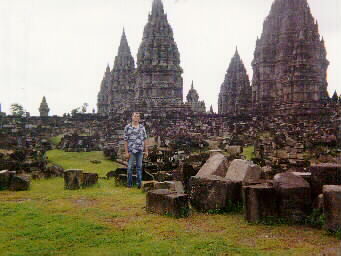 Not all of the temples have been put back together (or Clyde is as dangerous as the biblical Samson).
Wednesday, January 3rd. Today we got up early to catch our plane to the island of Bali, just east of Java. It was a smooth Garuda flight to Denpasar above the clouds and volcanoes. When we landed in Bali, and, instead of going to the beach, we caught a taxi to the mountain village of Ubud, and the taxi driver (from Java) helped us locate an inexpensive inn with a pool and breakfast. The craft shops and orchards by the misty mountain roads made me think of the Smoky Mountains. We got settled in and found a laundry service in town. We went to a local fire dance and explored the woodworking shops. Everyone here seems to be pleasant and easy-going. But I saw some local teenagers get into an argument in a store and they looked pretty fierce. I sense something spooky and a little scary under the surface in Bali, but the surfaces are delightful all the same.
Thursday, January 4th. It's a cloudy day, but we go for a walk and discover there is no such thing as a lack of affordable cafes and restaurants in Ubud and that it's impossible to get a bad or boring meal.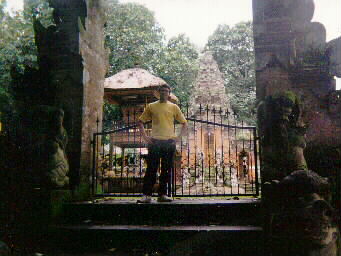 We traipse down to the Monkey Forest Sanctuary which has old stone Hindu temples covered with moss and ferns and inhabited by monkeys. In Ubud, we saw at least one extremely frustrated tourist searching for someplace to buy a newspaper. This is not a media center. We decide to stay longer at our inn, so Clyde negotiated a lower rate. The young guys who worked at the bungalow seemed concerned that we didn't have a "program" (like signing up for whitewater rafting or bungee jumping) but we assured them that we were happy as could be just swimming in the spring water pool or walking around town. We had heard that the sarong is the national garment of Bali, so we each bought one. It's not like wrapping a towel - it's more like wearing a necktie, because it has to be done properly to look anything other than stupid. Others conceded that blue jeans are quickly replacing the sarong, but that the sarong is still appropriate temple attire. Religious observances are woven into every hour of the day, it seems, from prayers, to offerings, to temple observances. We got lunch at the Dirty Duck Diner, complete with coconut cream pie. The local laundry did our clothes much more cheaply than we expected.
Friday, January 5th. We take a tour up to the north coast of Bali today, and Clyde and I are the only passengers in the minivan.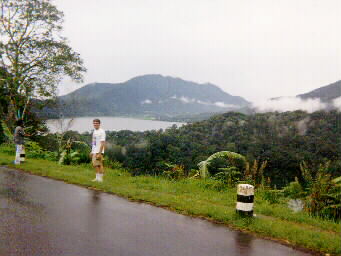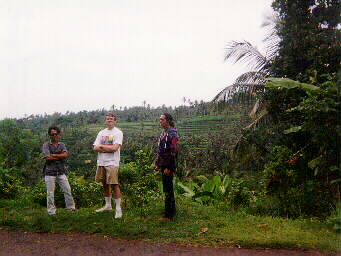 Our driver (Anun) [far right] belongs to the 2nd caste, and our guide (Takuk Dharma) belongs to the 4th caste, so they gave us a new slant on the historical social pecking order in Bali. As beautiful as Bali is, I suppose that kids can only drive their mopeds around that island so many times before they get tired of it.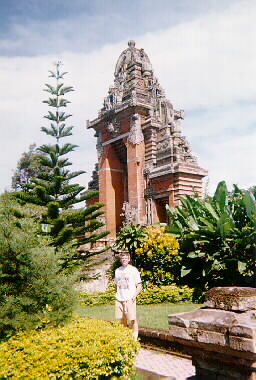 We go to the Mengui Royal Family Temple, the Botanical Garden, the towering GitGit waterfall, the town of Singaraja, and Lovina Beach, seeing long curving bands of mountain rice terraces on our return.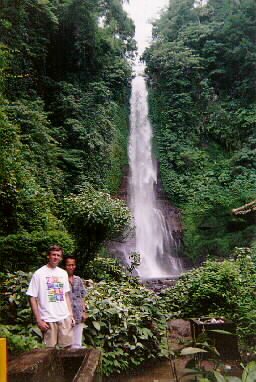 Lovina Beach is black volcanic sand and Singaraja is a beautiful little town - elegant and not touristy.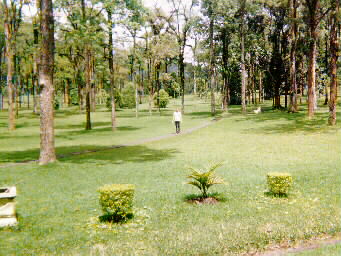 The Botanical garden has a tropical forest, orchids, cacti, spacious lawns, and 140 employees, some of whom seemed to be busy playing volleyball.
We found a good restaurant for dinner, but noticed a larger than usual gecko on the ceiling which I hoped wouldn't fall on us.
Clyde sampled the local Bintang beer but didn't rate it any higher than Bud.
Saturday, January 6th. Today is a national holiday, Kuningan Day, to honor ancestors, so the roads in all the towns were lined with poles decorated with woven palm fronds. I took a tour with a French couple who quickly find out that I speak French.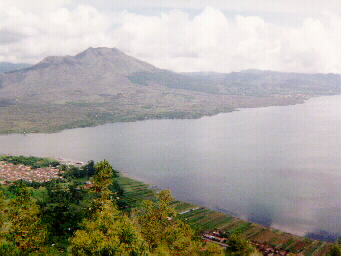 Our tour guide was off celebrating Kuningan Day, so our driver did his best, taking us to the Tampaksiring (Holy Spring Temple), the Batung volcano, and the mother temple: Besakih. The Frenchman was incensed about being asked to make a donation, and insisted on entering the temple to take pictures, even during worship. He was politely escorted outside, so I was inclined to distance myself a little. Can you imagine a troop of Balinese marching through Notre Dame Cathedral during Easter service to snap pictures? But we have a good time and enjoy the rice terraces at Bukit Jumbil.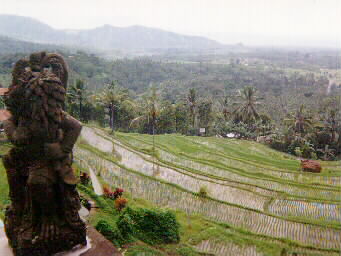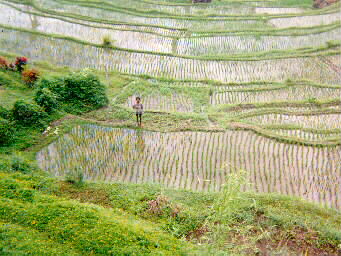 We go to Klungkong where a local uprising against the Dutch is memorialized. I wished the French tourists well and got ready with Clyde to celebrate Kuningan Day. We put on our sarongs and walked several miles down to the local temple in Mas, soon finding ourselves in a massive procession that pours into the courtyard full of dancing, food stalls, and people bringing food offerings to the temple. Folks were impressed with our attire, at least. We had dinner at the Tingal cafe next to a rice paddy which is alive with insect buzzing at night, as well as fireflies and frogs. There were no banana pancakes to be had however - had all the fruit been offered at the temple?
Sunday, January 7th. We rested and did some writing today. I don't know which is stranger - that I haven't heard any news from the USA or that I don't care whether I do. This place has that effect. One could stay here forever. We talked with the hotel staff about the U.S. and life in Bali. We went to a women's gamelan ensemble concert that evening. The ladies wore orange and blue uniforms and obviously loved to perform. I was concerned that the traffic in this area might drown out the music, until they began - nothing on earth could drown out a Balinese gamelan ensemble. They also accompanied a children's dance troupe which did a rabbit dance, warrior dance, and other bits of choreography which would put any American children's dance recital to shame. We had dinner at an open-air cafe (every Balinese restaurant is "open air") and walked home under the full moon, listening to the frogs in the rice paddies.
Monday, January 8th. It was sunny and hot today and some Japanese and Dutch guests moved into the inn. We went out window-shopping and end up at the Gayardi restaurant, where we perched on the top balcony and relaxed while watching the other tourists down below. In the evening, we attended the Legong Dance at the Ubud Palace. An old man nimbly climbed the stone temple before the performance to light torches, using a bottle of oil. As the gamelan orchestra began to play, a few musicians glanced nervously at the sky when a few drops of rain fell. But it never rained in earnest, so the show continued as a dog wandered through the audience scratching at fleas in time with the music.
Tuesday, January 9th. It's hard to leave Bali, but we caught a flight to Brunei on Tuesday morning. Brunei is a small enclave on the north central coast of Borneo which is very Moslem and very rich. When we arrived at the sparkling new (and mostly empty) Brunei airport, we noticed with interest that almost all the other passengers exited for connecting flights to other destinations. We're apparently the only ones who've chosen the city of Bandar Seri Bagawan as a travel destination. This gives us some pause. In theory, we needed a visa to visit this place, but customs inspector waves us through. Because this is prayer time, nothing much in the way of service is available in the airport, but we did manage to reserve a room at the Terrace hotel (which is the refurbished Ang Hotel). The slow-moving Otis elevator with its glowing floor numbers reminded me of the one I knew as a child in the Doctor's Building in Charlotte, North Carolina.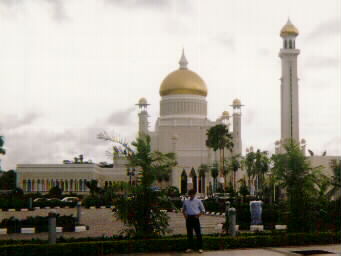 The Omar Ali Saifuddin Mosque has a solid gold dome and is surrounded by a lagoon and a water village on stilts in the river. The air here is much drier than in Bali. We watch TV for the first time in weeks and discover that the East Coast of the USA is having a blizzard. The Brueneians we met were pretty friendly and could scarcely believe that we weren't in town strictly for business. This is apparently not a hot vacation spot and doesn't have much of a reputation as a party town. We don't have much time here, but it's easy to walk around (the locals seem to all have fancy cars). We hike to a store and I bought a pair of authentic (not!) "Calvin Klein" jeans for $20.00. We caught up on newspaper reading in the hotel lobby.
This mosque is fully air conditioned, has stained glass windows, and is the only mosque in the world with an escalator.