Our First Trip To Southeast Asia (Hong Kong and Taiwan): 1992-93
Hong Kong and Taiwan segment
Wednesday, December 2nd. We got the house ready for our departure. I raked the yard, emptied the refrigerator and Clyde turned off the water. I told our neighbors that we were leaving and asked them to watch the house to make sure it was secure. However, we were so excited about the trip that we almost forgot to lock the front door behind us when the taxi arrived to take us to the airport. Clyde had gone into work early in the morning so that he could get off early enough to make our flight on American airlines to Los Angeles, so he was pretty tired and tried to rest during the flight to Dallas. In Dallas, I tried to call my friend, Lorenzo, but he wasn't home. I read philosophy of science and fortunately our steward was very friendly and helpful. The Dallas-L.A. leg was much more crowded and Clyde's diet didn't permit him to eat some of the meal, so I got the first extra helping of many airline desserts on this trip. We got a special surprise in L.A. when Clyde's Dad greeted us. We thought that he would be in San Diego undergoing eye surgery but he decided to postpone it and meet us in L.A. Clyde's sister, Diane, and her husband, Steve, put us up for the night.
Thursday, December 3rd. This is the big departure day. We both woke up about 4:00 a.m. and I got up and had breakfast, reading the paper for any stories about Hong Kong. The only other person up that early was Clyde's nephew, Joe. The family took us to L.A. International Airport and we had lunch and argued politics before we caught our Cathay Pacific flight to Hong Kong. The 747 was full and we had seats just behind first class with our own television monitor which showed either movies or computer graphic updates showing a tiny cartoon silhouette of our jet crawling over the blue Pacific (then over maps of Alaska, Japan, and Taiwan...), along with the local time, the time in California, and the time in Hong Kong. I had planned to do lots of reading, but, after a couple of meals and four movies, I didn't feel much like reading. Fortunately, the lady sitting next to me was a world traveller with plenty of stories to tell about touring Russia, confronting the KGB, and travelling to international conferences.
Friday, December 4th. Meanwhile...we crossed the international date line and slipped into Friday. However, after 15 trans-Pacific hours, we were more than ready to land. Happily, the pilot was ready too. The airport is so close to the city that the jet seemed to touch down right among the skyscrapers in downtown Hong Kong. Actually, we were in Kowloon, on the mainland across from Hong Kong Island. It was Friday night and we were 12,000 miles from home with no information except the address and phone number of the "Chunking Hotel". We collected our bags, got some Hong Kong Dollars, and headed out to the curb , talking about whether to take a bus or a taxi, when a young Chinese man approached us and asked if we were going to the Chunking Mansion? He showed us a picture of the place and offered to take us there, quickly herding us into a cab and whisking us across town, explaining that his family owned the guest house and that he was going to college soon in Vancouver...well, we got there and eventually figured out that his family's "New World Hostel" was in the same BUILDING as the Chunking Hotel but was several floors above it. The building was once the old "Chunking Mansion" but now is a subdivided warren of stairways and hallways and mystery passage ways that can lead you either into an Indian Restaurant, the second floor of a department store, or into any of a dozen youth hostels, depending on which turn you take. The Indians were always quick to shove a business card into our hands and to solicit business for their restaurant. We were pretty ticked about being generally hustled around until we realized that every little enterprise in that huge building was on the make for business in the same way - Hong Kong hustles. So we settled in for a few days. It had a great security system at least. The family slept in front of the front door. We woke up promptly at 3:00 a.m. so we got an early start on our day. We took the Star Ferry across the harbor to Hong Kong Island. On deck, the sea salt in the air reminded me that we were on the Pacific coast and we walked around downtown Hong Kong, trying to stay awake until bedtime so that our biological "clocks" would be reset. The Governor of Hong Kong had just promised to make democratic reforms in the Colony which ticked off Beijing. U.S. News was harder to find. The place seems nervous about the future.
Saturday, December 5th. We woke up plenty early again and went on a morning walking tour down to the harbor. We phoned Sue Pang who is a friend of our friend, Tom Watkins, and who had offered to show us around. We first walked around the Ocean Galleries on the harbor, filled with expensive merchandise and relaxed on a bench in Kowloon Park. Most of the other folks in the park were senior citizens, several doing Tai Chi exercises. It was great to enjoy the sunny weather and to see shrubs blooming, having left winter cold behind us. We rode the Star Ferry to Hong Kong island to meet Sue at the Hilton and she drove us back to her neighborhood in Tai Po in the New Territories north of Kowloon and not far from the Chinese border. We went shopping at a very modern Western-style mall (packed like any mall on a Saturday) but, among all those Chinese, we were a distinct ethnic and linguistic minority. Sue knew enough Chinese to deal with clerks and store-owners effectively, however. Her husband, Kei, was away on business, and we enjoyed the dinner she prepared and discussed politics, business, and expatriate life in Hong Kong. Sue ensured that we had good directions to catch the right transit train back to Kowloon that evening.
If you follow this link, use the "Back" button to return to the travelogue: Hong Kong Picture Archive
Sunday, December 6th. We woke up at 3:00 a.m. again and greeted the false dawn of neon lights along Nathan Street outside our window. We strolled down to the Star Computer Center so that Clyde could window shop for computers that morning, but we were so early that no shops were open. It was something like "Be Nice To Tourists Day" and we got a souvenir token from a Sea Scout. We did go over to the Island and hiked up the hill with the crowds and traffic as we shopped and browsed in expensive stores and cheap alley bazaars. We stopped in one clothing store long enough for me to plunge in a crowd of women who were in a feeding frenzy over a Giordano shirt sale (only $7.00 each!) I managed to squeeze out of there with a few new shirts. Most of Hong Kong is no bargain, but perseverance pays off. We walked down to a swank shopping center called "The Mall" where I bought a book about the history of Hong Kong. During our pasta lunch, an elderly British lady noticed my Giordano bag and came over to ask where I had found those shirts since there were none to be had in the mall. I told her where she could go fight for one if she were up to the challenge. We rode the crowded red electric double-decker tram down to the Causeway area and explored the shops with interesting brands and merchandise where we didn't see many tourists and where English was offered only as a courtesy and an afterthought. We got back to the hotel still jet-lagged but ready for our trip to Taiwan the next day.
Monday, December 7th. We departed for Taiwan this morning, and, when our China Air flight landed in Taipei after a brief flight, we selected our hotel reservations in the airport terminal. A representative from the Hotel China was on the scene and said that he could provide us with a driver to take us to the hotel. The price was okay, so we got a long ride into Taipei, beginning to feel that this country needed subtitles badly. The Hotel China was a bit pricey and not all that hospitable when we tried to arrange tours to meet our needs. The hotel was right next door to a college and we could see a room full of students across the street dutifully attending their night classes. After dinner, Clyde went looking for another hotel and found the New Asia Hotel which he remembered from his childhood visit to Taiwan. He also said that he was shadowed by someone along the way (a guardian angel?) Well, the room smelled like an ashtray, we weren't that pleased with the place, and it was time to take action.
Tuesday, December 8th. When we woke up at 3:00 a.m, we decided it was time to check out and make tracks to the New Asia and we woke up the desk clerk from a sound sleep to do it after some arguments about the bill. The folks at the New Asia were friendly and let us check in early. However, Clyde had to go to the Bank of America across town to get a credit card cash advance. "Cash Advance" apparently isn't an idea which has taken Taiwan by storm. It looked like the Japanese had, however, because they constituted the majority of the tourists, despite the fact that Taipei was an expensive place (at least to us). It was funny to see the Chinese staff and the Japanese guests forced to speak to each other in English because they couldn't communicate otherwise. Even on short acquaintance, it's an interesting country.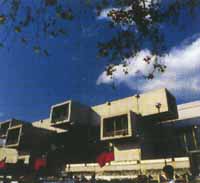 We got some rest and then took a morning walk on a cloudy day to the Fine Arts Museum which had beautiful watercolors as well as modern works.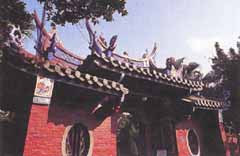 We took a long hike through urban neighborhoods to find a large Confucian Temple and dodged cars and countless motorbikes to find it. No one hangs out on street corners here. Everyone has someplace to go and something to do. Motor bikes are parked on the sidewalks too, so even there one has to be alert for traffic. Although there are plenty of Confucian shrines tucked away in every block, this temple is more of a senior citizen community center and place of worship with offerings and incense before images of Confucius and the sages. A free-wheeling election campaign was under way and vans with mounted loudspeakers cruised up and down the streets blaring political ads.
Wednesday, December 9th. We went out looking for breakfast (kind of a tourist concept, it seems) and found a Hardee's of all things. Like mutes, we pointed at the picture on the menu we wanted and forked over our New Taiwan Dollars.
We then took our own Taipei taxi tour today up to the National Museum which is surrounded by impressive gardens and perched above several tiers of steps. The exhibits were well-organized with an introductory exhibit providing ancient artifacts, a description of the various dynasties and a time-line of the history of China. The curators seemed to have overlooked the 1949 Communist Revolution in their history (which prompted the exodus of all this art from the mainland) but, otherwise, it was well organized. The museum was almost too much for one day - jade, sculpture, silk paintings, lacquer furniture, and loads of Chinese school children. We had lunch at the museum and a man from Raleigh came over and introduced himself. I think that Americans feel a bit lonely and conspicuous here. We took a cab back to the hotel and went window-shopping down the street, finding the local equivalent of The Mall ("Asia World") with its very own food pit and fashionable clothing stores. We didn't know enough Chinese to be dangerous but we did buy some clothes and got chopsticks with our fast food. It's odd to be in Taiwan and to see the Christmas decorations in stores and to hear the really bad Muzak Christmas carols. It's a Christmas atmosphere designed by folks apparently unclear on the concept.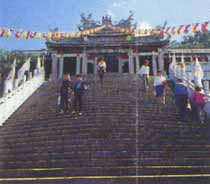 Thursday, December 10th. We decided today that we would visit the Taoist Chihnan Temple commanding a mountain top outside Taipei. Being cheap, we caught a city bus to take us there, and, reading and speaking no Chinese, we nevertheless shrewdly inferred that our coach was taking us in the wrong direction, so, after figuring out another connection, we got on a different bus and we rolled out to Chihnan. Once we got there, we had a long steep hike up many ancient and weathered stone steps to the temple itself - red, blue, yellow, and festooned with dragons - which is in a beautiful setting much like the steep-yet-rounded hills in the old silk paintings. The temple has a monastery on the grounds. There were white poinsettia in bloom along the way and you could see the polluted city of Taipei and its suburbs encroaching in the distance. There weren't hordes of people with cameras braving that particular climb and no Westerners either. The climb was a real test of piety and our feet were pretty sore when we got back to Taipei that evening.
Friday, December 11th. We rode the train down the west coast to Taichung today and the view was different than other railroad vistas in the U.S. In the U.S., you see only garbage and the back of buildings against the tracks. Here, small farms and factories were packed close to the track, but there wasn't much trash there. Rice paddies were everywhere. Taichung is an industrial port and seemed more down-to-earth than Taipei. We found a hotel across from the park and congratulated ourselves on not getting lost. Finding a good Chinese restaurant was no problem either. We planned to take a tour east across the mountains to Hualien and the marble gorge but there are no such scheduled tours and hiring a driver costs too much. We decided to hop a local bus heading in that direction. We strolled around Taichung that evening which was packed with pedestrians (including a pair of optimistic Mormon missionaries), and we located the bus station. The hotel had Star Satellite TV which beams programs to S.E. Asia and India, so we found BBC programs and lots of news.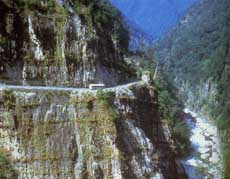 Saturday, December 12th. The culture shock was getting to me today, but we found the right bus, paid our fare and we rolled out to the mountains with the locals. The hotel clerk had written a note for us, in Chinese, advising that we don't speak the language and to tell us how long the bus will be stopping at various places. It got big laughs. The mountains were truly spectacular and home to indigenous Taiwanese who also grow apples on the steep slopes. These precarious orchards are braced with wooden scaffolding. The route was one cliff and hairpin turn after another- even more than western N.C. - and often the bus driver had to patiently back up a ways to allow oncoming cars to pass when the road narrowed. If that had happened in the U.S. someone probably would have been shot in frustration. The driver and our conductor made use of the stops to pick up fresh produce and we had our bottled water, bread, and peanut butter, so we were well-fed as we began our descent through the snow-white marble gorge and into Hualien on the east coast that evening. We hiked from the bus station to the train station to check out departure times for the train back to Taipei tomorrow and then caught a cab to the Marshall Hotel.
Sunday, December 13th. We heard church bells ringing this morning and enjoyed the warm sunny and breezy morning which is less smoggy here on the coast that in Taipei. We chatted with students at the train station who got us to sign their environmental petition at the train station to save endangered species in the park we rode through yesterday. The train trip up the east coast swept close to the beach and ducked into tunnels through mountains. Some hilly little islands looked intriguing and some spots were popular with surfers. Lots of banana plantations here, bright green rice paddies, neat and tiny vegetable gardens, and small manufacturing towns, with plenty of kids on scooters. A generation ago, they would have all been on bicycles.
Monday, December 14th. Cloudy and drizzling weather today but we hiked under and around the freeway to get to the sumptuous 5-star Grand Hotel to lounge around admiring the marble staircases, inlaid parquet floors, and red and gold oriental decor.
We headed down the freeway to the Martyr's Shrine where we were the only Americans viewing the place. There are memorials and exhibits to the memory of those who died fighting the Emperor's troops in the 1911 Revolution, those who died fighting the Japanese in WWII, and those who died fighting the Communists. It was quite solemn and flanked by silent and rigid honor guards, though one of the tourists tried to tease the guard (like they do at Buckingham Palace) We saluted the martyrs and walked back to our hotel. The election campaign vans were still out in force and the pace of the campaign had picked up. We found a Chinese Restaurant for lunch which had been recommended to us as having great food. Ordering in a Chinese restaurant "Dim Sum" style is a challenge when the options are being wheeled around the tables on carts and you never know what's coming or going next.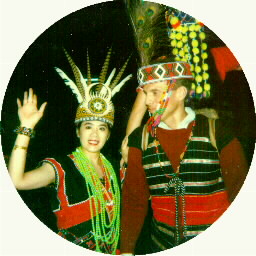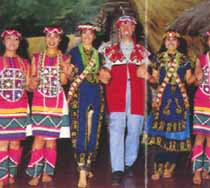 The weather was getting gray and drizzly so we broke down and signed up for a touristy visit to the Wulai aborigine village. Ourselves and a girl from Singapore were driven to a village in the hills where Atayal girls performed some native dances (though one of the dances looked pretty Filipino to us). With no boys on hand, the girls had to perform both roles in their dances. They wanted audience participation in the dancing, and, since the elderly Chinese in the audience weren't volunteering, the dancers yanked us out of the audience and we had fun dancing. Tough times for these people - dancing for strangers and pushing souvenirs. The Chinese were a bit defensive about the aborigines - claiming that most weren't hard working but that the "good ones" were. Sounded familiar.
Tuesday, December 15th. We hiked around Taipei on our last day in Taiwan and down to the massive white Chiang Kai Shek memorial with its bright blue pagoda roof. It looked like it could hold the space shuttle but instead it was full of tributes to the man. We bought some umbrellas for the rest of our walking tour to the New Park and down to the National History Museum which had a great wood sculpture exhibit and international ceramics display. We went shopping around in the rain and bought some contemporary pop Chinese music. Later, the hotel staff plied Clyde with questions about the U.S., our tour, and whether they could get jobs in the U.S.
If you follow this link, use the "Back" button to return to the travelogue: Taiwan photos courtesy of the Tourism Bureau, R.O.C.